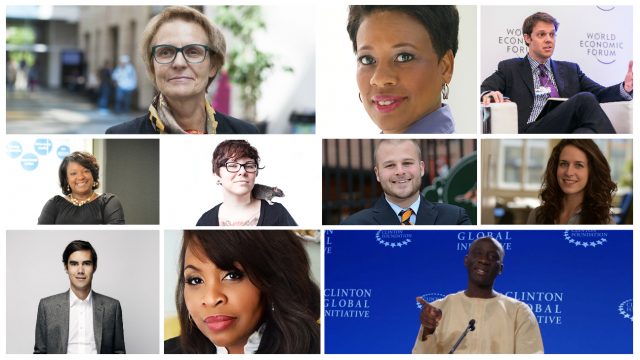 The SXSW Community Service Awards reflect the heart and soul of the Interactive event. Like the co-founder of SXSW Interactive, Dewey Winburne, these ten honorees are doing work to make a positive difference in their communities through technology. This ceremony is truly one of the most touching and meaningful events that happens at SXSW.
We are very excited to announce the following 2017 SXSW Community Service Awards honorees. Each honoree receives a complimentary badge to SXSW, a $1,000 grant to their favorite 501(c)(3), and a chance to spread the word about their work to the SXSW community. The SXSW Community Service Awards will take place on the evening of Monday, March 13 during the 2017 SXSW Conference and Festivals.
2017 SXSW Community Service Awards Honorees
Blair Glencorse is leading a movement for accountability and integrity around the world through the Accountability Lab. The Lab works in communities across West Africa and South Asia to support young people in their efforts to make governments more responsible using the arts, media and technology. He has worked for the World Bank on issues of governance and development.
Dr. Michelle Ferrier is the founder of TrollBusters.com, a service for women writers and journalists experiencing online harassment. She is a digital content architect with 30 years experience in media entrepreneurship and new media technologies and the principal investigator for the Media Deserts Project, using GIS technologies to examine where fresh news and information are lacking.
Nicolas Hazard is a serial social entrepreneur. He is President of CALSO (an award-winning 501c3 nonprofit organization), Vice-Chairman of GROUPE SOS (the European leading social enterprise with $900M turnover and 15,000 employees) and Founder of INCO, a consortium supporting social enterprises in 18 countries. He is also a member of the World Economic Forum Global Agenda Council on Social Innovation.
Teresa Y. Hodge, is the Director of Strategy & Innovation for Mission: Launch, Inc., Hodge plays a critical role in building strategic partnerships and establishing social enterprise models for greater reach and sustainability. She was recently named a 2016 Open Society Soros Justice Fellow and is a passionate advocate committed to reducing the lasting harm caused by prison.
Kwaku Kyei is President / Founder of the award-winning Recnowa Initiative. Recnowa addresses issues of plastic waste recycling and poverty reduction with a special focus on empowering people with disabilities to a brighter future. Kyei engages individuals as entrepreneurs beyond micro business into more ambitious ventures, within a society that presents significant hurdles for people with disabilities in the norms of tradition and culture.
Bobby Moore is the founder of ed-tech non-profit SOAR, which is an online platform that digitally empowers students to showcase and fund their academic needs, interests and passions. Moore also co-founded Brightspots Media, a company focused on empowering people, cities, and organizations to solve problems and celebrate strengths through storytelling and deep mentorship.
Barbara Moser-Mercer is Professor of conference interpreting and founder and Director of InZone, University of Geneva. Her research focuses on cognitive and cognitive neuroscience aspects of the interpreting process, the human performance dimension of skill development, and on factors that enable digital learning in fragile contexts. She coordinated the European Masters in Conference Interpreting and is an active conference interpreter.
Mgr. Ing. Dita Přikrylová is co-founder of Czechitas, an organization educating women and underprivileged groups in IT. Their purpose is to break barriers and stereotypes that prevent women from entering STEM careers and provide them with technical skills and confidence. Přikrylová was selected as one of Forbes magazine's 30 under 30 and is a Financial Times NewEurope100 innovator.
Courtney Santana started the survivor support initiative Survive2Thrive Foundation, to help provide direct services to survivors of domestic violence. Santana serves on the task force for Domestic Violence and as an advocate for Vice President Biden and the Violence Against Women Act. A survivor of domestic violence, she tirelessly works to create opportunities, resources, and awareness for her survivor family.
Dese'Rae L. Stage is an award-winning artist, suicide awareness activist, public speaker, and creator of Live Through This. Live Through This is a collection of portraits and true stories of 170 suicide attempt survivors in 30 cities across the U.S. Stage speaks nationwide about suicide prevention in the media. This project has received extensive media coverage, including features in The New York Times and the Associated Press.
Congratulations to all the 2017 honorees! Read full bios of each honoree here. Join us for the awards ceremony during SXSW 2017 to celebrate these honorees and more. Register to attend SXSW 2017 before the next registration rate deadline on January 13 and save.
2017 SXSW Community Service Awards honorees (l-r) Barbara Moser, Michelle Ferrier, Blair Glencorse, Teresa Hodge, Dese'Rae Stage, Robert Moore, Dita Přikrylová, Nicolas Hazard, Courtney Santana, and Kwaku Kyei
The post Announcing the 2017 SXSW Community Service Awards Honorees appeared first on SXSW.