"I've had more people in the last 10 years say, 'Sammy I love your tequila,' more than they say, 'love your music' . . . It doesn't bum me out, but it's weird." – Sammy Hagar
Sammy Hagar – former frontman of Van Halen, philanthropist, best-selling author, entrepreneur, and notoriously fast driver – takes the audience on a cruise through his rock legacy and passion projects. USA Today reporter Mike Snider moderates the conversation in this Featured Session at the 2017 SXSW Conference.
"We were selling 160,000 cases of six-packs a year, if I was selling records like that I'd still be in the record business."
Hagar's conversation at the SXSW Conference is as diverse as the speaker's passion projects. Rock fans will enjoy personal stories about his time in Van Halen and Montrose, and appreciate his suggestion of an all-star reunion tour. Hagar's energy and enthusiasm are contagious, and make it easy to see how his personal projects, such as Cabo Wabo Cantina and his business Santo Mezquila in partnership with Adam Levine, have a tendency to snowball into large businesses.
Hagar is perhaps at his best when talking about the ways that his interests converge into new projects, such as his non-profit work. Hagar collaborates with Metallica vocalist James Hetfield on the annual benefit concert Acoustic-4-A-Cure. The event raises funds and awareness for The Pediatric Cancer Program at UCSF Benioff Children's Hospital. Check out the Featured Session to hear more about the life and work of The Red Rocker.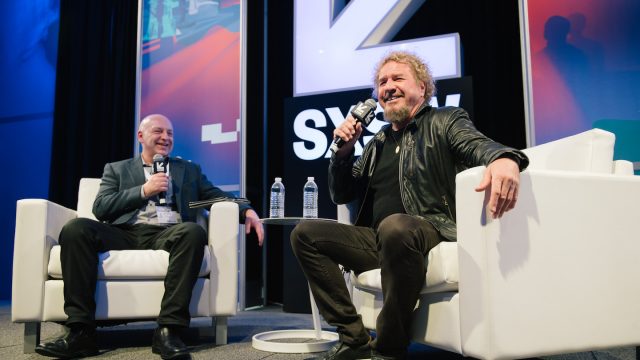 Watch the video above for the full 2017 SXSW Conference Session with Featured Speaker Sammy Hagar. Get inspired by a multitude of diverse visionaries at SXSW – browse more 2017 Keynotes, Featured Sessions, Red Carpets, and Q&A's on our YouTube Channel.
Follow us on Facebook, Twitter, Instagram, and SXSW News for the latest SXSW coverage, recaps, announcements, and SXSW 2018 updates.
2017 SXSW Conference Session, Sammy Hagar – Photo by Danny Matson
---
Related News:
The post A Conversation with Sammy Hagar at the 2017 SXSW Conference [Video] appeared first on SXSW.