"I like working in food because like working in music, it's something that people are never tired of . . . you may never be rich but you'll always be employed." – Rachael Ray
Television host and bestselling author Rachael Ray joined us for a conversation with journalist Gary Graff at the 2017 SXSW Conference. Rachael Ray's career includes hosting multiple Food Network shows, a long-running lifestyle talk show The Rachael Ray Show, and is the author of many cookbooks. Gary Graff is a music journalist who has regularly contributed to many publications including Billboard and The New York Times.
Ray's preference for practical food preparation through her "30-minute meals" illustrates that a passion for great food should not come at the expense of the other important parts of life: family, friends, entertainment, etc. She is a strong advocate for the music she loves, and hosted her tenth annual Feedback event during SXSW 2017. Feedback is an event that brings together Ray's love for food, music, and Austin. In it's ten-year run, Feedback has provided a stage for 150+ artists.
"If you're a great musician you'll always find a way to make your music, and if you're a good cook you'll always find a job, and you'll always have a date."
The conversation at SXSW focuses on her love of music and how it integrates into other parts of her work and personal life. Aspiring artists and professionals watching the session can learn from the way Ray exudes personality and charm in spite of such a busy professional life. For those more interested in her work as a chef, the extended Q&A at the end of the session includes many audience questions about her cooking ethos, and a lesson for all thrifty artists on how to modify a ramen diet to be healthier.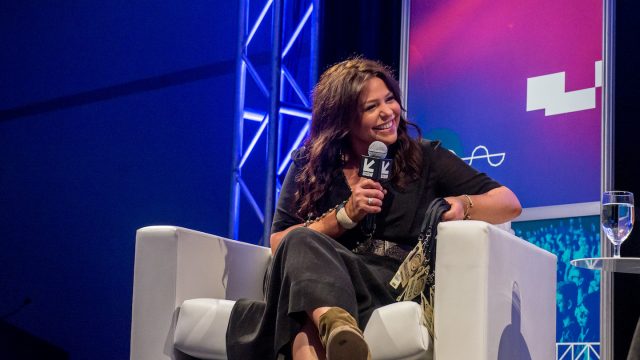 Watch the video above for the full 2017 SXSW Conference Session with Rachael Ray. Get inspired by a multitude of diverse visionaries at SXSW – browse more 2017 Keynotes, Featured Sessions, Red Carpets, and Q&A's on our YouTube Channel.
Learn More About SXSW 2018
Interested in performing in SXSW 2018? Learn about the Showcase Applications process. Mark your calendars for Tuesday, August 1 when registration, housing, and press accreditation opens for the 2018 SXSW season. We hope to see you in March!
Follow us on Facebook, Twitter, Instagram, and SXSW News for the latest SXSW coverage, announcements, application tips, and updates.
"A Conversation with Rachael Ray" 2017 SXSW Conference Session – Photo by Amanda Stronza
The post A Conversation with Rachael Ray at the 2017 SXSW Conference [Video] appeared first on SXSW.