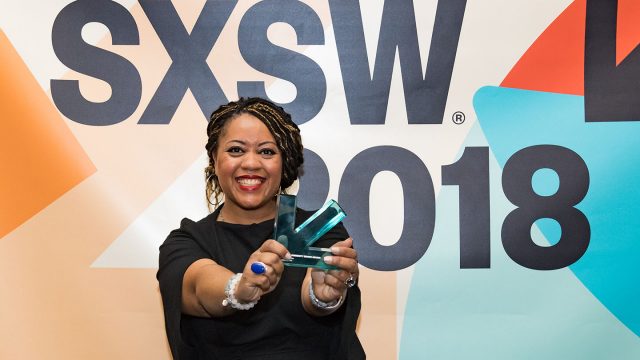 Each year at SXSW, we celebrate in a combined ceremony six individuals and six organizations who have gone above and beyond for their communities. Each honoree or organization will receive complimentary badges to SXSW, a grant, and a chance to spread the word about their work to the SXSW community. Learn more about the 2019 SXSW Community Service Awards below and apply before the deadline September 6, 2018 at 11:59pm PT.
SXSW Community Service Awards for Individuals
Six individuals will receive a grant to an eligible 501(c)(3) or eligible charity of their choice as well as a complimentary registration to SXSW 2018. The Community Service Awards is intended to honor the breadth of community service work of five individuals rather than organizations or groups. We are looking for individuals whose creative community service work bridges the digital divide, impacts the community positively, and includes some degree of grassroots or hands-on organizing.
SXSW Community Service Awards for Organizations
Six organizations will also receive a grant to continue or begin their work and will be honored at the SXSW Community Service Awards. To qualify, an organization must be a charitable organization exempt from federal income tax under section 501(c)(3) or be otherwise qualified to receive charitable contributions. The selection committee chooses organization grantees based on their connection to one of the following aspects of SXSW: Interactive, Film, Music, EDU, or Gaming.
All applications are free of charge and must be received no later than 11:59pm PT on September 7, 2018.
Who Should Apply?
The SXSW Community Service Awards are for everyone! Whether your interest lies in filmmaking, music, technology, education, or gaming, the SXSW Community Service Awards recognize good work being done within communities. There's also a grant for a local Austin charitable organization that does not easily fit into one of those festival categories. SXSW feels that promoting good is one of many ways of helping foster creative innovation.
Join us for another exciting event March 8-17, 2019 in Austin, Texas. Registration and Housing will open on August 1, 2018. Sign up for SXSW Event Updates so you don't miss a beat, announcement or important deadline.
Take a look back at the 2018 event with videos from Keynotes, film premieres, sessions, and more on the official SXSW YouTube Channel. Find and follow us on Twitter, Instagram, Facebook, and SXSW News for the latest SX coverage.
Photo by Robert Santos
The post 2019 SXSW Community Service Awards – Applications Now Open appeared first on SXSW.