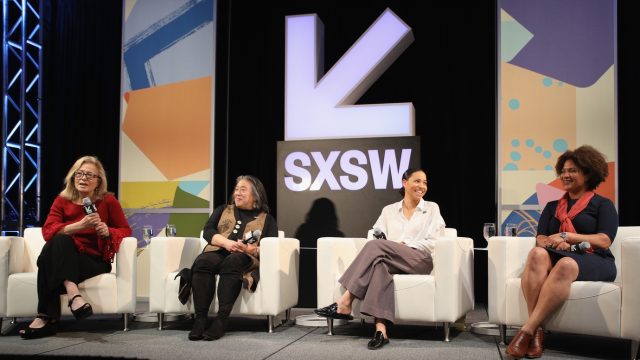 With Featured Speakers including actress Gabourey Sidibe, entrepreneur and philanthropist, Princess Reema, Harvard University professor Iris Bohnet, and more, gain insight from women who are challenging the traditional landscapes of business, music, politics and beyond as they offer ideas and solutions to mend gender gaps during SXSW sessions in this curated YouTube playlist, Women Empowerment.
The speakers in this playlist make up only a fraction of the incredible talent and industry leaders in attendance at the SXSW Conference each year. Programmed sessions seek to honor SXSW's original vision, to act as a tool for creative people and the companies they work with, to develop their careers, and bring together people from a wide area to meet and share ideas.
Get inspired by the speakers below from past SXSW sessions including Representation of Women in Music, Time's Up! Shifting the Imbalance of Power and more.
Women Empowerment Playlist
The Female Lens: Creating Change Beyond the Bubble | 2017
In post-election America, we all want to go "beyond the bubble" — to reach audiences and change minds outside of NYC screening rooms or film festival panels. Film is uniquely positioned to do just that, and female directors, writers, and actors are using their work to change the perception of women onscreen and off in real world ways. Glamour gathered four female creators – Janicza Bravo, Danielle Macdonald, Gabourey Sidibe, and Jenny Slate – to talk about how films do (and don't) alter perceptions of women across America.
Time's Up! Shifting the Imbalance of Power | 2018
Conceived by women in Hollywood to serve all industries, TIME'S UP is addressing power imbalances in the workplace to stop sexual harassment and promote equality. In this session, TIME'S UP and TIME'S UP Legal Defense Fund leadership – including Hilary Rosen, Jurnee Smollett-Bell, Fatima Goss Graves, and Tina Tchen – discuss the TIME'S UP movement and the changing cultural climate.
Representation of Women in Music | 2016
As more and more female musicians gain awareness, it's become increasingly important to take a step back and analyze how female musicians are represented in mainstream media and advertising today, what improvements have been made and what challenges we still face as an industry. Hear industry leaders – Kiran Gandhi, Michele Fleischli, Sadie Dupuis, and Tom Barnes – come together to discuss the present and future of representations of women in music media.
Princess Reema's Mission to Empower Saudi Women | 2015
Princess Reema Bint Bandar Al-Saud, CEO of Saudi Arabian luxury retailer Alfa Intl, says "you cannot have half of your population not working," Princess Reema discusses her latest bold moves toward women's empowerment in Saudi Arabia. Whether it's hiring women, providing day care, offering free employee transportation or letting employees make their own decision about whether to wear a veil, she is embarking on a paradigm shift for a population hungry for change.
What Works: Gender Equality by Design | 2016
Gender equality is a moral and a business imperative. But unconscious bias holds us back, and debiasing people's minds has proven to be difficult and expensive. Presenting research-based solutions from her new book, What Works, Iris Bohnet shares the tools we need to move the needle in classrooms and boardrooms, in hiring and promotion, benefiting businesses, governments, and the lives of millions.
To see more videos, subscribe to the official SXSW YouTube Channel. Stay tuned to SXSW News for more SXSW playlist highlights. And don't forget to register to attend SXSW 2019 to experience inspiring sessions from Keynotes, Featured Speakers, and much more from March 8-17.
(L-R) Hilary Rosen, Tina Tchen, Jurnee Smollett-Bell, and Fatima Goss Graves attend Time's Up! Shifting the Imbalance of Power – Photo by Mike Jordan/Getty Images
The post Women Empowerment: Gabourey Sidibe, Jenny Slate, Princess Reema & More SXSW Sessions [Video] appeared first on SXSW.