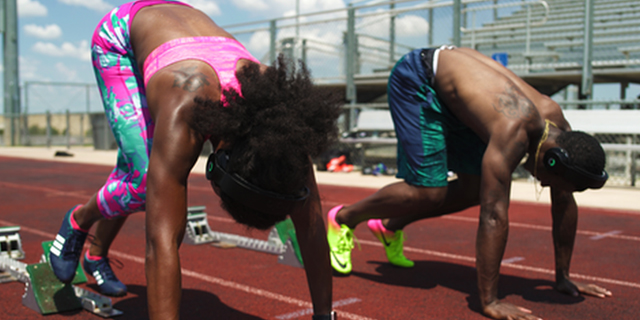 Journalism and sports—both tell great stories. These narratives bring generations together and touch the lives of people across the globe. Information and how it gets to us is vital. Sessions in our Journalism Track explore how news, journalism, and analysis is dispersed and how it will be impacted by the future of technology; whether it's streaming and online content, attribution or storytelling — it informs and engages us on multiple levels.
We'll also explore the future of sports in all of its forms during our three-day Sports Track, from a cultural and technological perspective, to a diverse range of topics encompassing all sports across various levels of play.
Programmer, Brianna Carney, added to the reasons to attend this year's Journalism track, saying, "This year, the Journalism track offers several topics to those who are interested in timely, in-the-news issues like echo chambers and filter bubbles, fake news, automation, and big data. I'm really excited that we have so many speakers who are experts in their fields. This credibility plus the insight that these speakers bring will be infinitely rewarding for those who get to watch and learn from their presentations and discussions."
"The topics being discussed and the speakers participating at the Sports track this year run the gamut of the sports world. From artificial intelligence, drones, and virtual reality, to the performance effects of cannabis, social issues, and how we consume sports in the present and in the future. I couldn't be more happy with how this year's Sports track has come together and think it provides an excellent glimpse into what is impacting the sports industries," said Sports programmer, Andrew McNeill.
Looking for Journalism and Sports sessions to attend? Check these out:
Journalism Track Sessions
From Trump to Trolls: How Muslim Media Fights Back
March 14, 2017 | 5:00 PM – 6:00 PM
Muslims are very popular on social media, mainstream news and political rhetoric. Everyone is talking or tweeting about us. It's exhausting having to defend, explain and rebut trolls, extremists, and otherwise well-intentioned folks who've been fed ignorance and fear. . Some of us have been tried by fire, and we want to share our best practices with you. Through theory, practice and case studies, we want to share the best strategy to get your message/campaign to rise above the fray.
Playing Nice: Redesigning Online Commenting
March 12, 2017 | 3:30 PM – 4:30 PM
The prevailing wisdom for managing toxic online comments is don't feed the trolls. But avoiding the problem doesn't solve it. More so, it misses the opportunity to gain from the greatest affordance of the Internet: the ability to collaborate and learn from each other. How do we tap the collective intelligence of online communities working together but avoid the toxic minefield of trolling and hate speech that has become synonymous with online comments? Calling on the wisdom and war stories of an interdisciplinary panel of game designers, media researchers and journalists, we explore design solutions and engagement strategies for reimagining the role of the commenter as a meaningful contributor.
Browse All Journalism Sessions
Sports Track Sessions
The Kind Side: Compassion On and Off the Field
March 12, 2017 | 11:00 AM – 12:00 PM
We live in a world of the polytheistic worship of athletes. We celebrate heroism on the field and demand integrity off the field. This panel is going to explore the symbiosis of living and playing with compassion along with the challenges associated with such an approach from the perspective of athletes, corporate and foundation leadership. In the midst of adversity, chaos and unpredictability in the world, athletes have utilized their platform to make community in their own image, to advance a social justice agenda and to promote healthy lifestyles. We will distil the characteristics of athleticism, kindness, and leadership to study where they overlap and how we can repair the world.
Will the Future of Sports Mean Equality for Women?
March 13, 2017 | 2:00 PM – 3:00 PM
When SXSW kicks off in 2017, it will have been 45 years since Title IX passed. The law, which guaranteed equal funding for women's sports in federally funded education, changed the lives of women for generations to come. But where have we come since then? And where are we heading? And most importantly: Will women's sports and athletes ever be equal? This panel will discuss what the future of women in sports looks like, what equality would look like and how we get there.
Photo courtesy of session, Unlocking the Brain's Full Potential in Athletics.
Related News:
The post What to See at the 2017 SXSW Conference—Spotlight on Journalism & Sports Tracks appeared first on SXSW.