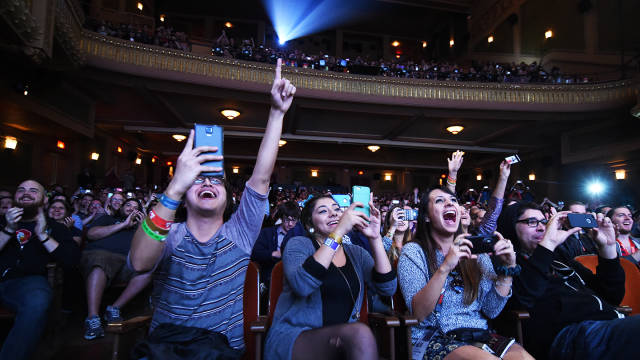 The 2019 SXSW Conference & Festivals is officially underway and we're so excited to finally welcome you to Austin. The next ten days will be a whirlwind of inspiring sessions, film screenings, meet ups, early morning tacos, showcases, exhibitions, competitions, late night tacos, and ample opportunities for networking across the 2019 event.
There's still time to join us! Visit the SXSW Cart to buy your badge now or purchase onsite at the Austin Convention Center in Ballroom B (view SXSWeek Registration Hours).
Explore our overview of resources below including event access, navigation, and ways to connect to SXSW. For a complete list of tools and tips, visit the Attendee Services Hub, to help you prepare for the adventure ahead.
Can't make it to Austin? Tune in each day of the event for SXSW Live to see Keynotes and Featured Speakers at the SXSW Conference, exclusive interviews in the SXSW Live Studio, star-studded red carpet coverage of SXSW Film Festival premieres, and more. Check out the complete SXSW streaming schedule on sxsw.com/live and get ready to experience a bit of SXSW magic from Austin directly to you.
Event Navigation
Download SXSW GO, the official mobile app of SXSW, to sync your online schedule with your devices, so your info will always be up-to-date. Plus, get schedule recommendations based on favorited events, networking contacts, and more.
Event Status makes it easy for you to check the current status of a room or a venue's remaining capacity. A Green-Yellow-Red system appears on the SXSW GO app, the online SXSW Schedule, and on the digital Event Status Boards located around the Austin Convention Center and other venues.
Abby, the SXSW Bot, delivers a casual, fun conversational-style user and an easy to follow guided menu experience to help you navigate SXSW, find out what's happening, and get timely answers to FAQs. Chat with Abby in the mobile app or through Facebook messages.
Browse our transportation services to make getting around Downtown Austin to your next session, meet up, film, or showcase easy. The SXSW Festival Shuttle is our free circulating shuttle that runs between the Austin Convention Center and most SXSW festival venues. Browse shuttle map, schedule, and more transportation options on the Getting Around page.
Expanded Access
SXSW attendees receive primary entry to programming associated with their badge type, in addition to enjoying secondary access to most other SXSW events, giving you the chance to experience more of what SXSW has to offer. SXSW registrants also receive complimentary access to SXSW Gaming.
New for 2019, all SXSW Badges – Platinum, Interactive, Film, and Music – can request daily, digital SXXpress Passes (South by Express) to gain priority access to individual Conference sessions and select parties, Music Festival Showcases, Film Festival Screenings, and Comedy Festival Showcases. Learn more about SXXpress Pass access, request periods, event lines, and more on the SXXpress Pass page.
While high-profile Conference sessions can quickly fill up, Encore Sessions provide even more opportunities to see this season's compelling content. Throughout the Conference, Encore Sessions will be added daily to the SXSW Schedule so must-see presentations are not missed.
Take a look at our handy event checklists to maximize your time at the Interactive Festival, Film Festival, and Music Festival.
New Bag Policy
The Paramount Theatre and Stateside Theatre have a new bag size limit – registrants attending any events or screenings in these venues should not bring bags over 14″ x 12″ x 6″ (35 x 30 x 15 cm). Any bag over this size will not be allowed into the Paramount and Stateside theatre venues with the exception of diaper bags (when a child is present) and medically necessary items (including breast pumps). All bags under the size limit as well as jackets and coats are permitted and subject to inspection. SXSW Registrant bags – received at Registration badge pickup – will be allowed.
Learn more about Film Festival line procedures, venues, queue cards on the Attendee Services Hub.
Follow Along
Stay in the SX know! Follow us in all the usual social spots for daily event updates and coverage – Twitter, Facebook, and Instagram.
Check back often to see the latest SXSW News. Be sure to bookmark the SXSW Live page to catch all the action throughout SXSWeek. Visit sxsw.com/live for the complete streaming schedule.
Have a great SXSW 2019, y'all!
Photo by Michael Buckner
The post Welcome to the 2019 SXSW Conference & Festivals – Event Resources appeared first on SXSW.