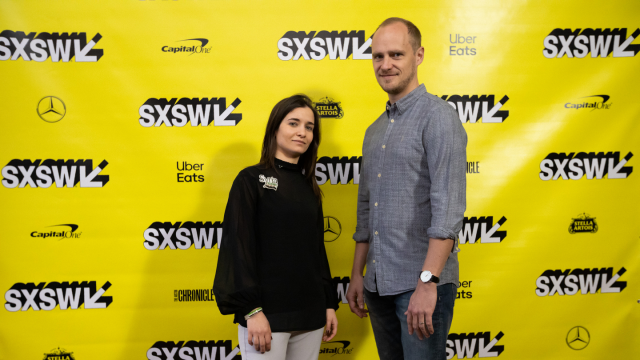 2019 SXSW Film Festival World Premiere,For Sama won the Jury Award and Audience Award in Documentary Feature Competition, and is now one of the five films nominated for the Academy Award for Best Documentary Feature. Directed by Waad al-Kateab and Edward Watts, the film follows the astonishing story of al-Kateab, who filmed her life in rebel-held Aleppo through 5 years of the Syrian uprising.
Read our interview with the filmmakers below, and be sure to save the date for January 15 for our 2020 Features Lineup.
For Sama is available to watch on PBS Frontline.
In your own words, what does this film mean to you?
Waad al-Kateab: This is not just a film for me, it's my life, my greatest loss, my greatest happiness. It is everything I struggled for and dreamt of, my duty to the city I belong to. It bears witness to all the crimes I saw and it's my way of saying to the world that we are still fighting for our cause, and to say to the killer Bashar al Assad that we will never forgive until justice is done. It says to all the people we lost, "we will never forget you and we will always see the future through your dreams."
Edward Watts: This is the most important film I have ever worked on. Waad, Hamza, Sama and their friends are extraordinary, courageous people, an example to us all in these days of great tumult in the world. Their story offers a unique prism through which to see the experience of the Syrian people, the hope they felt as well as the horrors they suffered, the humour and spirit that the dictators could never crush. It's been an honour and a privilege to direct this film with Waad.
What motivated you to tell this story?
WAK: What we have lost as Syrians, being forced to leave our city, living without a home, the feeling of helplessness. These days people all talk about "Assad's victory". What kind of victory is it when you have destroyed cities, slaughtered civilians, arrested tens of thousands and forced millions to flee? Is that victory? I want to tell this story so the world can see the truth of what happened, not the lies.
EW: Ever since the uprising against the Assad dictatorship began, I have wanted to make a film that helps people connect with what has happened in Syria. It is one of the most significant moments in global history since WW2. So many problems today, from ISIS to the refugee crisis and rise of the far right can be traced back to our failure to stand with the Syrian people in their first days of their struggle for freedom. At last, through Waad's life, people can go on an epic journey through the whole uprising, to see and experience the truth for themselves.
What do you want the audience to take away?
WAK: All the world knows there was a war in Syria, but few knew that there was life, love and beauty there as well. There were so many dreams that the dictatorship destroyed. I want people to know that it wasn't a civil war, it was a revolution. We wanted to change our lives, and we fought the greatest odds, before the indifferent eyes of the world.
EW: I want the audience to feel all the emotions that the Syrian people have felt — the hope, the friendship, the love, the happiness as well as the shock, the horror, the grief, the loss. So that the Syrians cease to be the "victims" you see on the news and become real human beings in the audience's hearts. I hope that way they'll come to understand the tragedy that we have allowed to happen.
How did you find your subject?
WAK: I am my subject! My struggle to be a woman, a journalist and a mother in a warzone. I felt I had a responsibility to film and document what was happening, while building a life and my own family.
EW: Ever since the uprising in Syria began, I have wanted to make films about what's happening there. The people at Channel 4 knew about this passion of mine and thought I would be a good collaborator to direct the story of her life with her. We were introduced and, after several days watching her footage together in the lobby of the Istanbul Hilton, decided to go ahead and work together. That was over a year and a half ago!
What made you choose SXSW to showcase your film to the world?
WAK/EW: SXSW is one of the most exciting festivals in the world, the new standard bearer for bold, innovative and independent filmmaking. We couldn't be happier to have our world premiere here.
Join Us for SXSW 2020
Discover what's next in film with a 2020 SXSW Film Badge. From March 13-22, 2020, experience 10 days of conference sessions, screenings, exhibitions, networking events, mentor sessions, and much more. All attendees will receive primary entry to programming associated with their badge type, in addition to enjoying secondary access to most other SXSW events.
Stay tuned for more programming announcements throughout the 2020 SXSW season including the full Film Festival lineup coming this January.
Sign up for SXSW Event Updates and read SXSW News for programming features, registration information, and more.
Follow us on Twitter, Instagram, LinkedIn, and Facebook for the latest SX coverage.
World Premiere of For Sama – Photo by Edward Bennett
The post Waad al-Kateab and Edward Watts Talk About Their Documentary on Syria – SXSW Filmmaker In Focus appeared first on SXSW.