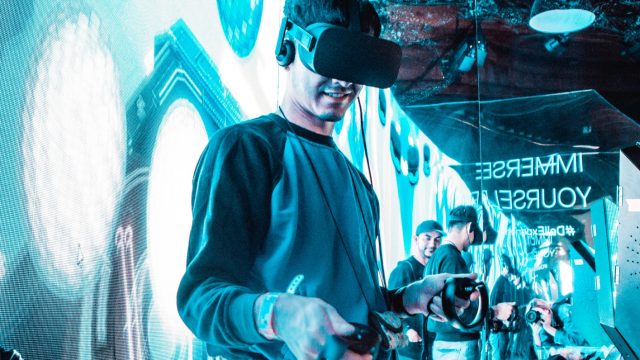 Virtual reality, augmented reality, and mixed reality are introducing new ways to experience and view our ever-changing world. In the VR/AR/MR Track at the SXSW Conference, learn about our present and future capabilities with these interfaces.
Running from March 11-13, this track is a part of Convergence programming at SXSW. Convergence Tracks blend technology and culture into innovative and cross-disciplinary programming that inspires new levels of creative collaboration – and all SXSW Badges can access these sessions.
From spacecrafts to contemporary art, look at the world around you with a different lens during VR/AR/MR Track sessions. To explore even more VR/AR/MR-related programming across our 25 Conference Tracks, check out our crossover track recommendations below and add these sessions to your SXSW Schedule.
VR/AR/MR Crossover Track Recommendations
Rise of Augmented Intelligence & Query-Able Brand – Brands & Marketing Track
Speakers: Clara de Soto (Reply.ai), Tom Evans (The Cosmopolitan of Las Vegas), Matt Marcus (R/GA), and Michael Morowitz (R/GA)
The next wave of consumer engagement transformation is happening at the intersection of Augmented Intelligence technology and brand expression. Intelligent platforms, augmented by a full suite of business services, are changing the way we engage with customers. With a strategic combination of creativity and technology, we can now capture consumer intent and finally deliver on the digital promise of one-to-one customer relationships. In this conversation, we'll take a look at how AI technologies give us the power to scale these solutions to drive tremendous value to customers and the business alike.
Hope after Trauma: Designing VR for Amputees – Health & MedTech Track
Speakers: Krisita Burket (Hanger), Cameron Clapp (Hanger Clinic), Pedro Pimenta (Hanger Clinic), John Sommer (Mutual Mobile)
After being struck by a train at 15, Cameron Clapp woke up in a hospital bed missing three limbs, wondering if he would ever walk, surf, or be independent again. At 18, Pedro Pimenta contracted bacterial meningitis, and to save his life, all four of his limbs were amputated. Every year, about 185,000 people in the U.S. lose a limb and find themselves facing the same question: what will my future look like? Virtual reality offers an exciting new tool to bring hope, emotional healing, and peer support to trauma survivors and others facing conditions that threaten their mobility and independence. Join us to discuss the conception and design of a new virtual reality experience for amputees called MiGO, which features Cameron, Pedro, and others thriving despite limb loss.
Using AR to Bridge the Online-Offline Retail Gap – Style & Retail Track
Speakers: Tricia Katz (Outdoor Voices)
Augmented Reality allows users to interact with virtual objects seamlessly in the real world. It has the power to enhance online and offline retail experiences, making it attractive to both shoppers and retail workers. By using AR in the digital shopping experience, product uncertainty is removed and conversion is increased. In store, AR can be used to provide product details, promotional displays, customer reviews and more. In this session we'll discuss examples and opportunities for retailers to bring Augmented Reality into their retail strategy and tech roadmap.
Speakers: Girish Balakrishnan (Moving Picture Company), Drew Diamond (Entertainment Technology Center @USC), Brian Frager (Technicolor Experience Center), and Kerry Shea (MPC)
Game engines have evolved into true "Reality Engines" and cinema will never be the same. The filmmaking tools of tomorrow stem from real-time collaboration inside of engines such as Unity and Unreal. Within these virtual realities, filmmakers are equipped with limitless power to imagine worlds and capture them through a cinematic lens. Filmmakers such as Jon Favreau, Steven Spielberg, Neill Blomkamp and countless more are exploring the rich visual canvases of VR and AR to paint their cinematic visions. Hear from some of their key collaborators on projects such as Ready Player One and The Jungle Book – truly creative technologists who built the tools to empower this real-time revolution.
Speakers: Matt Lawler (AEG), and Luke Ritchie (Nexus Studios)
The future of live experiences such as sports, concerts, and theatre venues is radically changing. The rollout of 5G will trigger a revolution in AR and spatial mapping technologies. Nexus Studios, a leader in immersive storytelling, and AEG, the world's leading sports and live entertainment company, are working closely to enhance live experiences with immersive technologies.
By creating a highly accurate digital overlay of the venue that can be accessed via your phone's camera, venues will soon offer an array of new services to offer customers. In this session, we'll explore the opportunities within this digital infrastructure, and cover new ways for brands to engage with customers.
Speakers: Jesse Damiani (Galatea Design), Angela Field (Expressive.AI), Ryan Groves (Melodrive), and Lucas Rizzotto (Thought Co.)
Visual technologies have come a very long way in terms of being able to accurately simulate 3D environments and human appearance in controlled situations. The so-called "Uncanny Valley" has been centered around visual resemblance. With the rise of AI and the access to interactive tech, there is a new Uncanny Valley being created through human-like characters and interactions – where the focus is on narrative rather than visuals. This creates an opportunity to redefine how people engage and interact with machines, and with each other. This new paradigm will not only require new tools, like storyboarding in VR (Galatea), emotion-driven music (Melodrive), expressive 3D characters and faces (Expressive.AI) but also new approaches to promote introspective interactions (Where Thoughts Go).
Interested in more? Immerse yourself in the latest VR/AR storytelling at the The Virtual Cinema exhibition at SXSW 2019. Watch VR cinema projects by talented international producers from March 11-13.
Join Us For SXSW 2019
Register and book your hotel today to join us for SXSW 2019! Take our Badge Quiz to find out which badge will help you get the most out of your SX experience.
Follow us on Facebook, Twitter, Instagram, and SXSW News for the latest SXSW coverage.
VR Exhibition – Photo by Kaylin Balderrama
The post Virtual, Augmented & Mixed Reality SXSW Sessions from AI to Filmmaking appeared first on SXSW.