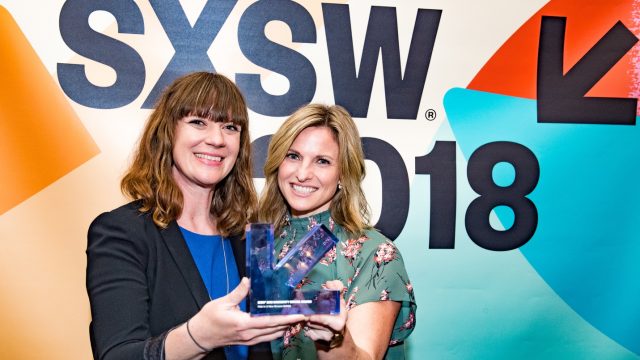 Dewey Winburne was one of the original co-founders of the SXSW Interactive Festival, but he was many other things in the Austin community: a family man, a teacher, a visionary, a connector and an innovator. He believed that technology could bridge the digital divide and help those less fortunate than others. Although Winburne passed away in 1999, his legacy continues. His life exemplified how one individual can truly make an impact in their community.
Every year in March, SXSW celebrates six individuals and six organizations for their dedication to fostering positive community impact at the SXSW Community Service Awards.
Each honoree or organization that is selected will receive complimentary badges to SXSW, a grant, and a chance to spread the word about their work to the SXSW community! Learn more about the 2019 SXSW Community Service Awards below and apply before the deadline on September 6, 2018 at 11:59pm PT.
Tips to Apply
SXSW wants to receive applications from ANYONE and EVERYONE doing something exciting and impactful in their community. Don't be shy!

Please note that there are two different award categories: one for individuals and the other for nonprofit charitable organizations.

For individuals, we are looking for applicants whose creative community service work bridges the digital divide, impacts the community positively and includes some degree of grassroots or hands-on organizing.

For organizations, we are looking at grantees based on their connection to one of the following aspects of SXSW: Interactive, Film, Music, EDU, or Gaming.

Be specific about what the Community Service Award grant will be used for. Who it will impact? What makes this particular individual or organization inspiring, unique, and special?

Additional resources are always good! Links and videos are highly encouraged, as well as, examples of past projects and grant-funded projects.

Take a look at last year's honorees and get inspired by these visionaries.

Questions about the application? Don't hesitate to email communitygrant@sxsw.com.
Join Us in March 2019
Register to attend SXSW 2019 and book your hotel to begin your SXSW adventure from March 8-17, 2019. Sign up for SXSW Event Updates to always be in the know!
SXSW Community Service Awards awardees – Photo by Robert Santos
The post Top Reasons to Apply to the 2019 SXSW Community Service Awards appeared first on SXSW.