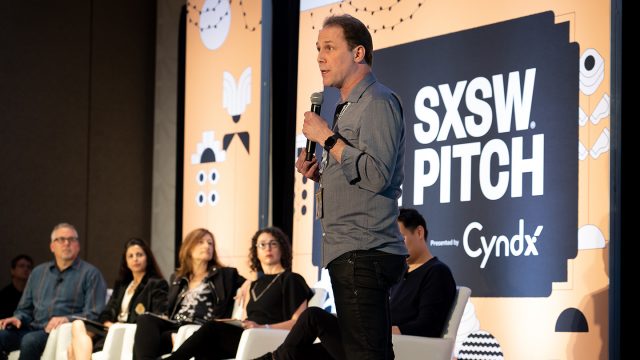 Take your startup to the next level at the 2020 SXSW Pitch competition!
Since its inception, SXSW Pitch has showcased the innovators and technology industry pioneers, from indie tech companies to trailblazing startups, that call Austin home. Startups compete in front of a live audience, panel of expert judges, venture capitalists, and high-profile media at SXSW 2020 from March 14-15. To get in on the action, make sure to submit your application before the extended deadline on November 17.
Out of a total of 503 participants since its inaugural year, 75% received funding and 16% were acquired, leading to a grand total of $6.6 billion in funding for SXSW Pitch alumni. Notable alums include Klout, Hipmunk, Wildfire, Siri, TubeMogul, Foodspotting, and Tango. Explore the 2020 SXSW Pitch Report from Pitchbook, which explores over a decade of data to examine industry changes, key trends, financing activity, and more.
Join the ranks of SXSW Pitch greats and apply today! If you want to know more about how SXSW Pitch can help your startup, check out the top reasons to apply according to SXSW Pitch Event Producer Chris Valentine.
Reasons to Apply to SXSW Pitch
Explore Funding Options with Investors
Investors from around the world come to SXSW each year looking for the next big thing — that's where SXSW Pitch comes in! Showcasing your product or service at SXSW Pitch can get the attention of these investor attendees, giving you the chance to get in front of investors who can help take your startup to the next level. In addition to that, there's the opportunity to discover the latest funding strategies and trends adopted by other startups, accelerators and incubators, angel investors, venture capitalists, and more all by engaging with fellow competitors and audience members.
Take Advantage of Media Exposure
SXSW Pitch presenters can take advantage of the large amount of media attention that SXSW generates and leverage their startup into media coverage with the ample press opportunities provided by this and other surrounding newsworthy events.
Learn From the Industry's Top Innovators
The vast socializing opportunities at SXSW Pitch make it easy for participants to meet, greet, and establish a network of professionals to work with on future projects across numerous industries and sectors of business.
Polish Your Elevator Pitch
Since pitching is the single most important skill for startups, take your elevator pitch for a test run at SXSW Pitch and get feedback and expertise from the innovators, media experts, and venture capitalists that will be in attendance. Sharpen your skills and gain connections while doing it.
Connect With Other Top Startups
Don't pass up on the opportunity to network with like-minded startups that can help support and create incredible new opportunities down the road in your journey as a startup.
SXSW offers a wealth of exciting opportunities and events, including the SXSW Conference, parties and lounges, Meet Ups, numerous competitions and awards, the world-renowned Trade Show, and of course the other unexpected discoveries that only SXSW can deliver.
Be a part of the experience and apply to be a part of SXSW Pitch today. Read over the eligibility criteria and 2020 Advisory Board before submitting an application by Sunday, November 17 by 11:59pm PT.
Attend SXSW 2020
Join us for SXSW 2020 from March 13-22 in Austin, TX. Check out how to attend, plan your housing, and stay up to date on SXSW 2020 news by following us on Facebook, Twitter, and Instagram.
SXSW Pitch 2019 – Photo by Beverly Schulze
The post Gain Media Exposure & Explore Funding Options: Apply to SXSW Pitch by November 17 appeared first on SXSW.