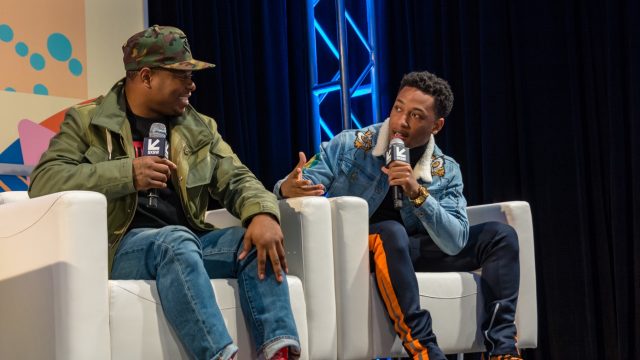 Do you have questions about how to develop and craft your project? Topics in the Making Film & Episodics Track include casting, sound design, and post production just to name a few.
"Even though barriers for film and episodic making are lower than ever, obstacles remain at every turn," said Film Conference Programming Manager Austin Nauert. "Whether you want to learn about financing, editing, cinematography, or new advancements like VR, our Making Film & Episodics Track covers all of the topics you need to make your next film."
Dive deeper into the Making Film & Episodic Track as we showcase different sessions that highlight producing, editing, copyrighting, and more. Making Film & Episodic Track sessions are held March 9-12 with primary access to Film and Platinum Badges; secondary access to all other badges. This track also offers mentor and round table sessions where you can sit down and talk with an accomplished filmmaker or expert.
Making Film & Episodic Session Highlights
Designing Binge-Worthy Title Sequences for TV
Speakers: Lisa Bolan (Elastic), Lola Landekic (Art of the Title), and John Likens (Method Studios)
It's the golden age of title sequence design in television but the art form is also at risk. In the past few years, stunning title sequences have captivated audiences all over the world and are short pieces of compelling content in their own right. Simultaneously, the rise of streaming and binge-watching culture has led some to skip even the most artful titles on their second or third episode in one sitting – they just saw the titles an hour ago, right? Title designers are in limbo; absolutely required on one hand and dismissed on the other. The creators behind some of the most highly lauded episodic title sequences (Stranger Things, Altered Carbon, Godless, The Man in the High Castle, and more) talk about how to keep audiences engaged and explore the future of the art form.
"Getting the Shot" for HBO's Insecure
Speakers: Snehal Patel (Carl Zeiss SBE, LLC)
Dive into the photography of the hit television episodic series Insecure. How was it shot? Learn how Ava, the primary cinematographer, came up with the look of show and is able to maintain the same tone through multiple seasons. Find out which camera, lenses and accessories she employed to serve the story. Questions we will explore: What does the cinematographer plan for and how do they establish the look? Is the director, production designer or others involved? When does camera and lens choice become important? Do you conduct camera tests before shooting the pilot? What lenses did you use for this show? How did your choice of lenses help your photography? What characteristics do you look for in a lens set? How does the lighting interact with the camera?
Hereditary: The Anatomy of an Instant Horror Classic
Speakers: Lucian Johnston (Editor), Jennifer Lame (Editor), and Emery Wells (Frame.io)
Take a behind-the-scenes look at the editing process of what's been called The Exorcist of this generation, 2018's most acclaimed horror film: Hereditary. CEO of Frame.io Emery Wells leads a fireside chat and workshop session with Lucian Johnston & Jennifer Lame, the editor team that worked alongside first-time director Ari Aster. Lucian & Jennifer share the extraordinary process that brought this instant horror classic to life. This workshop will take a look at their editing process from start to finish, while SXSW attendees will be allowed to add their comments, questions and feedback directly into the Hereditary project using Frame.io.
Learning Your Rights: Using Mash-ups & Remixes
Speakers: Patricia Aufderheide (American University) and Michael Donaldson (Donaldson & Callif LLP)
For the past few years, Michael Donaldson has been helping SXSW filmmakers understand their right to use copyright protected material and even person's images without permission. for films to be commercially released including partial or total remixes and mash-ups. Your rights are stronger than you might think. Learn the latest on how the courts have encouraged such creation; big studios support such films when it suits their promotional purposes, but when they change their minds, courts look at the constitution to find ways around the restrictive language of the Copyright Act to protect independent filmmakers. Donaldson has been called the "Obi-Wan Kenobi of fair use" by the American Bar Association. His workshops are highly interactive. He is ready to answer all your questions.
The Truth About Producing
Speakers: Rebecca Green (DearProducer.com), Amanda Marshall (Cold Iron Pictures), Chris Ohlson (Revelator), and Kelly Williams (Ten Acre Films)
Rebecca Green, producer of the indie horror sensation, It Follows, and Editor-in-Chief of DearProducer.com, brings together some of the industry's most talented producers in independent film to dissect the mysteries and misconceptions of the role of the producer. From financing struggles to shrinking budgets and the decline in traditional distribution models, panelists will discuss how they are constantly evolving and adapting in a changing landscape while sustaining a producing career. Through candidly sharing their personal stories and using real data, panelists will challenge archaic business models that stifle diverse and original voices and advocate for innovation, transparency, and fiscal responsibility from our industry.
Browse All Making Film & Episodic Sessions
Join Us For SXSW 2019
Register and book your hotel now to save! The Film Badge gets you primary access to all SXSW Film events including Film Keynotes and Featured Sessions, world premieres, round tables, workshops, parties, and more. Over the course of nine days, the SXSW Film Festival hosts over 450 screenings! Film registrants also have primary access to Convergence events, including the Comedy Festival and nine unique Conference tracks, as well as secondary access to most Interactive and Music events.
Follow us on Facebook, Twitter, Instagram, and SXSW News for the latest SXSW coverage.
Featured Session: The Chi – Photo by Jon Currie
The post Title Sequence Design, Photography, and Editing: Making Film & Episodic Track Sessions for SXSW 2019 appeared first on SXSW.