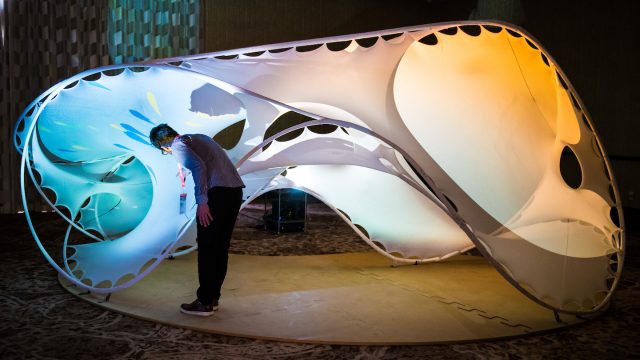 Written by Lizzie Whitington
For our second year of the SXSW Art Program, we are continuing to program experiential and conceptual visual artworks that apply emerging technologies and immersive environments to spark discovery, inspiration, and connection.
The SXSW Art Program strives to showcase work for both emerging and established artists whose creative vision reflects the values of SXSW, including creativity, culture, storytelling, and innovation. The program offers a great opportunity for your creative work to gain exposure to new audiences in the fields of music, film, and technology.
We offer artists a unique platform to showcase their work within one of the most diverse, collaborative, and inventive communities in the world. Artists will have the opportunity to engage with individuals and organizations across many sectors, while debuting their work in front of the creative communities that converge at SXSW in Austin.
Tips for Applying
Create an experience. We are looking for works that are going to enhance their environment whether that is visual, sound, interactive, immersive, or spatial.
Be creative. Accepted works will be displayed in non-traditional spaces, such as conference-style rooms, so use that to your advantage by creating a one-of-a-kind installation that will transform the space.
Think big. There is also space for outdoor installations. We encourage artists to think big since their work will have an audience of thousands of creatives, global professionals, industry leaders, and more.
Read the fine print carefully. This will provide you more detailed information about the art application and process before you submit your application.
All visual artists – studios, designers, collectives, and individual artists – are eligible to enter their project. Once we have collected all proposals, final selections will be made by the SXSW Art Team with proposal feedback from our Advisory Board members. Enter now before the early entry deadline this Friday, September 8, 2017 at 11:59pm PT.
Final Deadline: Friday, September 8, 2017
Social Sensory Architectures – Photo by Ann Alva Wieding
The post 4 Tips for Applying to the 2018 SXSW Art Program appeared first on SXSW.