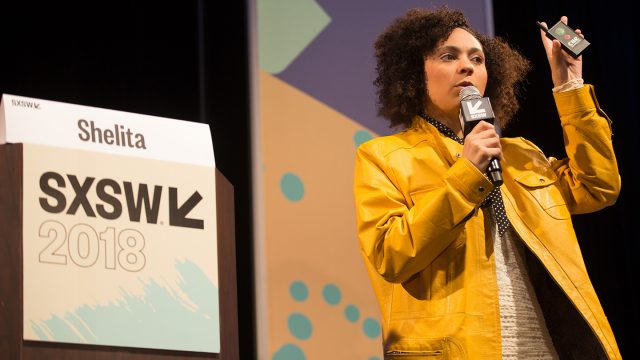 New for SXSW 2019, the Blockchain & Cryptocurrency Track will bring together technologists, investors, creators, and industry leaders to explore the ways in which blockchain technologies are being deployed and discuss the power of digital currency. Blockchain technology has already laid the groundwork for disruption in industries such as finance, healthcare, government, music, film, and more. Join us this March to join the conversation and learn what the future of blockchain adoption could look like.
"We at SXSW believe that Blockchain technology is going to fundamentally impact the current digital infrastructure of the internet through data decentralization, data transparency, and digital currency," says Todd Hansen, Head of SXSW Conference Programming. "We are at the very beginning of discovering how this innovation will be adopted across industries and impact our day to day lives. The promise of Blockchain is very compelling and SXSW will be a place where you can see its future unfold."
Dive into the blockchain ideas, investors, policies, and tokens that will impact global industries from March 14-16 at the SXSW Conference with primary access to Platinum and Interactive Badges and secondary access to all other badges.
Blockchain & Cryptocurrency Session Highlights
The Token Economy: Digitizing Real-World Assets
Speakers: Jesse Lund (IBM)
Today, it takes one click to buy a concert ticket or a new pair of shoes, but if you want to buy stocks, get a mortgage, or pay someone in another country, the transactions are more time intensive. Assets like gold, real estate, fine art or carbon credits are more difficult to transfer, often leaving buyers and sellers with paperwork and lengthy procedures. By representing physical assets and currency as digital assets on a distributed digital ledger or blockchain, it's possible to unlock the value of real-world assets and to exchange them in real time. Much like the internet 25 years ago, a steady progression of innovation can arise from a real-time, interconnected world with the potential to sequentially and substantially disrupt markets.
Blockchain vs VC: Democratizing Access to Capital
Speakers: Ashwini Anburajan (22X Fund), Nicole Hamilton (Springboard Enterprises), Mary Jackson (Springboard Enterprises), and Rosemary O'Neill (Narrative Company)
Blockchain, ICOs, and tokenization have opened up a new world for entrepreneurs and fledgling investors, completely disrupting the economic model and funding cycle for startups. For innovators trying to get around the barriers and bias in venture capital, crypto could be a game changer. Will blockchain be the death of VC? The founders and investors on this panel have raised a tokenized VC fund and run successful ICOs including 22X Fund and Narrative Network, deploying investment into nearly 30 companies and funding more women and minorities than traditional VC. We will discuss the growing landscape of options for startup funding, the role cryptocurrency has to play, and the rewards and dangers of a not-so-distant future where everybody has access to their slice of the pie.
Designing for Blockchain: 3 Ways to Dive In
Speakers: Tara Tan (IDEO)
You've heard the hype. Blockchain technologists are building a utopian vision of a decentralized future where financial systems are open, transparent, and secure. Yet today, user experience in this space is notoriously subpar — and in many ways, alienating. Good design accelerates adoption. It's time for designers to step in.
Our interactive talk explores some ways for designers and design-minded folks to dive into some of the core UX challenges in blockchain and the distributed web. From human-readable wallet addresses to private key storage, what are some ways that design can help align the principles of an open, distributed web to practice? Let's design the future, together.
Made in China: Crypto, Exchanges, Trust and More
Speakers: Jason Lau (OKCoin/OKEx), and Edith Yeung (500 Startups)
Although the Chinese government has a love-hate relationship with crypto – from shutting down exchanges and ICO projects, halting financial institution funding, to blocking all overseas websites related to trading and ICOs – it hasn't stopped the success some of the world's top exchanges. The crypto world is global, as 70% of the exchanges with the highest trading volume come from China.
In this candid discussion, Edith Yeung of 500 Startups and Jason Lau of OKCoin will discuss how exchanges in China are keeping up their trade volume, continuing to grow its global users and overcoming government regulatory challenges. How are these exchanges secure and building trust with customers? What is next for the world of crypto?
Why VCs Have Joined the Block Party
Speakers: Mary Ann Azevedo (Crunchbase News), Alyse Killeen (StillMark), Jacob Mullins (Shasta Ventures), and Jimmy Song (Blockchain Capital)
Entrepreneurs seeking funding to build blockchain startups have long had to seek support from traditional VCs. Today, many have bypassed that path by funding their startups selling tokens directly to investors, which is proving as a great way to raise money without giving up core company ownership or decision-making power. While it's clear the tech ecosystem benefits from new funding methods, the panelists believe that while token offerings can be legitimate ways to finance startups, they aren't for every company. Panelists will give their unique perspective on when to consider an offering (e.g. speed, control), when it's not (e.g. regulatory challenges), and why startups might consider both crypto and traditional financing mechanism to create tomorrow's next billion dollar business.
Browse More Blockchain & Cryptocurrency Sessions
Purchase your SXSW Badge and reserve your hotel today to experience these sessions along with 10 days of screenings, showcases, exhibitions, networking, and more this March 8-17 in Austin, TX.
Stay up to date on everything SXSW and follow us on Facebook, Twitter, Instagram, and SXSW News.
Blockchain, Cryptocurrencies, and Music SXSW 2018 Session with Shelita Burke – Photo by Jay Nicholas
The post The Token Economy, VCs, and Designing for Blockchain: Blockchain & Cryptocurrency Track Sessions for SXSW 2019 appeared first on SXSW.