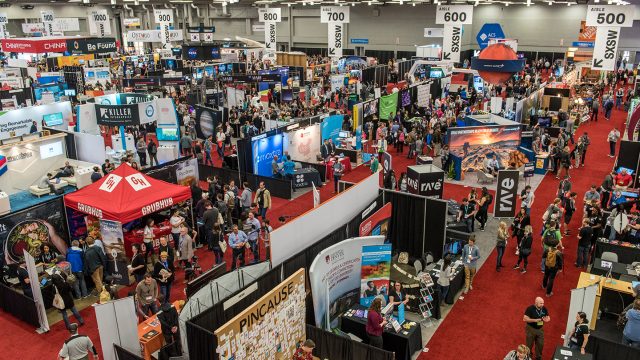 No matter where you're from or what interests you, the SXSW Trade Show has something special in store. Whether you're in town for the Interactive Festival, Music Festival, Film Festival, Conference, or a little bit of everything, the Trade Show is the convergence of all things SXSW in an energetic atmosphere that inspires creativity and discovery.
The Trade Show is divided into areas that include the Discovery Stage, Health Pavilion, Come and Capture, and the Start Up Village. These areas only scratch the surface of the range of disciplines that are present during this exhibition at SXSW. Hundreds of top companies return every year to be a part of the Trade Show for unmatched networking, learning, and simply, having fun!
Come see the next big thing at the Trade Show, where the best and brightest companies highlight their most interesting developments. The Trade Show is known for its magnitude and dynamic nature. You never know what you'll discover. Take a sneak peek of some of the exhibitor plans:
There's more than tech at the Trade Show! Enjoy interactive discussion panels, demos, samples, and make connections all over the show floor while broadening your horizons. You really just have to come see it for yourself!
What will you discover this year?
The post The SXSW Trade Show: Your Destination for Discovery appeared first on SXSW.