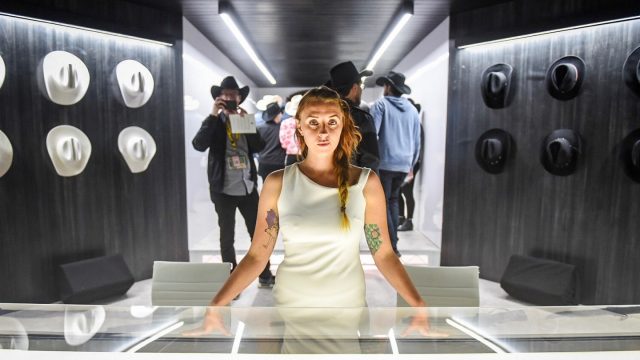 Announcing the winners of the inaugural SXSW Creative Experience "Arrow" Awards, celebrating creativity and innovation from agencies and activations at SXSW 2018.
"SXSW has long been a destination for cutting edge agencies and brands to bring their most inventive ideas to life," said Roland Swenson, CEO of SXSW. "In the lead-up to this year's event, we were excited to hear what some of our partners were planning, and we wanted to recognize that creative spirit in some small way."
"We consider the three inaugural awards to be the groundwork for a larger awards program at SXSW 2019, rewarding creative work by both brands and agencies."
The initial SXSW Creative Experience "Arrow" Awards selection was comprised of select SXSW staff, and leaders at Austin-based creative agencies.
SXSW 2018 Creative Experience "Arrow" Winners
Best Immersive Experience
HBO and Giant Spoon for Live without Limits Weekend, an immersive Westworld experience
HBO and Giant Spoon created an immersive theatrical experience for Westworld. Attendees were shuttled to a remote location where a recreation of the town of Sweetwater awaited them. The experience included actors trained for months in advance to create a fictional story that came to life on the two-acre set.
Best Use of Technology
Brand Strategy team from Sony Corporation for WOW Studio
Sony's Wow Studio showcased 11 projects and prototypes that blended art and technology. The ambitious installation included VR, robotics, high speed vision sensor and spatial audio technology named Sonic Surf VR. One of the examples was interactive tabletop projectors that allowed visitors to interact with visuals and sounds by sensing the movement of their fingers, while small 3D-printed musical instruments came to life by 3D projection.
Spirit of SXSW
Meow Wolf for Fractallage (a pop-up installation) and The Atrium (VR experience)
Meow Wolf, a Santa Fe-based art collective whose documentary film, Meow Wolf: Origin Story was accepted into the SXSW Film Festival, expanded their Austin presence with a pop-up installation, Fractallage and a VR experience, The Atrium. The collective's DIY outsider spirit came to life in their wide-ranging SXSW participation.
Top of page – Westworld "Sweetwater" at SXSW 2018 – Photo by Merrick Ales
The post The SXSW Creative Experience "Arrow" Awards – HBO and Giant Spoon, Sony Brand Design Platform, and Meow Wolf appeared first on SXSW.