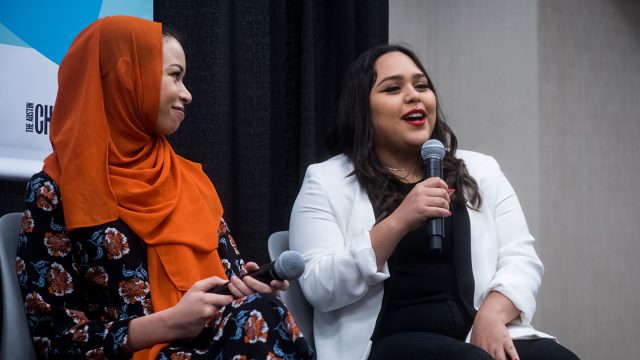 The next generation has not been shy about stepping in and innovating in places where they see their elders slipping. The Knowledge Society (TKS) provides an innovation program and incubator for students aged 13-17 to develop the next generation of leaders that will solve the world's most important problems. Four of their students will present the work that they are passionate about during the Intelligent Future Track of the SXSW Conference.
See them present their work on Monday, March 11 in the Fairmont, Manchester EFG from 3:30pm-4:30pm. The students will present under our new session format, Focus15s! Focus15s feature four speakers in a one-hour time block. Their presentations will be emceed by one of The Knowledge Society's co-founders.
The Knowledge Society Session Highlights
Reforming Civilization with AI
Since the start of civilization periods of rapid growth and expansion have brought longer, healthier, and more fulfilling lifespans. According to Shalev Lifshitz – one of the world's youngest AI researchers and entrepreneurs, at only 16-years-old, with The Knowledge Society – we're on the brink of another such expansion period that is being driven by Artificial Intelligence. He will show how AI is disrupting industries as well as the work being done to achieve AI with human-level intelligence.
Going Small To Make Big Change: Future Of Nanotech
Have you ever wondered how some of the most complex problems in industries like healthcare, energy, agriculture, and more have started? The short answer is that their root causes start on a nanoscale – a scale that is governed by quantum mechanics and nanoscience. Imagine being able to fundamentally understand how nanoscience works and being able to leverage it to unlock the secrets to solving some of the most complex issues of our time. Samarth Athreya, 15-year-old TKS Activator at The Knowledge Society (TKS), will speak to how he is leveraging the power of nanotechnology to solve some of the worlds most important issues.
Reversing Aging with CRISPR-Cas
For many diseases, aging is the main risk factor, from cardiovascular diseases to cancer. In light of this problem, Hannah Le, the 18-year-old TKS Activator at The Knowledge Society (TKS), was compelled to try to discover whether we can reverse aging using a novel genetic engineering tool called CRISPR-Cas. With this tool in hand, Le was able to double the lifespan of fruit flies by editing only two genes. By successfully completing her experiment, Le's work joins thousands of experiments around the world where we can successfully reverse aging in small animals. The future of this tech is bright and moving towards scaling up to eventually be able to prolong human life.
Transforming Civilization with Quantum Computing
Computers changed civilization forever, but we're still operating on the same technology from 70 years ago. Quantum computing and machine learning are poised to usher in the next life-altering shift. Tommy Moffat, 17-year-old TKS Activator at The Knowledge Society (TKS), is working on applying quantum machine learning to difficult problems like pharmaceutical drug discovery and metamaterials design with companines like Rigetti, Xanadu, and D-Wave to help implement quantum algorithms and research. He has also consulted with companies like Airbnb, Microsoft, Nestle, and Walmart on some of their highest priority issues, and recently worked as an innovation develpoer at Zero Gravity Labs.
To hear about other innovators across the other 25 tracks of programming, make sure to check out the other Focus15s being offered in the Conference.
We can't wait to see you in March!
Attend SXSW 2019
Get your SXSW Badge and reserve your hotel today to attend SXSW 2019 and experience these Conference sessions along with 10 days of screenings, showcases, exhibitions, networking, and more this March 8-17 in Austin, TX.
Follow us on Facebook, Twitter, Instagram, and SXSW News to stay current with all things SXSW.
Featured Image by Tyler Draker
The post The Next Generation of Innovators: The Knowledge Society Highlight appeared first on SXSW.