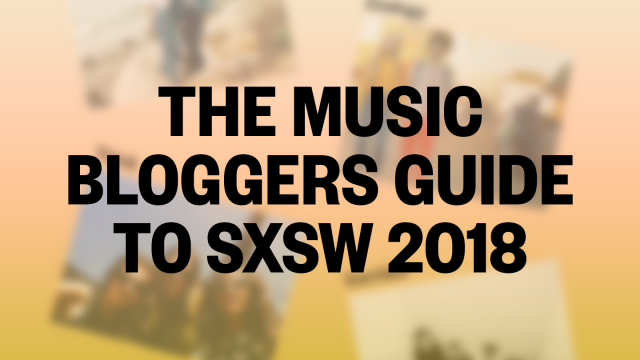 The Music Bloggers Guide to SXSW 2018 is here!
The Music Bloggers Guide to SXSW is an interactive exploration of 100+ exciting up-and-coming SXSW Showcasing Artists, as identified by the best music bloggers in the business. Read write-ups by our contributors about the next generation of talent while listening to their music.
The Music Bloggers Guide to SXSW 2018
Add your new faves to your SXSW Schedule to stay updated on when and where they will be performing in March. Special thanks to Foxtrot for their web design services.
Contributing Music Blogs
A Day & A Dream
All Things Go
Alt Citizen
Alt Citizen / BTRtoday
Austin Town Hall
Austinot
B3SCI
BeatRoute
Brooklyn Vegan
Clash Music
Consequence of Sound
Control+Alt+Delete
Dirty Glove Bastard
DIY Mag
Drowned in Sound
EARMILK
EQ Music
Flood Mag
i Heart Moosiq
Indie Shuffle
Korean Indie
Majestic Casual
Metal Sucks
Music Feeds
mxdwn
Operation Every Band
Pigeons & Planes
Remezcla
Sopitas
The Blue Walrus
The Burning Ear
The Wild Honey PIe
There Goes The Fear
Tiny Mix Tapes
Vinyl Me, Please
We All Want Someone To Shout For
We Are: The Guard
We Found New Music

SXSW Music Festival
Each year the SXSW Music Festival hosts a curated mix of artists performing in bars, clubs, parks, churches, hotels, and more in Austin, Texas. This year's festival will take place March 12-18 and will feature 2000+ artists from all over the world performing countless genres and styles.
Attend SXSW 2018
Interested in hearing artists from The Music Bloggers Guide to 2018 live on stage? Learn more about attending SXSW 2018 here. The best way to experience SXSW Music Festival events is with a Music Badge: not only will you have access to all nighttime showcases, but you'll also receive entry into daytime Conference sessions, networking events, and parties.
The post The Music Bloggers Guide to SXSW 2018 Now Available appeared first on SXSW.