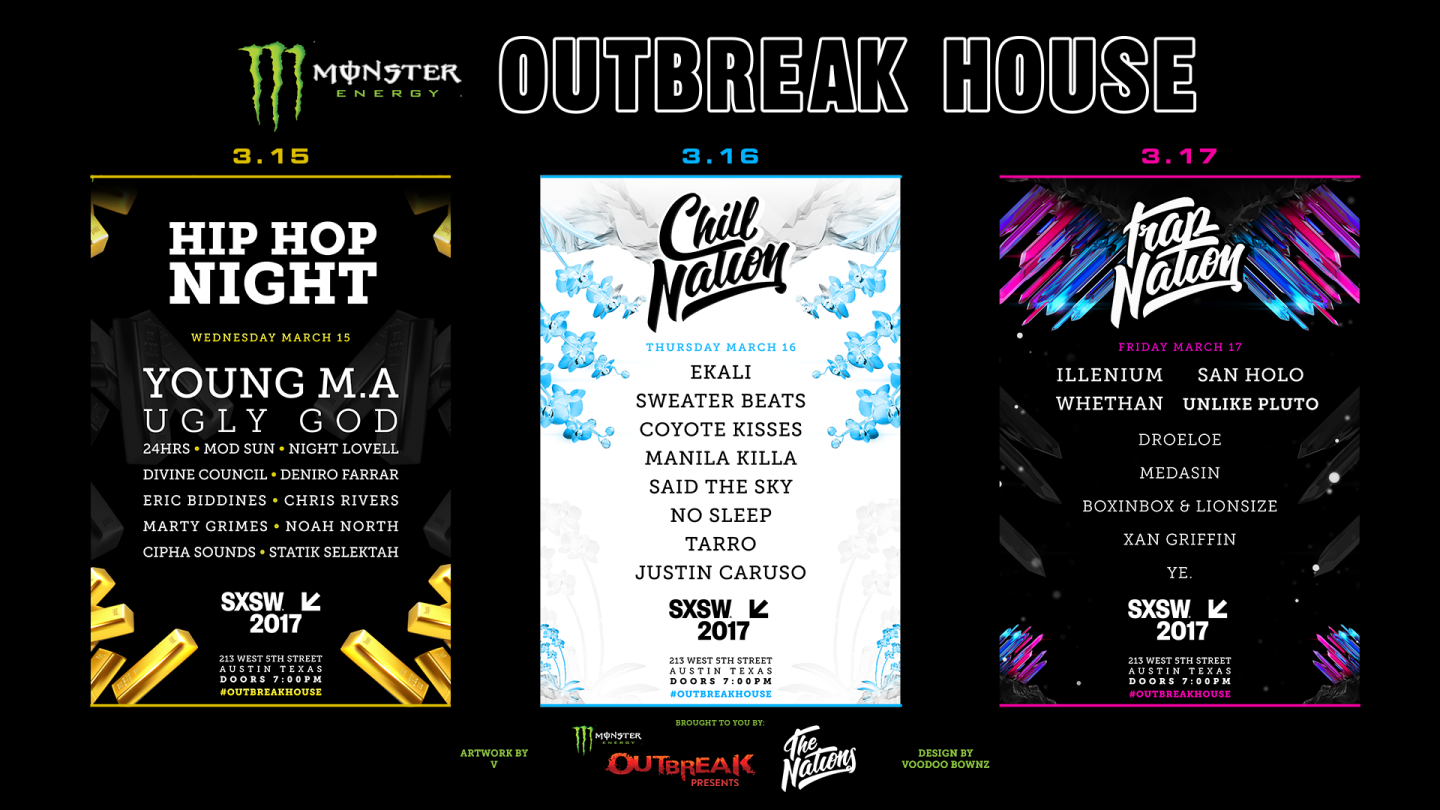 Sponsored Content Provided by Monster Energy
The Monster Energy Outbreak House residency returns to SXSW 2017 for its third consecutive year. The four-day event will showcase 30 emerging acts and a new partnership with Trap Nation, the world's largest music channel on YouTube with over 12M subscribers.
The Monster Energy #OutbreakHouse will feature Young M.A, Ugly God, Illenium, Whethan, San Holo, Unlike Pluto, Ekali, Sweater Beats, Night Lovell, 24Hrs and many more.
The Monster Energy Outbreak House @ SXSW 2017 will commence on Wednesday, March 15th and run through Saturday, March 18th. It's all going down at the Old Antone's venue on 213 W 5th Street, Austin, TX 78701. Doors open at 7pm each night, with each show running until 2am.
"We're bringing an even stronger lineup, bigger production and a bit of a refresh to the Monster Energy Outbreak House this year — and we promise substantial surprise guest performances just like in previous years," producer/GM Steven Ljubicic said. "We added extra focus to bringing credibility to the subgenres of EDM and emerging hip hop. Our goal is to champion these artists and feature them on one of our touring or festival properties and ultimately place them on the biggest national headlining tour of their career."
Since 2011, The Monster Energy Outbreak Tour has given fans early access to Discover What's Next by aligning our sponsor brands with mega stars on the verge of breaking. They included The Chainsmokers, Kendrick Lamar, Iggy Azalea, Logic, Fetty Wap and Post Malone on their largest national headlining tours at the time. The company produces six national tours a year across six different genres, alongside an annual week-long residency for Super Sponsor Monster Energy at the annual SXSW Monster Energy Outbreak House.
In 2016, a new property was formed called the Up & Up Festival. It has rival college students compete online to bring a national artist to perform at their school.
For more information about the Monster Energy Outbreak Tour, visit www.outbreakpresents.com or www.monsterenergy.com.
And don't forget to visit the Java Monster Mornings at the Registrants Lounge outside of the Austin Convention Center!
Photo Courtesy of Monster Energy
---
Related News:
The post The Monster Energy Outbreak House Returns to SXSW with a Exciting Music Lineup and Game-Changing New Partnership appeared first on SXSW.