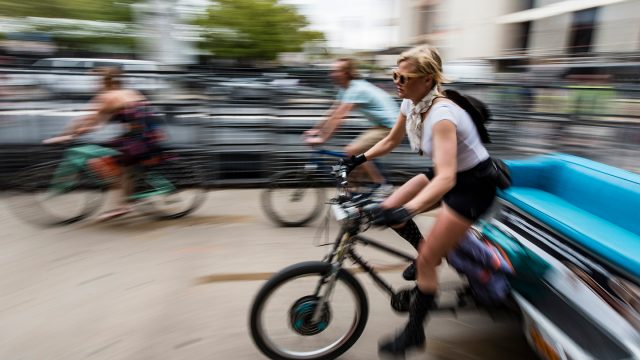 The future of transportation is an exciting space, and though we're not all whizzing around in our own personal hover cars – we might be closer to a future like that than you think. The Tech Industry & Enterprise Track of the SXSW Conference will house this series that will look at where the future of transportation is headed.
Join us in the Hilton Austin, Salon F and Room 400-402 on March 12-13 for this in-depth look into a possible near future of autonomous vehicles, hyperloop transport, and personal flying devices.
Future of Transportation Session Highlights
Airbags Today, Cybersecurity Tomorrow
The auto industry maintains strict standards for airbags, seatbelts, and other physical safety measures, but they do relatively nothing to prevent cybersecurity threats. This is more dangerous than, say, a hacked smartphone because a compromised car can put not only your life, but the lives of all those around you, at risk. In this session, Abe Chen, Senior Director of Cloud Connectivity Network & Security at Byton, discusses why security needs to be the top priority when designing connected and autonomous cars.
Air-Levitation: A New Hyperloop Transport Method
The Hyperloop and the promise of traveling at transonic speed are gaining more momentum as companies put more money into developing full-scale transport systems. Right here in Austin, Texas Guadaloop started as a research group that turned into a Hyperloop startup at The University of Texas at Austin and has a team of engineers that is working to build the first Hyperloop Transport Vehicle. They're using air as a source of levitation and friction-less movement which makes transportation more cost-effective and efficient. Their design won the Innovation Award at the SpaceX-Hyperloop II in August 2017, and they presented their latest designs at Competition III in July 2018. Hear from Deborah Navarro, Founder and Advisor for Texas Guadaloop as she discusses how enabling technologies will push the boundaries of transportation and bring the world closer together.
The Future of Mobility is a Smart Device on Wheels
Automakers today and new tech entrants seem to be racing to develop the car of the future, which will look and drive like none of the cars we've seen in past or present. Even though there's been exciting change over the last 100+ years of automotive manufacturing history, the next 10 years will bring a wave of change that significantly alters the course of the industry. Driving this change is electrification, autonomy, and shared mobility which will all intersect to drastically change how we interact with cars. Join Carsten Breitfeld, CEO and Co-Owner of Byton, and Daniel Kirchert, President and Co-Founder of Byton, for a presentation on how fully connected smart cars will seamlessly integrate into our lives and be a natural extension of our habits – and just like our phones today, we won't be able to imagine our lives without them.
Make Billions in Mobility: Some Assembly Required
Almost $100 billion in investing has poured into autonomous vehicles and mobility startups in the last five years as the auto and tech industries and VCs bet on continued disruption in transportation. Experts from the space including Danielle Alexander, General Manager of Jaguar Land Rover Tech Incubator, Tim Higgins, Tech and Autos Reporter at The Wall Street Journal, Doug Newcomb, Senior Industry Analyst for Mobility at Wards Intelligence, and John Suh, Vice President & Executive Director at Hyundai Cradle, will discuss what's driving the rush in mobility technology, what innovators and investors need to know to get in the game, and whether it's sustainable or if it's reaching bubble status.
Tired of the Self-Driving Car Rhetoric? Truck That
Self-driving cars have been in our collective consciousness for a while now, but why haven't self-driving trucks? Google, Uber, Tesla, and many other startups have turned their attention to self-driving truck technology because they provide a business model that makes sense since the return on investment could happen faster than with self-driving cars. The technology also has the potential to touch the lives of everyday consumers faster, even those in rural areas. A revolution in transportation impacts everyone by reducing costs for the products we use every day. The role of truck drivers will transform and the trucking industry won't be hampered by a driver shortage. Hear from Carla Bailo, President & CEO of the Center for Automotive Research, Tim Higgins, Tech and Autos Reporter for The Wall Street Journal, Christoph Schroeder, Vice President of Autonomous Driving for Mercedes-Benz Research & Development North America, and Kay Stepper, Vice President of Driver Assisted and Automated Driving at BOSCH as they discuss why we might see self-driving trucks go mainstream before self-driving cars.
Check out the other sessions in the Future of Transportation Series. However you decide to transport yourself to Austin, we'll see you in March!
Browse More Future of Transportation Series Sessions
Attend SXSW 2019
Get your SXSW Badge and reserve your hotel today to attend SXSW 2019 and experience these Conference sessions along with 10 days of screenings, showcases, exhibitions, networking, and more this March 8-17 in Austin, TX.
Follow us on Facebook, Twitter, Instagram, and SXSW News to stay current with all things SXSW.
Featured Image by Ann Alva Wieding
The post The Future of Transportation Series at SXSW 2019 appeared first on SXSW.