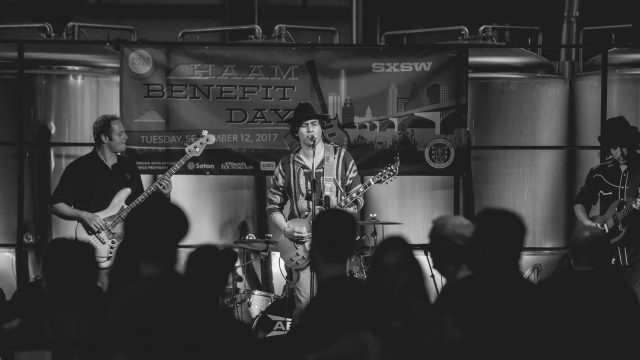 Tuesday, September 12, 2017, marked the fifth annual SXSW HAAM Benefit Day Show in participation with many other events hosted throughout Austin. Beyond being an opportunity to enjoy good music and food with friends, the event raises money for the Health Alliance for Austin Musicians, an organization that provides Austin's working musicians with access to healthcare services with an emphasis on prevention and wellness.
This year's event was held at The Austin Beer Garden Brewing Co. (The ABGB) and included performances from Austin-based artists She Sir, Julian Acosta, and Bidi Bidi Banda. She Sir kicked off the event with a dreamy shoe-gaze set, followed by a intimate performance by singer-songwriter Julian Acosta. Local Selena tribute band Bidi Bidi Banda closed out the night on a high note.
Thanks to everyone involved in HAAM Benefit Day and the large participation from the Austin community. If you were unable to attend the event but are interested in donating to HAAM, you can make a donation at any time at myhaam.org/donate. You can also check out the SXSWfm® HAAM Benefit Day radio show to hear music from the artists who performed.
Julian Acosta – Photo by Robert Andrew Bennett
The post The Fifth Annual SXSW HAAM Benefit Day Show appeared first on SXSW.