"I have been talking about women and film for a long time and one of the ways that I do that is online, on social media … But, on the other hand, social media can be a great place to have a community between women, to elevate each other's voices, to find new women and support each other." – Alicia Malone
At the 2018 SXSW Featured Session, The Female Voices of Film Twitter, Alicia Malone – Fandango correspondent, author, and all-around movie geek – moderates a panel with some of today's best and brightest female film pundits. Panelists Monica Castillo (Film Writer & Critic), Jacqueline Coley (Rotten Tomatoes), Amy Nicholson (Variety), and Jen Yamato (Los Angeles Times) join Malone to provide advice for both aspiring journalists and filmmakers seeking to break into this industry to tell their stories on the big screen.
During the conversation, Yamato recalls her beginnings with the online film community by saying, "writing on the internet lead me to realize that my opinion is just as valid as all these older, white men who have been here for so long and that new perspectives actually make the conversation a lot more interesting." She notes that male film critics have never had to worry about identity and representation when reviewing films. Coley adds, "I cannot delete the fact that I'm a black woman. I can't delete my blackness from it [film criticism]."
Watch the video above for the full Featured Session "The Female Voices of Film Twitter" at the 2018 SXSW Conference where four unique voices get into the nitty gritty about film, criticism, social media, and their haters.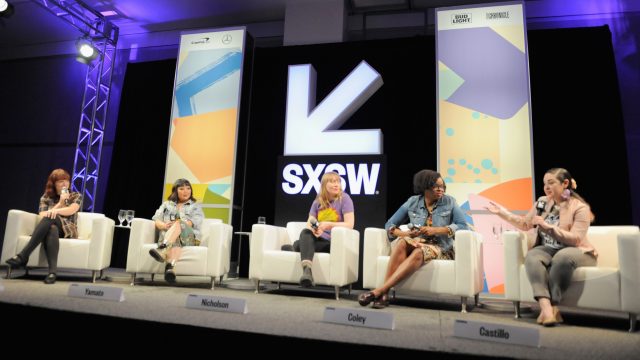 Explore More from SXSW 2018
Browse more 2018 Keynotes, Featured Sessions, Red Carpets, and Q&A's on our YouTube Channel. Follow us on Facebook, Twitter, Instagram, and SXSW News for continued 2018 SXSW coverage and information about the 2019 season.
(L-R) Alicia Malone, Jen Yamato, Amy Nicholson, Jacqueline Coley and Monica Castillo speak onstage at The Female Voices of Film Twitter during SXSW at Austin Convention Center on March 11, 2018 in Austin, Texas. (Photo by Nicola Gell/Getty Images)
The post The Female Voices of Film Twitter Featured Session Moderated by Alicia Malone at SXSW 2018 [Video] appeared first on SXSW.