"I don't want to play a woman who is actually a man in disguise. I don't want to do comedy that is for women but it's just women making fun of their bodies, so that men feel more comfortable with how their bodies are different than the way mens bodies' work. And I don't want to play the quirky best friend because, I have a different face than a person with a small nose or something. There is this weird thing I think when men write women where they make them be cruel to show that their tough and that is just a real misunderstanding. And I think if you can't write a woman correctly, then you should not," said SXSW Featured Speaker, Jenny Slate .
In post-election America, we all want to go "beyond the bubble"—to reach audiences and change minds outside of NYC screening rooms or film-festival panels. Film is uniquely positioned to do just that, and female directors, writers, and actors are using their work to change the perception of women onscreen and off in real world ways. Glamour brought together four female creators to talk about how films do (and don't) alter perceptions of women across America. Part of Glamour's "Powered by Women" initiative, this conversation is a don't-miss for anyone who cares about changing the world.
Indulge in this SXSW 2017 Featured Session with powerhouse women, Janicza Bravo (SXSW 2017 Film, Lemon), Danielle Macdonald (SXSW 2017 Film, Patti Cake$), Gabourey Sidibe, and Jenny Slate. Moderated by Cindi Leive.
Cindi Leive is the editor-in-chief of Glamour magazine and Glamour.com, which together reach one out of every eight American women, with 10 million print readers and 15 million unique users online. Under her stewardship, the magazine has launched a monthly digital edition, popular special editions, apps, and books—including two New York Times best-sellers; Lipstick.com, Glamour's stand-alone beauty site and Condé Nast's first-ever digital spin-off; a digital video network featuring original programming inspired by Glamour in partnership with Condé Nast Entertainment; and The Girl Project, a global philanthropic initiative.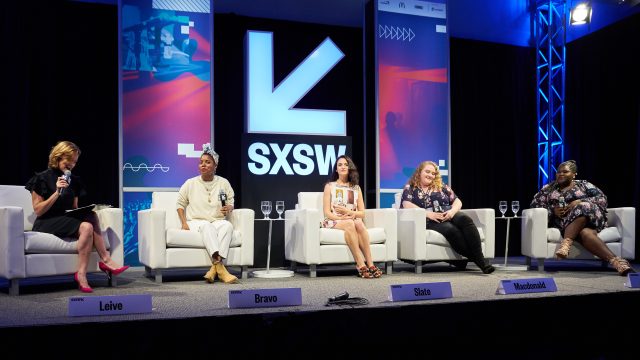 Explore More Content From SXSW 2017
Get inspired by a multitude of diverse visionaries at SXSW – browse more 2017 Keynotes, Featured Sessions, Red Carpets, and Q&A's on our YouTube Channel.
Follow us on Facebook, Twitter, Instagram, and SXSW News for the latest SXSW coverage, recaps, late-breaking announcements, and updates.
Photo by Ron Herrman
The post The Female Lens: Creating Change Beyond the Bubble [Video] appeared first on SXSW.