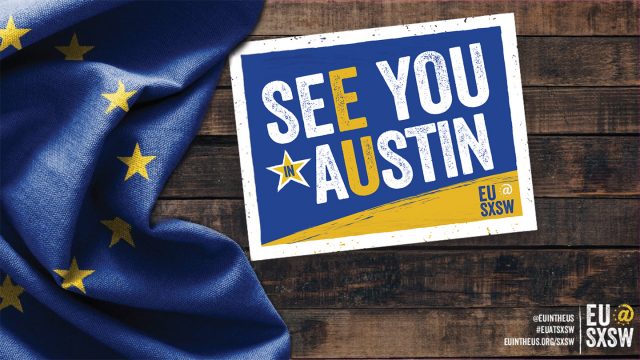 For the first time, The European Union is making a big splash at SXSW, presenting EU@SXSW—the go-to place for a European perspective on cutting-edge technologies, creative thinking, and innovative policies.
EU@SXSW demonstrates how the European Union is an open, innovative, and dynamic player in both the digital and cultural spheres. They'll offer interactive panel discussions, film presentations, technology demonstrations from some of Europe's hottest start-ups, and other great activities organized by EU Member States. You're invited to come by the EU networking lawn to relax and mingle over European coffee, refreshments, and snacks.
The EU's Ambassador to the U.S., David O'Sullivan, will speak during an official SXSW panel, EU's Digital Single Market: Breaking Down Barriers on March 11 at 12:30pm. Later that evening, O'Sullivan will host the official EU@SXSW kick-off reception at 6:30 pm.
SXSW is a unique opportunity for the EU to showcase Europe's world-leading technologies, innovation, and creativity as well as to engage with tech and policy leaders from the US and around the world on issues of importance to Europeans, such as the Digital Single Market initiative, which will expand the EU's single market of 508 million people from the physical to the digital space.
See you at EU@SXSW!
EU@SXSW
Saturday, March 11 – Monday, March 13
Palm Door on Sixth
508 E. 6th Street

For the full lineup of EU@SXSW events, visit www.euintheus.org/sxsw.
Content and image provided by IBF
---
Related News:
The post The European Union Joins SXSW appeared first on SXSW.