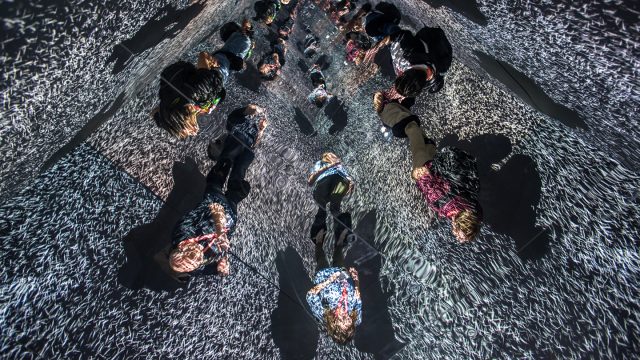 Art has a way of bringing out emotions, unleashing creativity, and shifting perspective outside of our own experience. The Design Track during the SXSW Conference will feature a series that looks at art's ability to move us outside of ourselves and view the world in a new and profound way.
Come by the JW Marriott (Salon 6) on March 11 from 9:30am-4:30pm to immerse yourself in art-focused sessions led by artists and prominent figures in the art world.
Art Series Session Highlights
400 Years of Inequality
The first Africans were brought to Jamestown, VA in 1619 and in the 400 years since, the U.S. has built oppression into our laws, policies, and practices in order to perpetuate the inequality of those Africans and their descendants. Join board-certified psychiatrist Dr. Mindy Fullilove, Professor of Urban Policy and Health at New School, Shaun Leonardo, an Artist known for his work exploring masculinity, criminal justice, and race, and Jamie Bennett, Executive Director of ArtPlace America, as they examine the country's history it's impact on various communities across the U.S. so many decades later.
Acts of Sharing: How Art Fosters Empathy
Making art is such a radical act of sharing that it can be a powerful tool for social change and empathetic connection. Art can push the artist and the viewer to imagine beyond their individual experiences and engage in the imaginative act of projecting themselves into a collective experience. This is how art promotes a deeper understanding of shared human experiences and existence and the wide range it encompasses: joy, pain, love, grief, loss, wonder, longing, etc. Hear from James Doty M.D., Director and Founder of Center for Compassion and Altruism Research and Education (Ccare) at Stanford University, Shanthi Sonu, Member of Aravani Art Project, and Poornima Sukumar, Director and Founder of Aravani Art Project as they discuss, from the perspective of their own expertise, how artistic practices can bring people closer together.
The Changing Role of Women in the Arts
The role of female-identified persons in the arts has changed dramatically and expanded in recent years, no doubt in relation to movements like #NotSurprised, #MeToo, and others that work to create safer spaces and stronger communities for women in the workforce. Suzanne Deal Booth, Founder and Director of Friends of Heritage Preservation (FOHP), Laurie Frick, Data Artist of Laurie Frick Data Artist, and Patton Hindle, Senior Director of Arts at Kickstarter PBC, will discuss the changing landscape in the art world from the perspective of female leaders: where it was, where it is, and where it needs to go.
Humanizing Innovation With Artistic Collaborations
Artist residency programs seem to be rising in popularity, in which artists are embedded into technology and research enterprises to foster collaborations between the artists and engineers. This intersection between opposing thinking – divergent or creative vs. convergent or practical – can expand the scope of possibilities and produce surprising results. How do these programs work and what is the tangible benefit for both the companies and artists involved? Domhnaill Hernon, Head of Experiments in Arts & Technology (E.A.T.) at Nokia Bell Labs, Julia Kaganskiy, Curator at Julia Kaganskiy, Kenric McDowell, Director of Artists + Machine Intelligence Program at Google Research, and Sarah Newman, Creative Researcher and Principal of Metlab at Harvard University and a Fellow at the Berkman Klein Center for Internet & Society, will look at historic examples and hear from top companies running artist residencies today to hear the challenges, benefits, and opportunities of the interdisciplinary approach.
Add Art Series sessions to your SXSW Schedule and check out our Art Program to take an even deeper dive into the art world.
See you in March!
Attend SXSW 2019
Get your SXSW Badge and reserve your hotel today to attend SXSW 2019 and experience these Conference sessions along with 10 days of screenings, showcases, exhibitions, networking, and more this March 8-17 in Austin, TX.
Follow us on Facebook, Twitter, Instagram, and SXSW News to stay current with all things SXSW.
Featured Image by Merrick Ales
The post The Art of Change: Art Focused Sessions at SXSW 2019 appeared first on SXSW.