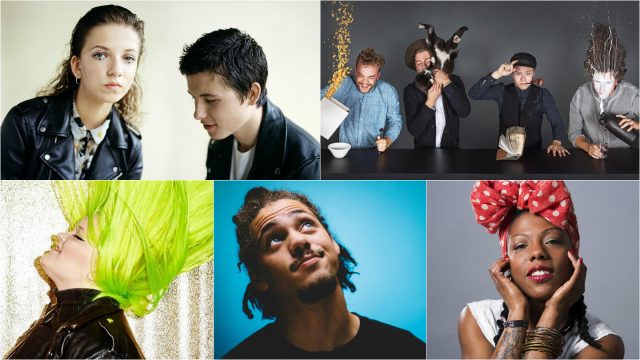 The super tasty hors d'oeuvres have digested so on to the first course. Today's announcement includes more than 150 hot and fresh Showcasing Artists scheduled to perform at the SXSW Music Festival, March 13-19, 2017.
The artists in this first round hail from 26 countries and represent a variety of sounds you've come to expect from SXSW. Highlights include Pro Era rapper and founding member CJ Fly, Canadian R&B songstress Charlotte Day Wilson, the electric Saharan desert grooves of Imarhan, 4AD electronic producer Sohn, Cuban rapper-singer La Dame Blanche, Tommy Stinson's reformed project Bash & Pop, acclaimed indie pop band The Drums, and versatile Austin singer-songwriter Lincoln Durham. You can peruse the full list below.
SXSW takes pride in providing a platform for discovering new, under-the-radar acts who are the future of music. Not familiar with many of the names on the list? Good! Start listening and learning about them with these helpful options:
You can see these artists and more in Austin next March by registering to attend SXSW 2017, and if you do it by Friday, October 21 you'll save $400 off the walk-up rates. Primary access to Music Festival Showcases isn't the only thing you get with a Music badge: you can receive personalized assistance with booking your hotel, entry into all daytime Conference Sessions, and access to most SXSW networking events and parties from March 10-19, 2017.
Want to be included in future SXSW Music Festival announcements? Artists still have time to apply to showcase via Sonicbids. The final application deadline is Friday, October 21.
Everything subject to change.
The 4onthefloor (Minneapolis MN)
Aero Flynn (Eau Claire WI)
Annabel Allum (Guildford UK-ENGLAND)
ALMA (Helsinki FINLAND)
AluviÓn Afrobeat Pacifico (Bogota COLOMBIA)
Aquilo (London UK-ENGLAND)
Autre Ne Veut (Brooklyn NY)
Aye Nako (Brooklyn NY)
Lee Bains III & The Glory Fires (Birmingham AL)
The Band of Heathens (Austin TX)
Bash & Pop (Hudson NY)
BeatKing (Houston TX)
Be Charlotte (Dundee UK-SCOTLAND)
Michael Bethany (Dallas TX)
Big Phony (Seoul SOUTH KOREA)
BIRTHH (Florence ITALY)
Biznaga (Madrid SPAIN)
David Blanco (La Habana CUBA)
The Blind Pets (Austin TX)
Blue Healer (Austin TX)
Busty and the Bass (Montreal CANADA)
Cardiel (Mexico City MEXICO)
Carnival Youth (Riga LATVIA)
The Ceremonies (Sherman Oaks CA)
Jorge Chafey (San Juan PUERTO RICO)
Chastity Belt (Seattle WA)
CJ Fly (Brooklyn NY)
Closeness (Omaha NE)
Kweku Collins (Evanston IL)
Charlie Cunningham (Leighton Buzzard UK-ENGLAND)
DakhaBrakha (Kiev UKRAINE)
Dardust (Ascoli Piceno ITALY)
Deep State (Athens GA)
Manu Delago Handmade (London UK-ENGLAND)
Delicate Steve (Frendon NJ)
Downtown Boys (Providence RI)
Draper (Sevenoaks UK-ENGLAND)
The Drums (New York NY)
The Dumplings (Zabrze POLAND)
Lincoln Durham (Austin TX)
Elle Exxe (Edinburgh UK-SCOTLAND)
Fastball (Austin TX)
Ripp Flamez (Cleveland OH)
Flamingods (London UK-ENGLAND)
Flasher (Washington DC)
Future Generations (Brooklyn NY)
Future Thieves (Nashville TN)
Ron Gallo (Nashville TN)
Sam Gellaitry (Stirling UK-SCOTLAND)
The Gift (Alcobaca PORTUGAL)
Girlpool (Los Angeles CA)
Giungla (Bologna ITALY)
William Harries Graham (Austin TX)
Gurr (Berlin GERMANY)
Half Waif (Brooklyn NY)
Heat (Montreal CANADA)
Hiccup (New York NY)
High Up (Omaha NE)
Hollerado (Toronto CANADA)
The Hollowbodies (Toronto CANADA)
IDER (London UK-ENGLAND)
Imaginary Tricks (Brooklyn NY)
Imarhan (Tamanrasset ALGERIA)
Joan of Arc (Chicago IL)
Kaiydo (Orlando FL)
Amy Klein (Brooklyn NY)
Kroy (Montréal CANADA)
Kučka (Perth AUSTRALIA)
La Dame Blanche (Pinar Del Rio CUBA)
Ladyhawke (Masterton NEW ZEALAND)
Letting Up Despite Great Faults (Austin TX)
SG LEWIS (Reading UK-ENGLAND)
Lng/SHT (Cancún MEXICO)
Lowell (Toronto CANADA)
LVL UP (Brooklyn NY)
Madame Gandhi (Los Angeles CA)
Mahogany (Philadelphia PA)
Mail The Horse (Brooklyn NY)
mansionz (Los Angeles CA)
Måntra (London UK-ENGLAND)
Meat Wave (Chicago IL)
Yael Meyer (Santiago CHILE)
Middle Kids (Sydney AUSTRALIA)
Raul Midón (Columbia MD)
Minihorse (Ypsilanti MI)
Mint Field (Tijuana MEXICO)
Minus the Bear (Seattle WA)
Missio (Austin TX)
The Moms (Morris Plains NJ)
Moor Mother (Philadelphia PA)
Morenito de Fuego (Monterrey MEXICO)
Mothers (Athens GA)
Moving Panoramas (Austin TX)
Mozart's Sister (Montreal CANADA)
My Expansive Awareness (Zaragoza SPAIN)
Naked Giants (Seattle WA)
The National Parks (Provo UT)
Native Young (Cape Town SOUTH AFRICA)
The New Respects (Nashville TN)
Brett Newski (Milwaukee WI)
Now, Now (Minneapolis MN)
Oh Honey (Brooklyn NY)
Outer Spaces (Baltimore MD)
Overcoats (New York NY)
Palm (Philadelphia PA)
PAWS (Glasgow UK-SCOTLAND)
Pinact (Glasgow UK-SCOTLAND)
PINES (Adelaide AUSTRALIA)
Plush (San Francisco CA)
Priests (Washington DC)
Michael Prins (Haarlem NETHERLANDS)
Pronoun (Brooklyn NY)
Pure Bathing Culture (Portland OR)
Qawalistan (Islamabad PAKISTAN)
David Ramirez (Austin TX)
Ramirez Exposure (Valencia SPAIN)
Riel (Buenos Aires ARGENTINA)
River Whyless (Asheville NC)
Roosevelt (Cologne GERMANY)
Whitney Rose (Austin TX)
L.A. Salami (London UK-ENGLAND)
Sammus (Ithaca NY)
Satellite Stories (Oulu FINLAND)
Scotty ATL (Atlanta GA)
Señor Loop (Panama City PANAMA)
Joana Serrat (Vic SPAIN)
Shaded (Los Angeles CA)
She-Devils (Montreal CANADA)
SOHN (London UK-ENGLAND)
Dice Soho (Houston TX)
The Spook School (Edinburgh UK-SCOTLAND)
C.W. Stoneking (Melbourne AUSTRALIA)
St. Tropez (Amsterdam NETHERLANDS)
SuperGlu (Colchester UK-ENGLAND)
Supermoon (Vancouver CANADA)
SWEAT (London UK-ENGLAND)
Lucía Tacchetti (Buenos Aires ARGENTINA)
Tamarron (Austin TX)
Tancred (Minneapolis MN)
Tess & Dave (Huntington Beach CA)
Thigh Master (Brisbane AUSTRALIA)
This Is The Kit (Bristol UK-ENGLAND)
Trill Sammy (Houston TX)
Tristen (Nashville TN)
The Undercover Dream Lovers (Brooklyn NY)
VANT (London UK-ENGLAND)
Anna Von Hauswolff (Gothenburg SWEDEN)
Weird Black (Rome ITALY)
Candy West (Dallas TX)
WhyJae (Houston TX)
The Wild Reeds (Los Angeles CA)
Charlotte Day Wilson (Toronto CANADA)
Frankie C. Wilson Jr. (Dallas TX)
Emily Wolfe (Austin TX)
Yemen Blues (Tel Aviv ISRAEL)

Everything subject to change.
Photo credits, clockwise from top left:
The Dumplings photo by Bartek Wieczorek
Carnival Youth photo by Martins Cirulis
La Dame Blanche photo by Victor Delfim
Kweku Collins photo by Andrew Zeiter
ALMA courtesy of PME Records
The post The 2017 SXSW Music Festival Artist Announcement – Round One appeared first on SXSW.