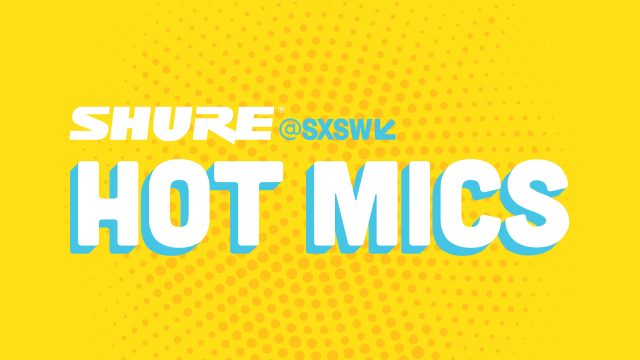 Content provided by Shure
From the big acts on the festival stage to your local dive bar around the corner, chances are you've seen and heard Shure products in use. Shure mics are everywhere, and when you close your eyes and think of a mic, you're probably picturing a Shure model—the company invented the "Elvis mic" and its SM58 is the industry standard performing microphone.
Artists will be stopping by the Shure booth (#327) at the Trade Show for impromptu concerts, and the stage will be open to anyone else willing to step up to the mic! While you're there, try out some Shure products, including the MOTIV line of digital mics for content creators. See how models like the MV88 can help you better capture every aspect of your SXSW experience.
There are many chances to claim Shure gear throughout the show, so keep an eye out for the Shure street team in "Hot mics" T-shirts, or jump in one of the sponsored pedicabs and tag Shure in a selfie for a chance to win.
Shure is honored that one of the company's latest innovations, the KSM8 Dualdyne™ Microphone, is a finalist for the SXSW Interactive Innovation Award in Music & Audio Innovation. Stop by table 17 at the Finalist Showcase on 3/12 to see how Shure "broke physics" to make one of the best-sounding performance microphones ever invented.
To keep track of all things Shure at SXSW, visit shure.com/sxsw.
---
Image courtesy of Shure
Related News:
The post That's a Hot Mic: Shure Microphones at SXSW appeared first on SXSW.