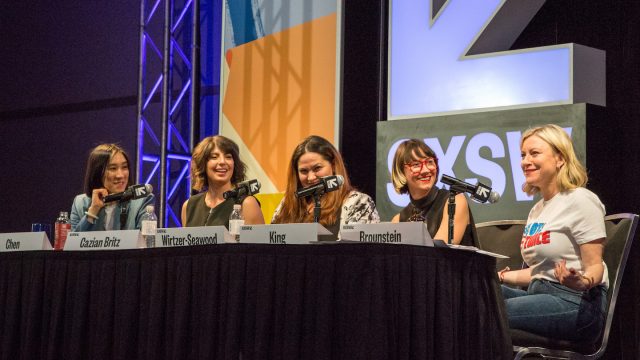 Over the past 20 years, the music industry has been evolving at supersonic speed. Digital technologies have gone from being celebrated as ground-breaking to obsolete in a matter of years. While the technologies used by the industry are in flux, the DNA of what makes a great song or great musical talent is evergreen. The Music Industry & Culture Track dives into the topics on the cutting edge of the industry and filters them through some of music's most important voices. Learn what the future holds for the music business at SXSW 2019.
Join us for more sessions in the Music Industry & Culture Track during the SXSW Conference from March 12-16. The Music Industry & Culture Track explores how the music business is constantly adapting and experimenting to meet the needs of a technology-driven world, and features discussions with superstars and up-and-comers alike with backgrounds ranging from worldwide to hyper-local scenes, genres, social movements, fashion, and beyond.
Music Industry & Culture Session Highlights
Music Streaming's Next Act – Taking on Radio
Speakers: Zach Fuller (MIDiA Research)
Music Streaming has got where it has today largely by disrupting the ailing retail model and replacing the downloads, which in turn replaced the CD model. The next big opportunity for streaming is to become the future of radio, which incidentally is around double the size of the recorded music market. It will be a classic case of disruptive insurgents stealing market share from long-standing incumbents who will not bow out of the race quietly. This presentation therefore focuses on the opportunity for streaming to build ad revenue around the younger audiences that are simply not engaging with traditional radio in the way that previous generations of young music fans once did.
A&R 2018: Gut Instinct vs. Data
Speakers: Alyssa Castiglia (Island Records), Eric McLellan (Sire Records/WMG), Craig Snyder (ReverbNation), and Drew Thurlow (Sony Music Entertainment)
A&R used to stand for Artist & Repertoire. Today it stands for Analytics & Research. How has this shift impacted what drives A&R decisions in 2018? What would happen if we missed the next Rolling Stones, Aretha Franklin, Kendrick Lamar, Arctic Monkeys or Johnny Cash because they didn't have enough Spotify plays or Instagram likes? This panel will be a discussion about gut instinct vs. data. Are labels and publishers using data to inform artist signings instead of allowing it to dictate their decisions? How are A&R teams using metrics to make recommendations to roster artists on their labels for future songs/albums? Do streaming music economics allow labels and publishers to take more chances with artists? What has changed in the world of A&R and what has remained the same?
Building a Better Music Industry on Blockchain
Speakers: RAC (André) Allen Anjos (Grammy Award Winning Producer), Jesse Grushack (Ujo Music/ConsenSys), and Taryn Haight (Ninja Tune)
Meet three people who are building an adjacent music industry, where all artists– songwriters, producers, musicians, sound technicians, you name it– are compensated fairly and quickly for their work, and fans interact directly with the creators they love. How? On the Ethereum blockchain, of course. Are listeners, artists and everyone in between ready for a decentralized music industry? Will EDM be the first genre to embrace blockchain? Join Ujo Music co-founder Jesse Grushack as he sits down with Grammy Award winning DJ & producer André Allen Anjos, better known by his stage name RAC, and Billboard's Matt Medved as they discuss what is next (and what's real) for the music industry, and how blockchain technology is poised to shake up everything from streaming services to IP.
Music Industry 3.0 – The Great Rebalancing Begins
Speakers: Jeremy Gruber (Friends At Work), Gigi Johnson (UCLA Center for Music Innovation), Vickie Nauman (CrossBorderWorks), Lonny Olinick (AWAL)
Music was a canary in the digital coalmine, and after 18 years of disruption, 2018 brought growing micro-transactions, shoring up of data, and artists retaining their own rights. A slow turn of the industry tanker, we call this new era Music Industry 3.0. Music Industry 1.0 = old business of CDs and radio singles, a high margin low complexity business that flourished for decades. Music Industry 2.0 = a digitized version of the same, except high complexity and low margin. This bumpy road brought economic chaos but also glimmering opportunities of global reach, new tools, and democratized distribution. Music Industry 3.0 = creator-led! This forces change across labels, publishers, managers and artists. Join experts on developing artist careers, alternative financing, and revenue streams.
Industry Trendsetters: Tomorrow's Executives Today
Speakers: Joseph Cabey (Just Chicago Group), Andrea Galicia (Universal Music Latin Entertainment), Brittany Holloway (Pandora), and Danielle Middleton (Sony/ATV)
When the idea of 'leaders in the music industry' comes up, many people exclusively think of high-level executives on the forefront of this digital wave we're experiencing and which continues to evolve. While those folks certainly have vision, experience, and expertise worth learning from, it can sometimes be even more eye-opening to hear from the individuals carrying out the release campaigns and dealing with the (sometimes pain-staking) day-to-day tasks involved. In this session, we'll explore examples of earlier-career industry professionals making waves within their domains, we'll discuss the management styles they've experienced which have been the most beneficial/detrimental to their leadership thus far, and we'll hear their thoughts on where this industry is heading in 2019.
Browse More Music Industry & Culture Sessions
Get primary access to all Music Industry & Culture Track sessions with a Music Badge as well as official showcases and special events during the SXSW Music Festival. Upgrade to a Platinum Badge for primary access to everything at SXSW.
Crossover Track Recommendations
Learn more by exploring sessions in the other 25 Conference Tracks that relate to Music Industry & Culture:
Join Us at SXSW 2019
Interested in attending SXSW 2019? Register now to save on the walk-up rate and book your hotel using SXSW Housing & Travel for the best rates and locations close to the action.
Sign up for SXSW Event Updates and read SXSW News for announcements, deadline reminders, programming features, and beyond throughout the 2019 season.
Follow us in all the usual social spots for daily updates – Twitter, Facebook, and Instagram.
Insider Tips from the Boss Women of Instagram – Photo by Jessica Stamp
The post Technology Impacting the Music Industry & Culture appeared first on SXSW.