The SXSW Interactive Innovation Awards recognizes the most exciting tech developments in the connected world by bringing together innovators and creators from all over the globe. Five finalists from across a diverse range of 13 categories will be selected to come to Austin in March and demonstrate their products for SXSW judges and attendees during the SXSW Interactive Innovation Awards Finalist Showcase.
Past winners of top honors include MasSpec Pen by the Eberlin Lab at The University of Texas at Austin, Maestro: Empowering VR Storytelling Through Social Collaboration by Penrose Studios, Swarm AI by Unanimous AI, HBO's SXSWestworld by Giant Spoon, Aira – Visual Interpreter for the Blind by Aira, and Butterfly iQ by Butterfly Network.
Be sure to also check out the SXSW Interactive Hall of Fame for submission inspiration from the likes of Kimberly Bryant, Eli Pariser, Kara Swisher, and more.
To further inspire your 2020 application, we've interviewed some of the 2019 winners and shared their thoughts on their experience at SXSW.
Elliot Kotek, My Special Aflac Duck by Aflac, Sproutel, Carol Cone On Purpose & The Nation of Artists – Robotics & Hardware Category Winner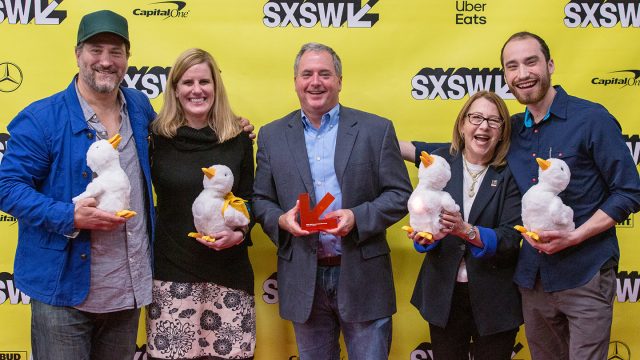 "Our My Special Aflac Duck team couldn't have had a more meaningful and magical time than our few days at SXSW 2019. Showcasing our social robot for kids going through chemotherapy to the judges, and what felt like a global graduating class of fellow innovators, meant a great deal to everyone at Aflac, Sproutel, Carol Cone, and the Nation of Artists – and that our peers in attendance selected our purposeful web-footed product as worthy of the People's Choice Award in addition to our category win, was received by us with full hearts and sincere appreciation. It's now a genuine challenge for us to see what we can create for these amazing kids that might also bring us back to Austin to give us a chance to chat with next year's world-changers."
Alex and Joe Pinkerton, Co-Founder and CEO of Graphene Brain-Computer Interface by Brane Interface – Student Innovation Category Winner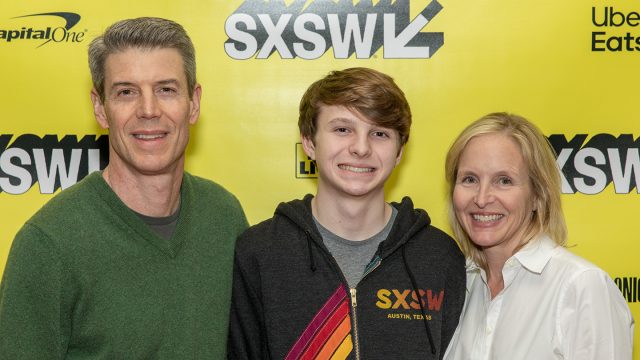 "Before the SXSW event, we had discussed brain-computer interface (BCI) technology with just a handful of local people – but in the weeks following the SXSW event, we were communicating with BCI researchers from all over the world. Many of the people who visited our booth were knowledgeable, sophisticated technologists who engaged us in an interactive learning process. The international exposure we received from SXSW allowed us to connect with student-researchers from around the globe who are inspired by our work and interested in collaborating with us."
Paul Coyne, President & Co-Founder of iN: Cognitive Patient Care Assistant by Inspiren – AI & Machine Learning Category Winner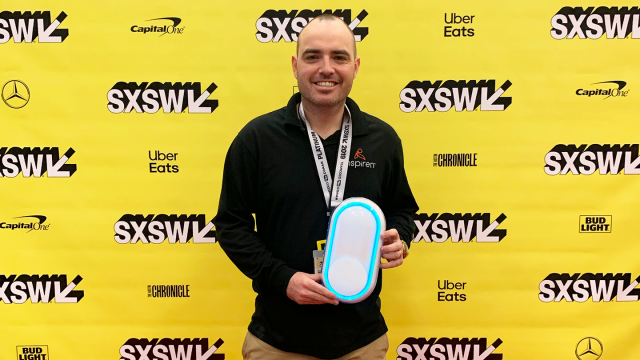 "We were thrilled to participate in SXSW as it is a premier summit for technology discovery and innovation. It was truly breathtaking to see so many novel and ingenious solutions in one place! Winning the 2019 Interactive Innovation Award in AI & Machine Learning was one of the most significant external validations of our technology to date. Thanks to SXSW, we have received international attention, obtained additional hospital clients, and most importantly, have been able to impact the lives of even more patients. Thank you!"
Attend SXSW 2020
Join us at SXSW from March 13-22, 2020. Check out how to attend, plan your housing, and stay up-to-date on SXSW 2020 news.
Register early for the best savings of the season and hotel availability. See you in March!
Stay up-to-date on everything SXSW by following us on Twitter, Facebook, LinkedIn, and Instagram.
Featured Image by Cal Holman
The post Tech Innovators and Creators Speak About the SXSW Interactive Innovation Awards appeared first on SXSW.