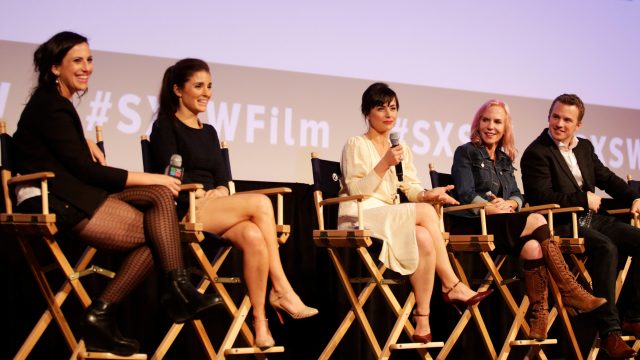 To commemorate the 25th edition of the SXSW Film Festival, we continue our spotlight on the careers launched, artists discovered, powerful performances, and more from our alumni with this week's featured artist, filmmaker, and television writer Sarah Gertrude Shapiro.
When Shapiro came to the 2013 film festival with the short, Sequin Raze she was inspired by her experiences working on the wildly popular reality television series, The Bachelor. Shapiro's twisted and unsettling film received the SXSW Film Honorable Mention Jury Award and landed her a series on Lifetime along with Marti Noxon at the helm. UnREAL, their original and innovative drama, had it's world premiere at the 2015 SXSW Film Festival in the Episodics section. The series delves into outrageous world of unscripted television.
We're honored to share Shapiro's #SXSWFilm25 journey with you.
"SXSW changed my life by…everything! It introduced me to the industry as someone to pay attention to, helped me get an agent ( I came back to LA after winning honorable mention and had meeting at every agency in town), introduced me to friends and community of filmmakers, and helped get my television show (UnREAL) green lit The wonderful jurors of the short's program went out of their way to make me feel welcome and seen – and one of them (Jonathan Lisecki) is still a great friend.
I honestly would not be where I am without the support and community of SXSW. I will be forever and ever grateful and encourage anyone I know with a project worth seeing to submit and participate. They also have immense loyalty and premiered my TV show at SXSW. I consider SXSW family (Janet and Claudette especially ) and love their mission and dedication to filmmaking craft and storytelling over all. They are a great American institution and we are lucky they persevere and exist."
The third season of UnREAL is slated to premiere in 2018. Stay tuned to SXSW each Thursday for more 25th anniversary stories.
Join Us For SXSW 2018
Join us for SXSW 2018 – register to attend by Friday, September 8 for the biggest savings of the season. Make your hotel reservations through SXSW Housing & Travel for the best available rates. Grab your Film Badge today for primary access to all SXSW Film events including world premieres, roundtables, workshops and parties. We hope to see you in March!
Follow us on Facebook, Twitter, Instagram, and SXSW News for the latest SXSW coverage, announcements, application tips, and updates.
UnREAL world premiere at SXSW – Photo by Dustin Finkelstein/Getty Images
The post #TBT: 25 Years of SXSW Film – Sarah Gertrude Shapiro appeared first on SXSW.