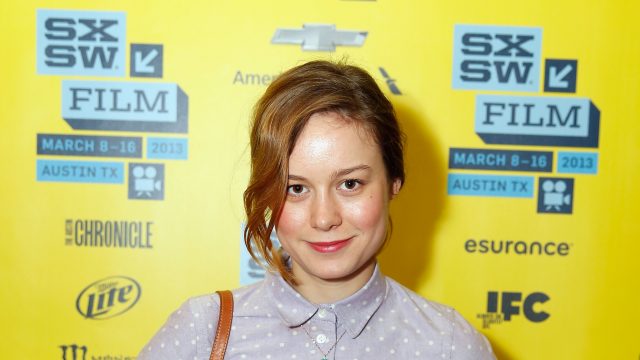 To commemorate the 25th edition of the SXSW Film Festival, we continue our spotlight on the careers launched, artists discovered, powerful performances, and more from our alumni with this week's featured artist, Academy Award-winning actress Brie Larson.
Larson had a stellar year at the film festival in 2013 with three very different, but equally exciting projects. She played the lead in Destin Daniel Cretton's complex and moving Short Term 12, which won both the Grand Jury Award and Audience Award in the Narrative Feature Competition category. Larson wrote and directed the short Weighting, and she had a supporting role in Joseph Gordon-Levitt's feature, Don Jon.
We are thrilled to share Larson's #SXSWFilm25 story with you:
"SXSW changed my life by pretty much launching my career! My first experience with this incredible festival was in 2013. Not only were Short Term 12 and Don Jon (two films I acted in) there, but a short I had written/directed with my pal Dustin Bowser was also part of the programming. I remember almost passing out from the fear of Short Term 12 premiering, and the warm reception after. I'll never forget doing a Q and A after my short Weighting played. The top two rows were filled with my Short Term 12 family. Joe Swanberg was waiting in the wings. We got a beer afterwards and talked about our dreams. There's such camaraderie at SXSW. I began to realize my voice at that festival and made so many new friends/collaborators that are still important in my life. I'm forever grateful to you SXSW! I love watching all the lives you change."
Larson has a busy year ahead of her, she reteamed with Cretton in the newly released The Glass Castle, adapted from the memoir of the same name by Jeannette Walls. Her feature directorial debut, Unicorn Store is set to premiere in September and she has a role in the highly anticipated Captain Marvel. You can watch Larson in 2017 SXSW Film Festival Headliner, Free Fire directed by Ben Wheatley. The action-packed, comedic film is now available for home viewing.
Stay tuned to SXSW each Thursday for more 25th anniversary stories.
Join Us For SXSW 2018
Learn how to successfully enter your film to the 2018 SXSW Film Festival with our How to Submit Your Film video and find out more information about deadlines and fees here.
Join us for SXSW 2018 – register to attend by Friday, September 8 for the biggest savings of the season. Make your hotel reservations through SXSW Housing & Travel for the best available rates. A film badge remains your best bet with primary access to all SXSW Film events including world premieres, roundtables, workshops and parties. We hope to see you in March!
Follow us on Facebook, Twitter, Instagram, and SXSW News for the latest SXSW coverage, announcements, application tips, and updates.
Brie Larson at the premiere for Short Term 12 – Photo by Rick Kern
The post #TBT: 25 Years of SXSW Film – Brie Larson appeared first on SXSW.