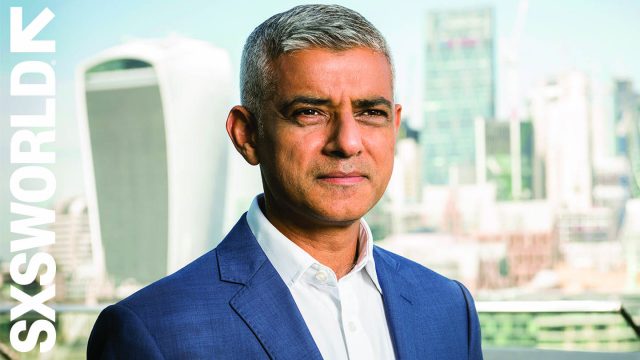 Hot off the digital press – the SXSWorld® February Issue is now available online! Explore all things SXSW from exclusive interviews to programming highlights from the worlds of film, culture, music, and technology.
SXSWorld is your portal to featured stories, event photos, video spotlights, and extensive coverage of the SXSW Conference & Festivals. Five issues are digitally published each year, with three print issues made available to SXSW registrants.
Get to know this essential SXSW resource in its brand new online format – sample a smattering of February Issue highlights below.
Exclusive Interviews from 2018 Keynotes
Keynote speakers embody the DIY spirit, ingenuity, and entrepreneurial drive that SXSW uniquely cultivates. Read exclusive interviews from 2018 Keynotes including Barry Jenkins (Film Keynote), Melinda Gates (Interactive Keynote), and Sadiq Khan (Convergence Keynote).
In "Tracing Barry Jenkins' Path From Medicine to Moonlight", Oscar winner Barry Jenkins unravels the story of his long, strange trip back to SXSW. In "Empowering the World's Women with Melinda Gates", noted philanthropist Melinda Gates readies a push for gender equality. Mayor of London Sadiq Khan discusses how he lead efforts to save the UK capital's nightlife in the article, "Yes He Khan! London's First Muslim Mayor Looks to the Future."
February Highlights
2018 Featured Speaker Ethan Hawke unearths the outlaw spirit and motivation behind his film BLAZE about the country legend Blaze Foley in "Keeping Austin Outlaw with Ethan Hawke". BLAZE will screen as part of the SXSW Film Festival lineup.
SXSW Film Director Janet Pierson shares some memories about the SXSW Film Festival's early years in "SXSW Film: Community, Collaboration and Transformative Moments."
Go behind-the-scenes with composer Max Richter for some pillow talk on the North American debut of his 8-hour masterpiece SLEEP coming to a cot near you this SXSW.
Hear from Michael Tubbs, the youngest and first African-American mayor in Stockton's history, on his efforts to advance opportunities for the Stockton community. Tubbs will speak at the inaugural Cities Summit this March.
Browse through the latest issue for even more 2018 Speakers including PLAYERUNKNOWN'S BATTLEGROUNDS creator Brendan Greene, Country music superstar Keith Urban, meet 2018 Showcasing Artists from Oklahoma climbing the Americana charts, get inside the politics of Japanese television, explore Track highlights, and more.
Stay up to date with SXSWorld magazine to curb your SXSW appetite until 2018 kicks off…31 days and counting.
Read the SXSWorld February Issue
Join us for unparalleled discovery, networking, and inspiration at the 2018 SXSW Conference & Festivals in Austin, Texas from March 9-18. Sign up for Event Updates to receive the latest announcements, tips, networking invitations and more.
2018 Keynote, Sadiq Khan
The post SXSWorld February Issue: Sadiq Khan, Barry Jenkins and More In-depth 2018 SXSW Coverage appeared first on SXSW.