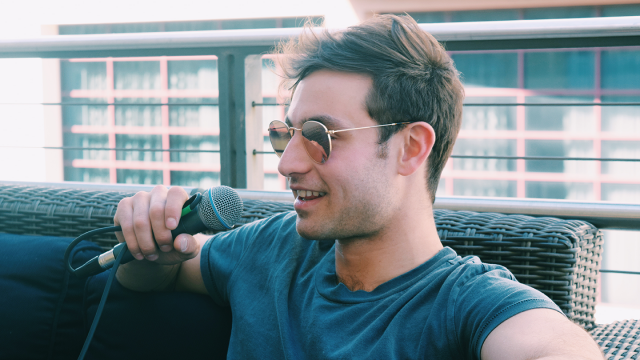 SXSWfm had the opportunity to interview Adrian Galvin, previously known as a member of Walk The Moon, as he joined SXSW 2018 to showcase his solo project, Yoke Lore. They sat down on the roof of the Austin Convention Center to talk about his time in Walk The Moon, being in a dance company, and what's next to come for his new EP. Read an excerpt of the interview below, and listen to it in full on our Mixcloud.
Listen to SXSWfm Interview with Yoke Lore
Yoke Lore Interview Highlights
Welcome to SXSW 2018!
Yoke Lore: Thank you so much. It's great to be here!
How many times have you played at SX?
YL: This is my second year.
Why was important for you to come back?
YL: SX is a place that I really get to connect with people that I don't usually get to connect with. I have a label in Germany, a label in Australia, and people working my music in the UK, and radio people in New Zealand, and I just know them as names on an email. It's nice to have eye contact with them, and one – to express my gratitude to them, and another – to make the connection stronger so we can do more… So it's good to connect with them. And I'm always on tour, and a lot of my friends are in bands that are also on tour, so it's nice to see homies that I don't usually get to see often.
You were in a band called Walk The Moon. What was your relationship with that?
YL: I met Nick Petricca in an acapella group my freshman year of college, and he was a senior. We began Walk The Moon, and I dropped out of college to tour and write with them, and that was a ton of fun. Then, at some point, it was getting very, very serious and there were other people involved and lots of money involved, and the music got a little bit away from what I really wanted to do, but that was right for Walk The Moon. It was the path that Walk The Moon was on, and who am I to stand in the way of that. So I was like, I would rather go back to college, finish my scholarship, and then start something myself.
When did you start this [solo] project?
YL: Roughly two years ago.
And how did you get that name, Yoke Lore?
YL: I very much believe that value in life kind of occurs when things come together. The value of a life can be measured in its relationships. And I know it's true because it's true everywhere. You can measure the integrity of this beam by how well it's connected to the fucking screws that are hooked into the other beam. It's not about how strong the metal is, it's how strong the connection is, and that's true in everything and everywhere. So I want to tell stories about how things are connected. A yoke is something that holds oxen together as they tail the fields. Or it can be the yoke of an empire, holding peoples and makes them one. But whatever it is, it's a vice of sorts. And lore is obviously stories in a verbal tradition, and I'm trying to verbalize some stories about my connections.
You just released a new song. Tell me about that – what does that song mean?
YL: The song is called "Fake You," and it's pretty much about those moments when you have to contend with the fact that your perceptions about the world might not actually be how the world works. In those moments, it can be really, really jarring. it's kind of the story of my experience with that idea, and that sensation that happens pretty often if you are an aware person. You often come up to the idea like, oh shit this isn't what I thought I was. Or oh shit, this person is not who I thought they were. Or oh shit, I'm not as good as I thought I was at this, or anything like that. Those moments can be jarring but it's important to know that your perceptions aren't reality, and to have that in the back of your mind when you do things.
What's next for you? Is this [single] kind of a teaser that you're about to release more things – an EP, and album?
YL: An EP is going to come out this summer called Absolutes. "Fake You" is the first one. All of these songs are about conflicts of absolutism that come up, where things that were seemingly pure are not pure… Fake You is the first, and I'm going to release a video for Fake You next month, and then another song and a video. I'm going to stagger back and forth.
Tune in to hear the full interview with Yoke Lore below. Keep checking our Mixcloud page in the coming weeks as more interviews with 2018 SXSW Showcasing Artists are released. You can listen to SXSWfm 24/7 via our online player.
Listen to SXSWfm Interview with Yoke Lore
2018 Showcasing Artist, Yoke Lore – Photo by Carina Torres
The post SXSWfm 2018 Showcasing Artist Interview: Yoke Lore appeared first on SXSW.