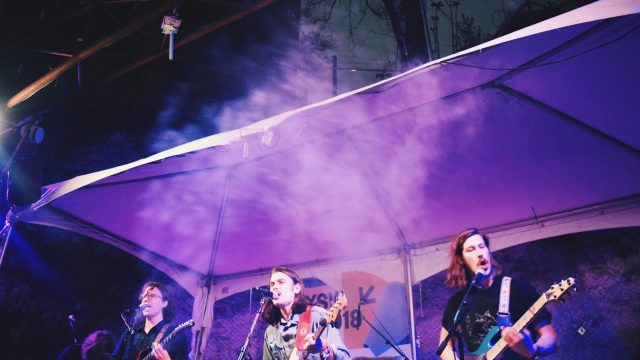 At SXSW 2018, SXSWfm interviewed the psychedelic rock band Post Animal featuring members Javier, Matt, Wesley, Dalton, and Jake. They sat down to talk about the upcoming release of their new album When I Think Of You In A Castle, mosh pits, and how having long hair is a prerequisite to join the band. Read an excerpt of the interview below, and listen to it in full on our Mixcloud.
Listen to SXSWfm Interview with Post Animal
Post Animal Interview Highlights
How many times have you guys played SXSW throughout the years?
Matt: Throughout all the years of our lives, this is our second time.
Why was it important to come back?
Jake: Who knows – you just gotta come back because of the shows.
Matt: There's so many shows, and if you miss them, your cred goes down exponentially. But also, it's a good experience, and you don't want to let anyone down.
Wesley: Also, we have an album coming out, that we are trying to get some…
Matt: Some build.
Wesley: Get some attention. Get some hype going for that. South By's a good place to go if you wanna get some attention.
Let's start from the beginning. Tell me how you guys met – how you guys formed together.
Jake: Matt and Dalton grew up together in Danville, Illinois, and played music together throughout their childhood. Then they moved to Chicago and met me. And we started playing music together, got the name Post Animal, and then over the course of a year and a half or so, we found the rest of the band – our friend Joe joined, and then we had Wes and Javier. We built it in Chicago through mutual friends and jobs and things like that, finding people that we liked to play with.
'When I Get Home' is KILLING IT. Did you guys, when you released it, think that was going to be the song that was going to take you over, get you the hits, get you the fans?
Dalton: Not exactly. I think we were in our basement, our garden unit at our apartment when we wrote it. We were jamming the main chorus bass line, and I think we accidentally just said "when I get home" kind of like a joke at first – like that would be a funny line. That's the one that got the most attraction online at first. That was our first online buzz because it was the only one we had a video for, but I don't think any of us ever really had an idea that it would help us take the next step as a Chicago band to a touring band.
'Ralphie' is one of my new all-time favorite songs…but it sounds different from what you guys have made in the past. Why change it up?
Javier: I'll just start this off by saying I think we don't like to…this is very cliché, but we don't like to put restrictions on ourselves. And we like a lot of different types of music, so that just happened to be something that we liked and we did it.
Wesley: Also we definitely took a turn more towards standard rock and roll with this new record; it's still very psychedelic, I think, but there's a lot more rock and roll riffs. Very much more straightforward, less obscure maybe?
Dalton: Less hazy.
Wesley: Yeah, less hazy. Although there are hazy moments still, but we are just mixing it up. It just comes organically.
Jake: No, I think y'all said it. We did the old stuff, and now we want to do other stuff.
So we can expect more change in this new album?
Jake: Yeah, I just think we're never going to try and reinvent what we did before. But we love what we did before and now it's just time to expand the catalogue – make something new.
You guys are here at SXSW 2018. Has there been a favorite show – besides that mosh pit show [at Cheer Ups]?
Matt: Cheer Up Charlie's and the Mohawk, I would probably say, are two favorites.
What's next for y'all?
Jake: We are doing the big tour come April and doing some fun festivals – fun dates all across the country. We've got some music cooking in the kitchen, so we will see what happens with that.
Tune in to hear the full interview with Post Animal below. Look out for their new album, When I Think Of You In A Castle, coming out April 20. Keep checking our Mixcloud page in the coming weeks as more interviews with 2018 SXSW Showcasing Artists are released. You can listen to SXSWfm 24/7 via our online player.
Listen to SXSWfm Interview with Post Animal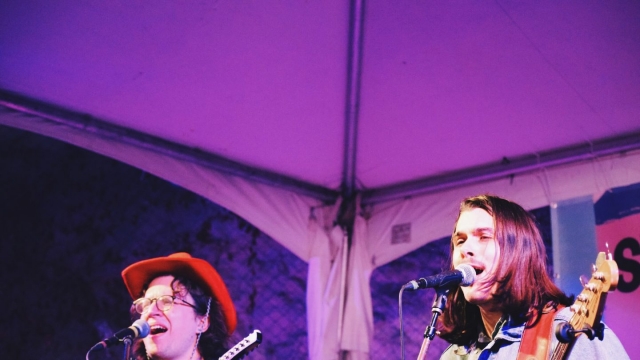 2018 Showcasing Artist, Post Animal – Photos by Shelby Magness
The post SXSWfm 2018 Showcasing Artist Interview: Post Animal appeared first on SXSW.