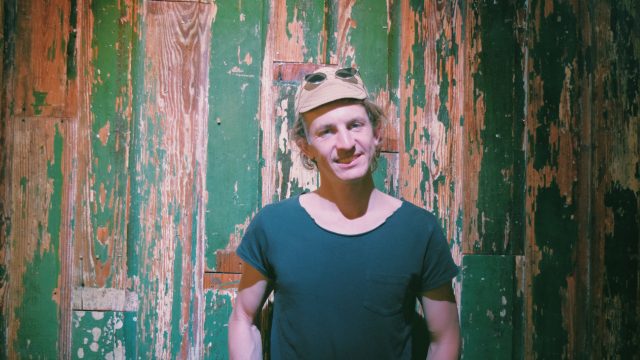 During the SXSW 2018 event, SXSWfm interviewed Alexander Buck Meek who was here to showcase his solo project, Buck Meek. He sat down to discuss his roots in Texas, making the big move to New York, and his time as the lead guitarist in the band Big Thief. Read an excerpt of the interview below, and listen to it in full on our Mixcloud.
Listen to SXSWfm Interview with Buck Meek
Buck Meek Interview Highlights
Is this your first time playing at South By?
Buck Meek: It's our first time playing under the name Buck Meek. I've played the last two years with the band Big Thief.
Why was coming to SX so important?
Buck Meek: The number one reason, to be honest with you, is that I grew up here, and I always grew up coming to SXSW as a kid. My dad and I always used to come and we had so much fun. I think that for me it's just really exciting to be a part of that in a different way now, from behind the scenes.
What made you decide to do this side project as Buck Meek? Was this before Big Thief?
Buck Meek: I've been writing music on the side and writing songs for a long time. Big Thief took over a lot of my time for the last four years, and in the last six months I've just been prioritizing my own project more. So Big Thief has been going out a little bit as a trio here and there – one our of four tours I say they go out as a trio which gives me some time to work on this project.
How has growing up in Texas shaped your music?
Buck Meek: Well, I grew up listening to so many great outlaw songwriters and blues musicians out in the woods in Wimberley. And a lot of the old western swing players from Bob Wills' band were living out there. So I was exposed to a lot of that western swing music and the narratives of country.
You released Cannonball! a couple weeks ago. Talk me through the writing process.
Buck Meek: That was a song I was processing a breakup four years after the breakup, which is often how I write. After the initial mourning process of this breakup, I was just flooded with so many positive feelings about this woman – all of the bittersweetness and everything. But also, it was really easy for me to compare that as a memory to the pain, I suppose. Almost as if it was happening at once – to feel the memory of the positive aspects and the beauty of our relationship with the pain and how they intensified each other into this even more bittersweet feeling. So with the verses against the chorus – the verses are these memories and the conversations between her and I.
When can we expect more music? Is there going to be a solo tour?
Buck Meek: We just crossed the dessert, [Twain] and I playing as a duo. But I'm going to be going out with Margaret Glaspy for a week and a half. And then more solo dates out to California. And I'm putting out more singles until the album comes out in May.
Tune in to hear the full interview with Buck Meek below. Look out for his new album coming out in May. Keep checking our Mixcloud page in the coming weeks as more interviews with 2018 SXSW Showcasing Artists are released. You can listen to SXSWfm 24/7 via our online player.
Listen to SXSWfm Interview with Buck Meek
2018 Showcasing Artist, Buck Meek – Photo by Shelby Magness
The post SXSWfm 2018 Showcasing Artist Interview: Buck Meek appeared first on SXSW.