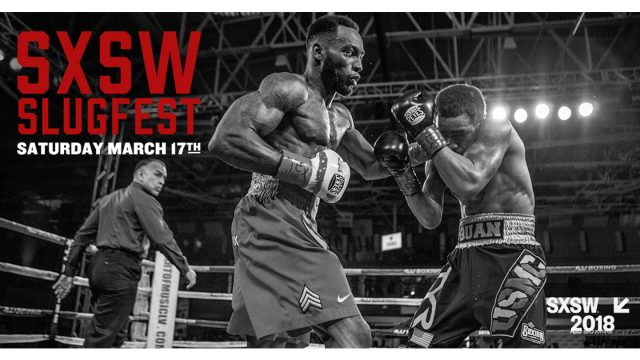 SXSW SLUGFEST: A Night of Pro Boxing and Music is only a few days away! Join us at Moody Theater on March 17 for an exciting night of sport and entertainment. Confirmed bouts include:
MAIN EVENT – WBB Intercontinental Title Fight:
Reshard Hicks (9-0-1, 4 KOs – Killeen, TX)
vs
Adan Ahumada (Matamoros, MX)
Other bouts include:
Iskander Kharsan (Kazakhstan) vs Richard Munoz (La Feria, TX)

Manny Mondragon (Austin, TX) vs Tyler Pacheco (Tyler, TX)

Prisco Marquez (Austin, TX) vs Tanner Dodd (Waco, TX)

Carlos Trevino (Austin, TX) vs Manuel Rubalacava (Mexico)
In addition to up-and-coming boxers, the night includes performances from promising musical talent including:
OG Maco (Atlanta)

Zach Blair (of Rise Against)

Jay Jones (New Orleans)

The Octanes (Austin)

GO DJ JB (Austin)
Make sure to check out the SXSW SLUGFEST Weigh-In on March 16 to meet the boxers and watch them stare down the competition.
SXSW Platinum, Interactive, Film, and Music badges as well as Music Wristband holders will be admitted for free. A limited number of tickets are available for boxing fans here or at Richard Lord's Boxing Gym.
The post SXSW SLUGFEST: A Night of Pro Boxing and Music Is Only 4 Days Away! appeared first on SXSW.