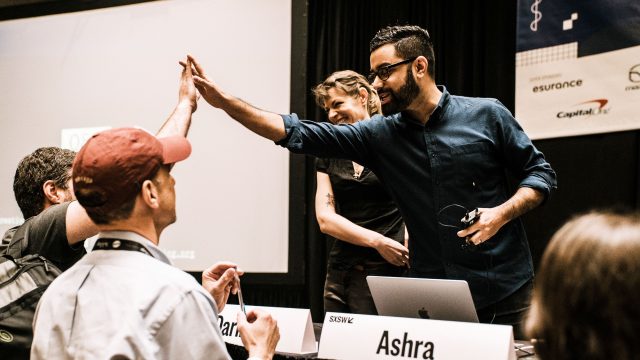 Want to help shape the SXSW 2018 programming? PanelPicker is your opportunity to enter session proposals for the SXSW Conference through the Friday, July 21 deadline.
The SXSW Conference includes eight Interactive tracks presented in a variety of session formats. Each track explores its close relationship with technology and allows attendees to delve into the latest advancements and ideas from the worlds of business, government policy, healthcare, design, and beyond.
2018 Interactive Tracks
Brands & Marketing (March 10-15) – Explore the constantly evolving world and work of agencies and their clients. From applied neuroscience to conversational storytelling to data-driven creativity to reaching emerging economies there's something for everyone.
Design (March 9-13)– Design mediates our interactions, shapes our experiences, and plays a critical role in problem solving. The Design track examines the field's evolving responsibilities and disruptive opportunities in our increasingly frenetic world.
Code & Programming (March 10-14) – Representing the traditional heart of Interactive programming, this track covers the process of development in every aspect for engineers, developers, coders, and programmers across all skill levels.
Government (March 9-12) – Explore areas related to government policy on all levels as well as privacy issues on both the personal and corporate level. Specific topics include policy and civic engagement on the local, state, and federal level; the relationship between government and technology; big data tracking; and surveillance concerns.
Health & Wellness (March 10-14)– Examine innovations that build and support the ecosystem of patients, providers, payers, policy makers, designers, entrepreneurs, and investors to improve outcomes in health and healthcare.
Intelligent Future (March 9-15) – Dive into the realm of future possibilities where intelligence is embedded in every aspect of life. The goal of this track is for technology to empower and enable new possibilities like smart transportation and cities, deep machine learning, and intelligent devices.
Style (March 9-11) – Step into this platform for creatives in the fashion and technology community to converge, learn and innovate while exploring topics ranging from the future of retail, sustainable fashion, wearable technology, and design.
Workplace (March 10-13) – Tackle topics from career development, work-life balance, co-working, future of work, diversity, inclusion, HR issues, and employee rights in an ever-changing working environment within this track.
Browse through all 24 tracks of programming at the 2018 SXSW Conference plus our SXSW Eco curated Cities Summit.
PanelPicker Proposal Information
PanelPicker proposals can be entered in variety of session formats including panels, solo presentations, workshops, and more. Visit the SXSW PanelPicker page to learn about the application process, watch our helpful PanelPicker Walkthrough video, and read the FAQ to gain valuable insight into making the most out of your proposal.
Explore 2017 Interactive sessions and take a look at a few examples of 2017 Conference sessions below representing the range of session formats and Interactive tracks.
Help shape the 2018 SXSW Conference programming – Propose session ideas through PanelPicker® from Monday, June 26 through Friday, July 21.
Mark your calendars for Tuesday, August 1 when registration and housing opens for the 2018 SXSW season. Starting on August 7, the SXSW Community will have the opportunity to browse PanelPicker proposals, leave comments, and vote on what programming should be included in the March event.
2017 Conference panel, AI: Actually Still Terrible, with Kate Darling, Nilesh Ashra (Intelligent Future Track) – Photo by Kurt Lunsford
The post Interactive Tracks for SXSW Conference – 2018 PanelPicker appeared first on SXSW.