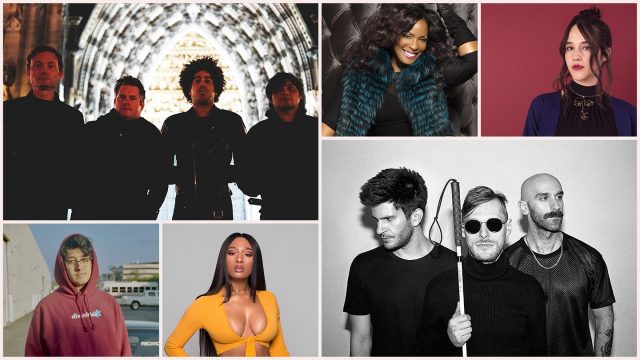 SXSW is next week — let's jump straight in! This week the SXSW Music Festival announced two excellent lineups for the SXSW Outdoor Stage at Lady Bird Lake. Thursday's show features New York-based electronic rock group X Ambassadors with support from Jamie N Commons, Odette, and VOILÀ, while Saturday's show features quintessential Austin folk singer Patty Griffin with support from Andrew Bird, Courtney Marie Andrews, and William Tyler. Stay tuned for the final lineup at the Outdoor Stage at Lady Bird Lake.
This week we've added 180+ Showcasing Artists including R&B and gospel legend Mavis Staples, Californian multi-instrumentalist Cuco, Philadelphia rapper and audiovisual artist Tierra Whack, Mexican DJ collective 3BallMTY, DC "sugar trap" performer Rico Nasty, Brooklyn indie-rockers Charly Bliss, iconic hip-hop group De La Soul, Ghanaian afropop act Stonebwoy, Salt-N-Pepa member DJ Spinderella, Houston rapper Megan Thee Stallion, Mexican actress and pop singer Ximena Sarinana, Dan Auerbach-produced soul singer Yola, and indie-rocker Har Mar Superstar.
Yesterday we announced our SXSW Music Opening Party sponsored by Music.com including complimentary beverages and performances by Rico Nasty, Otoboke Beaver, KOKOKO!, Moritz Simon Geist, and Reyna Tropical. We also announced the Tiny Desk Family Hour showcase presented by NPR Music and hosted by Bob Boilen, and while we can't share the lineup, we guarantee that you won't want to miss it.
Discover Showcasing Artists
Register to Attend
SXSW is around the corner! Register to attend SXSW 2019 soon and start planning out how you'll spend your time in Austin. Book your accommodations through SXSW Housing & Travel and you'll save compared to direct bookings and online travel agencies.
Music badgeholders receive primary access to all showcases, Music and Convergence Tracks at the SXSW Conference, and Comedy Festival Showcases and Events, as well as secondary access to Film programming and Interactive Tracks, Keynotes, and Featured Speakers.
Sign up for SXSW Event Updates and follow us on social media to stay in the know – Twitter, Facebook, and Instagram.
2019 SXSW Showcasing Artists
Everything subject to change.
3BallMTY (Monterrey MEXICO)
A-Game (St Louis MO)
A5iv3 (St. Paul MN)
Aaron Cohen (New York NY)
Adam David (Miami FL)
Adrian Jean (Los Angeles CA)
Ajax Stacks (Grand Rapids MI)
Alex Di Leo (Fort Lauderdale FL)
An Author, A Poet (Galveston TX)
Andrew Bird (Chicago IL)
Andrew W.K. (New York NY)
…And You Will Know Us By The Trail of Dead (Austin TX)
Angie Rose (Bronx NY)
Antonio Ramsey (Miami FL)
Armani White (Philadelphia PA)
Autumn Walker (San Marcos TX)
B1 (Austin TX)
Banquet (San Francisco CA)
Barry Dean, Luke Laird, Ashley McMillen (Nashville TN)
BeatKing (Houston TX)
BillieB (Austin TX)
Bonnie Bishop (Fort Worth TX)
The Briefs (Seattle WA)
Candy (Richmond VA)
Carthy (Houston TX)
Casual T (Austin TX)
Cee-Jay (Hartford CT)
Charly Bliss (Brooklyn NY)
Chris Berardo (Silvermine CT)
Chuck Mead (Nashville TN)
Citizen Shade (Greensboro NC)
Collapsing Stars (Minneapolis MN)
Comisario Pantera (Mexico City MEXICO)
Complete (Fort Worth TX)
Cosmico (Austin TX)
Courtney Marie Andrews (Phoenix AZ)
Coven (Indianapolis IN)
Cuco (Hawthorne CA)
Danni Cassette (Los Angeles CA)
De La Soul (Long Island NY)
Der Kindestod (San Antonio TX)
DEZORAH (Mcallen TX)
Dirty Fences (New York NY)
DJ 0ceanz_ (Atlanta GA)
DJ C. DeVone (New York NY)
DJ D-BesT (Austin TX)
DJ Euts (Atlanta GA)
DJ Jester the Filipino Fist (Austin TX)
DJ Osh Kosh (Los Angeles CA)
DJ QuestionMark (Taipei TAIWAN)
DJ Spinderella (Brooklyn NY)
DJ Titan (Dallas TX)
dLo (Austin TX)
Doughbeezy (Houston TX)
Dox Black (San Jose CA)
DSR (Dominican Jay, $ Dot, DoWrong) (Austin TX)
Dua Saleh (Kassala SUDAN)
DYLI (Greensboro NC)
Eazy Boi (Austin TX)
EBO (Memphis TX)
Elderbrook (London UK-ENGLAND)
Ephraim Owens (Dallas TX)
Flinch (Los Angeles CA)
Flora Cash (Stockholm SWEDEN)
FOOLS (Austin TX)
Garrett T. Capps (San Antonio TX)
Genaro Ortiz x PrŪf (Hackensack NJ)
George VonDoom (Salisbury MD)
G-Side (Huntsville TX)
GYNX (Austin TX)
Har Mar Superstar (Minneapolis MN)
The Heart Collectors (Tyalgum AUSTRALIA)
Herizen (Eugene OR)
Hovvdy (Austin TX)
IAMTUNE (Greensboro NC)
IDK (Prince Georges County MD)
ings (Seattle WA)
Jack Freeman (Houston TX)
Jamie Drake (Los Angeles CA)
Jamie N Commons (Bristol UK-ENGLAND)
January Jane (Manhattan NY)
Jared Deck (Weatherford OK)
JA'REY (Thomasville GA)
Jason James (Texas City TX)
Jay Drowsy (Austin TX)
J-Hen (Dallas TX)
John Vincent III (Houston TX)
June's Diary (Los Angeles CA)
Just Cuuz b2b M!ngo (Austin TX)
Kadesh Flow (Kansas City MO)
Katie Schecter (Nashville TN)
Keith Cullen (Dublin IRELAND)
KeKe Nova (Los Angeles CA)
Kelvyn Colt (Berlin GERMANY)
Kofi Skills (Alliance OH)
Kyan (Cambridge UK-ENGLAND)
Ledef (San Antonio TX)
LIL YODAA (San Antonio TX)
Logan Ledger (San Francisco CA)
Lola Tried (Austin TX)
Lolita Lynne (Austin TX)
Lonnie Holley (Atlanta GA)
Loony (Austin TX)
Loteria (Austin TX)
Love & Chaos (Austin TX)
Lovelorn (Philadelphia PA)
MAAD (Los Angeles CA)
Magna Carda (Austin TX)
Maliibu Miitch (Bronx NY)
Marcos Cabral & Bill Converse (Austin TX)
Mavis Staples (Chicago IL)
MaxxP (Atlanta GA)
MC Frontalot (Brooklyn NY)
Megan Thee Stallion (Houston TX)
Melanie Faye (Nashville TN)
Mont (Brooklyn NY)
morgxn (Nashville CA)
Mujeres Podridas (Austin TX)
Neila (Fort Laudedale FL)
Nicotine (Houston TX)
The Nimbus (Austin TX)
Noah Barlass (Welch OK)
Noa James (San Bernardino CA)
Nolan Potter's Nightmare Band (Austin TX)
Open Mike Eagle (Chicago CA)
Optic Sink (Memphis TN)
Pablo Dylan (Los Angeles CA)
Patty Griffin (Austin TX)
Pavo Pavo (Los Angeles CA)
PHOENIXTHEPRODUCER (Austin TX)
Pinky Pinky (Los Angeles CA)
PJ Sin Suela (San Juan PUERTO RICO)
P Money (London UK-ENGLAND)
Princess Barbie (Austin TX)
Produca P (Washington DC)
Q Da Fool (Largo MD)
Rachel Andie & The Fifth Element (Philadelphia PA)
Radamiz (Brooklyn NY)
The Rad Trads (Brooklyn NY)
Rainstorm Brother (Los Angeles CA)
Range Emotion (Austin TX)
Revelation Mizik (Miami FL)
RF Shannon (Austin TX)
Rich Mutts (New Haven CT)
Rico Nasty (DMV MD)
Rob4Real (Denver CO)
Robot Nature (Los Angeles TX)
Roots from the Clay (Houston TX)
Samiere (Oakland CA)
Sam Morrow (Los Angeles CA)
SaulPaul All Stars (Austin TX)
Scrooge Mcbuckz b2b Dj Grip (Beaumont TX)
Sharkweek (Austin TX)
SierraShante' (Austin TX)
SIIMBA LIIVES LONG /w HAILE SUPREME (Addis Ababa ETHIOPIA)
Sir Sly (Los Angeles CA)
Sonic (San Francisco CA)
SparkDawg (Killeen TX)
STEELYONE (New Rochelle NY)
Steven Malcolm (Grand Rapids MI)
Stonebwoy (Ashaiman GHANA)
Syndicate Same Ol' (Austin TX)
Sy Ntuli (Durban SOUTH AFRICA)
Tangina Stone (Brooklyn NY)
Thutmose (Brooklyn NY)
Tierra Whack (Philadelphia PA)
Tiggs Da Author (London UK-ENGLAND)
"Tommy McLain & CC Adcock Swamp Pop Songbook" Tommy McLain, CC Adcock, Steve Riley, Dave Ranson (Lafayette LA)
Treehouse! (Myrtle Beach SC)
TrenchMobb (Chicago IL)
TRiLLBASS (Birmingham AL)
Uncle Devin (Washington DC)
Ursa Major (Long Island NY)
Vacationer (Philadelphia PA)
VOILÀ (Los Angeles CA)
Walker Lukens (Austin TX)
Walt Wilkins & The Mystiqueros (Austin TX)
Wavii (Yonkers NY)
Whiteside (Austin TX)
William Tyler (Nashville TN)
Will Varley (London UK-ENGLAND)
Wintersleep (Halifax CANADA)
Worn-Tin (Los Angeles CA)
X Ambassadors (Ithaca NY)
Ximena Sariñana (Mexico City MEXICO)
Yola (Bristol UK-ENGLAND)
Yoshi Vintage (Flint MI)

Everything subject to change.
Photo credits, clockwise from top left:
…And You Will Know Us By The Trail of Dead – Photo by Buddy Hachar
DJ Spinderella – Photo by Jesse James
Ximena Sarinana – Photo by Seitrack US
X Ambassadors – Photo by Ned Monahan
Megan Thee Stallion – Photo courtesy of the artist
Cuco – Photo courtesy of the artist

(Teaser photo) X Ambassadors – Photo by Ned Monahan
The post SXSW Music Weekly Roundup: Tierra Whack, Cuco, Mavis Staples, and More appeared first on SXSW.