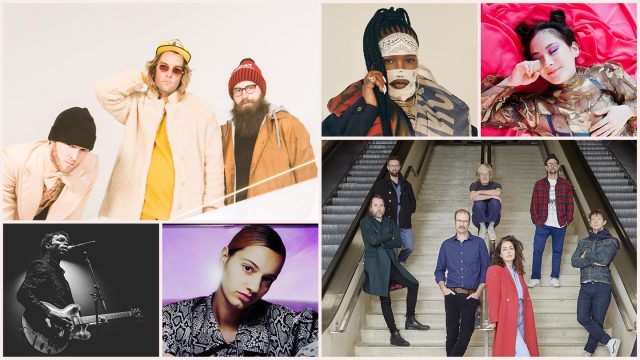 This week we've added yet another 150+ Showcasing Artists to the SXSW Music Festival lineup, taking to the total to just under 1500 artists. We'll have hundreds more to share with you in the short weeks before SXSW 2019 – stay tuned!
This week we added self-produced pop singer/songwriter King Princess, Arts & Crafts indie collective Broken Social Scene, Dead Oceans indie pop act Japanese Breakfast, Brooklyn's masked rap sensation Leikeli47, and Nashville-based folk-pop trio Judah & the Lion. Also joining the lineup is Dominican-American club-ready pop performer Amara La Negra, Welsh power pop trio The Joy Formidable, Ghostly International drummer/producer Shigeto, folk rocker/singer-songwriter Strand of Oaks, and dream pop singer Ambar Lucid.
This morning brings more great news — the Music Preview Guide to SXSW 2019 is here! Explore 100+ up-and-coming Showcasing Artists — listen to their music, read write-ups from trusted authorities on the next generation of musical talent, and add your favorites to your SXSW Schedule so you can be sure to see them live on stage in March.
Each day we've been rolling out a new batch of showcase lineups. Recently added showcases include Future Classic Recommends, Penny Loafer PR, Lush Presents Algorave, Part Time Punks + Felte Records, Tiger Bomb Promo, JAZZ RE:FRESHED OUTERNATIONAL, Sol Life Presents Global Local Bangkok Music City / Playtime Festival Mongolia, a second showcase presented by DIY Magazine, and more.
Discover Showcasing Artists
Register to Attend
SXSW is around the corner! Register to attend SXSW 2019 soon and start planning out how you'll spend your time in Austin. Book your accommodations through SXSW Housing & Travel and you'll save compared to direct bookings and online travel agencies.
Music badgeholders receive primary access to all showcases, Music and Convergence Tracks at the SXSW Conference, and Comedy Festival Showcases and Events, as well as secondary access to Film programming and Interactive Tracks, Keynotes, and Featured Speakers.
Sign up for SXSW Event Updates and follow us on social media to stay in the know – Twitter, Facebook, and Instagram.
2019 SXSW Showcasing Artists
Everything subject to change.
A. Sinclair (Austin TX)
Abjects (London UK-ENGLAND)
A Giant Dog (Austin TX)
Amara La Negra (Miami FL)
Ambar Lucid (Little Ferry NJ)
Ancient River (Austin TX)
Annabelle Chairlegs (Austin TX)
Ari Chi (Tampa FL)
Baeza (Fresno CA)
Ben Aqua (Austin TX)
Big Cedar Fever (Austin TX)
Billy King & the Bad Bad Bad (Austin TX)
Bixiga 70 (São Paulo BRAZIL)
Black Pumas (Austin TX)
Black Taffy (Dallas TX)
Blood (Austin TX)
BOGL (Las Vegas NV)
Brian Temba (Tshwane SOUTH AFRICA)
Broken Social Scene (Toronto CANADA)
Buddy Lofton (Brentwood NY)
Camp Howard (Richmond VA)
Camp Nowhere (Christopher Lister) (Longview TX)
Carrie Fussell (Austin TX)
Carsen (Fort Worth TX)
Cash Squad (Phoenix AZ)
Ceci G (Los Angeles CA)
Chemical Ghost (Chicago IL)
Chhoti Ma (Oakland CA)
Chief Boima (Los Angeles CA)
Cinnaman (Amsterdam NETHERLANDS)
Clemm Rishad (Tacoma WA)
Collin Russell Mullins (Austin TX)
Cory Kendrix (Denver CO)
The Crack Pipes (Austin TX)
Creepside (San Antonio TX)
Curse (Monterrey MEXICO)
Cuyo (Plainfield NJ)
Damak (Austin TX)
Danny Ali (San Francisco CA)
Darko (Los Angeles CA)
Delle Sorelle (Austin TX)
Diogandih (Brooklyn NY)
Divino Niño (Chicago IL)
Dj Breezah & Dj Lolo (Austin TX)
DJ Ease (Rochester NY)
DJ Miss Milan (New York NY)
DJ Slim (Mafikeng SOUTH AFRICA)
Dropper (Brooklyn NY)
Dublin (Stamford CT)
Emergency Tiara (New York NY)
Emma Nyra (Lagos NIGERIA)
EQ AUSTIN Showcase featuring Superfonicos, Jackie Venson, Como Las Movies, Abhi The Nomad, Alesia Lani, Vallejo, Harry Edohoukwa, Lesly Reynaga, J Soulja, Melat, Deezie Brown, Tiarra Girls (Austin TX)
FIX8 (Austin TX)
Foxtrot & the Get Down (Philadelphia PA)
Fragile Rock (Austin TX)
G-C (Mafikeng SOUTH AFRICA)
Garcia Peoples (Rutherford NJ)
Geno Cochino (Los Angeles CA)
Gold Connections (Charlottesville VA)
Great Time (Chester Springs PA)
GRIP (Atlanta GA)
Grizz (Austin TX)
Harvest Thieves (Austin TX)
Hash Redactor (Memphis TN)
Haulm (Brooklyn NY)
Hayes Carll (Houston TX)
The Hermits (Austin TX)
Honey and Salt (Austin TX)
Irk (Stockholm SWEDEN)
Isa Reyes (New York NY)
Jake Schrock (Dallas TX)
Jamie Lin Wilson (D'Hanis TX)
Japanese Breakfast (Philadelphia PA)
Jay Qubed (Mafikeng SOUTH AFRICA)
Johnny Nicholas (Cherry Spring TX)
The Joy Formidable (Yr Wyddgrug UK-ENGLAND)
JSPH (Florence KY)
Judah & the Lion (Nashville TN)
Judy Blank (Utrecht NETHERLANDS)
Kelly Dean (Los Angeles CA)
Hosted by Kemst (Los Angeles CA)
King Princess (Brooklyn NY)
KPthaProfit & City (San Antonio TX)
Kxng Crooked (Longbeach CA)
Kyle Emerson (Denver CO)
Leikeli47 (Brooklyn NY)
Liana Banks (Queens NY)
Lingua Ignota (San Diego CA)
LolaBunz (Toronto CANADA)
Lomelda (Los Angeles CA)
Los Gaiteros de Ovejas (Ovejas COLOMBIA)
Love You Later (Nashville TN)
Lucy Whittaker (Leeds UK-ENGLAND)
The Marcus King Band (Greenville NC)
Mavi Phoenix (Linz AUSTRIA)
The Medium (Nashville TN)
Mirrorgloss (Tacoma WA)
Mise en Scene (Winnipeg CANADA)
Mute Swan (Tucson AZ)
My Education (Austin TX)
Nasi TauTona (Mafikeng SOUTH AFRICA)
NeverNude (Austin TX)
Nikmoody (Wantagh NY)
Ona (Huntington WV)
Oso Negro (Monterrey MEXICO)
The Oysters (Austin TX)
Pat G (Temple TX)
Phillip Wolf (San Antonio TX)
Piper Madison (Los Angeles CA)
Poizon Ivy the DJ (Dallas TX)
Poranguí (Sedona AZ)
Pscience (New Orleans LA)
Quanna (Savannah GA)
The Queendom (Atlanta GA)
R3HAB (Breda NETHERLANDS)
REDFOREVER (Orlando FL)
The Redland (Atlanta GA)
Rich Aucoin (Halifax CANADA)
Rich Lowe (Lithia Springs GA)
Robert Johnson Band (Memphis TN)
Rosie Tucker (Los Angeles CA)
Ryan Adair Rooney (Marfa TX)
Saint Pé (Nashville TN)
Savage Family (Sacramento CA)
Saviii 3rd (Long Beach CA)
Scott Collins (Austin TX)
Sean Ardoin (Lake Charles LA)
Sego (Los Angeles CA)
Sharon Bourbonnais (Austin TX)
Shelita Burke (Los Angeles CA)
Shigeto (Detroit MI)
Skiper RMZ (Monterrey MEXICO)
skirts (Dallas TX)
SMiiLE (Austin TX)
The Song by Lex Empress (Amsterdam NETHERLANDS)
SoundMass (Austin TX)
Spacewalker (Sacramento CA)
Strand of Oaks (Philadelphia PA)
Striking Matches, Steven Lee Olsen, Charles Esten (Nashville TN)
Suspirians (Austin TX)
TC Superstar (Austin TX)
Tera Kòrá (Rotterdam NETHERLANDS)
Terminal A (Los Angeles CA)
Tiana Kocher (Los Angeles CA)
Torae (Brooklyn NY)
Toxsick Tripp (Minneapolis MN)
Trajano! (Madrid SPAIN)
Tribes (El Paso TX)
Trouble in The Streets (Austin TX)
U5(Unknown Five) & DJ Akio (Los Angeles CA)
The Unlikely Candidates (Fort Worth TX)
Walkney (Pittsburgh PA)
Why Bonnie (Austin TX)
Will Courtney (Lockhart TX)
Wynne (Portland OR)
Yoshi Flower (Los Angeles CA)
Your Smith (Los Angeles CA)
ZĀN (Perth AUSTRALIA)
Ziminino (Rio de Janeiro BRAZIL)

Everything subject to change.
Photo credits, clockwise from top left:
Judah & the Lion – Photo by Connor and Rachel Dwyer
Leikeli47 – Photo by Philip-Daniel Ducasse
Japanese Breakfast – Photo by Jackie Lee Young
Broken Social Scene – Photo by Richmond Lam
Mavi Phoenix – Photo courtesy of the artist
Black Pumas – Photo courtesy of the artist

(Teaser photo) Leikeli47 – Photo by Philip-Daniel Ducasse
The post SXSW Music Weekly Roundup: King Princess, Broken Social Scene, Japanese Breakfast, and More appeared first on SXSW.