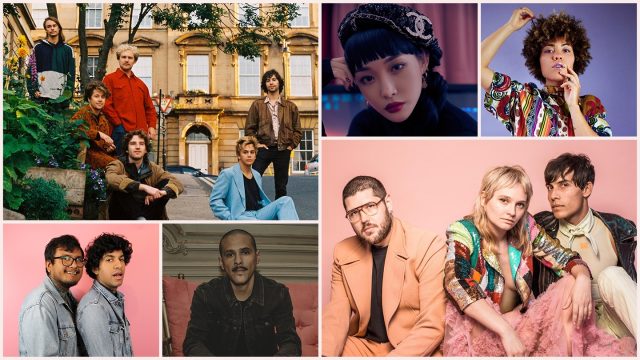 We're another week closer to SXSW 2019 and eager to share more 2019 SXSW Music Festival programming with you. In case you missed it, on Monday we announced KOCCA's seventh annual SXSW Showcase, Korea Spotlight, featuring YG Entertainment's iKON making their North American debut, rising pop star CHUNG HA, and SM Entertainment/ScreaM Records super-producer Hitchhiker. More showcase announcements on the way soon!
This week's artist additions include Secretly Canadian's rock trio Cherry Glazerr, legendary singer-songwriter Steve Earle & the Dukes, Norwegian hip-hop act Pasha, acapella revivalist Madison McFerrin, New West Records' indie-psych-rock group The Nude Party, Blur guitarist and folk artist Graham Coxon, and Terrible Records' synthy pop act Claud.
Discover Showcasing Artists
Register to Attend
SXSW is around the corner! Register to attend SXSW 2019 by the February 15 deadline to save $100 on the walk-up rate. Book your accommodations through SXSW Housing & Travel and you will save between 35%-50% using SXSW Housing's contracted hotel rates compared to direct bookings and online travel agencies.
Music badgeholders receive primary access to all showcases, Music and Convergence Tracks at the SXSW Conference, and Comedy Festival Showcases and Events, as well as secondary access to Film programming and Interactive Tracks, Keynotes, and Featured Speakers.
Sign up for SXSW Event Updates and follow us on social media to stay in the loop – Twitter, Facebook, and Instagram.
2019 SXSW Showcasing Artists
Everything subject to change.
Adam Ostrar (Austin TX)
Altameda (Edmonton CANADA)
Andy Jenkins (Richmond VA)
Artimus (Atlanta GA)
Artux Surfin Boi (AKIN X VISUDY) (Xinjiang CHINA)
Baby FuzZ (Montreal CANADA)
Banditos (Nashville TN)
Bathe (Brooklyn NY)
Ben Dickey (Little Rock AR)
Blessed (Abbotsford CANADA)
Blushh (Los Angeles CA)
BLXPLTN (Austin TX)
Bonnie Whitemore (Denton TX)
Broder John (Umeå SWEDEN)
BUHU (DJ Set) (Austin TX)
Caleb Brown (Baton Rouge LA)
Carson McHone (Austin TX)
Catastrophie (Los Angeles CA)
Chagall (London UK-ENGLAND)
Cherry Glazerr (Los Angeles CA)
Christy Hays (Austin TX)
CHUNG HA (Seoul SOUTH KOREA)
Claire George (Los Angeles CA)
Claud (Chicago IL)
Colde (Gangnam SOUTH KOREA)
Criminal Hygiene (Los Angeles CA)
Deanna Wheeler (Austin TX)
Dehd (Chicago IL)
Disq (Madison WI)
DJ Hella Yella (Austin TX)
DJ Taye (Chicago IL)
Dreamer Boy (Nashville TN)
Easy Life (Leicester UK-ENGLAND)
Emilie Kahn (Montreal CANADA)
Epilogio (San Juan PUERTO RICO)
Estefi Areas (Mexico City MEXICO)
Frankie and the Witch Fingers (Los Angeles CA)
Gabriel Royal (New York NY)
General Smiley (Los Angeles CA)
Gong Gong Gong (Beijing CHINA)
Graham Coxon (London UK-ENGLAND)
Hillsburn (Halifax CANADA)
Hitchhiker (Seoul SOUTH KOREA)
Hothead (Baltimore MD)
iKON (Seoul SOUTH KOREA)
Ishto Juevez (Guatemala GUATEMALA)
Izaak Opatz (Los Angeles CA)
Kai Exos (Toronto CANADA)
Katzù Oso (Los Angeles CA)
Kevin Galloway (Austin TX)
KIRARA (Seoul SOUTH KOREA)
Longriver (Austin TX)
Mikey Erg (Old Bridge NJ)
The Nude Party (Brooklyn NY)
Olivia Neutron-John (Philadelphia PA)
Pasha (Oslo NORWAY)
Paul Cherry (Chicago IL)
Pehuenche (Monterrey MEXICO)
Prateek Kuhad (New Delhi INDIA)
The Red Pears (El Monte CA)
*repeat repeat (Nashville TN)
Reyna Tropical (Los Angeles CA)
Robbie Fulks & Linda Gail Lewis (Chicago IL)
Robert Ellis (Austin TX)
ROLO MX (Monterrey MEXICO)
Russian Baths (Brooklyn NY)
Sarah Shook & the Disarmers (Chapel Hill NC)
Sick Thoughts (New Orleans LA)
Spiral Stairs (Stockton CA)
Stef Chura (Detroit MI)
Steve Earle & the Dukes (New York NY)
Sundrifter (Boston MA)
Thelma and The Sleaze (Nashville TN)
Tia Carrera (Austin TX)
Too Free (Washington DC)
True Creature (Vancouver CANADA)
Valley Maker (Seattle WA)
The Wants (Brooklyn NY)
Young Poc (Chengdu CHINA)

Everything subject to change.
Photo credits, clockwise from top left:
The Nude Party – Photo by CJ Harvey
CHUNG HA – Photo courtesy of the artist
Madison McFerrin – Photo by Lissy Laricchia
Cherry Glazerr – Photo by Pamela Littky
Pehuenche – Photo by Vladimir Zayas
The Red Pears – Photo by Samantha Herrera

(Teaser photo) Cherry Glazerr – Photo by Pamela Littky
The post SXSW Music Weekly Roundup: Cherry Glazerr, Graham Coxon, Steve Earle, and More appeared first on SXSW.