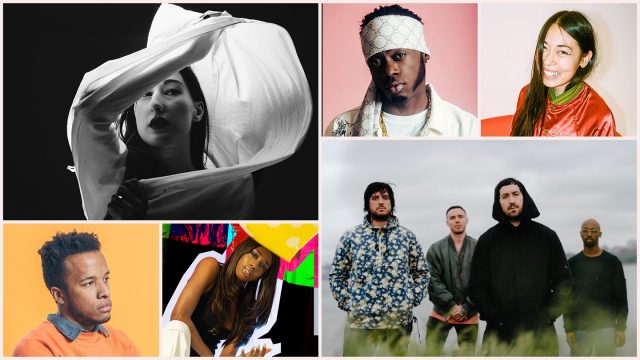 With this week's addition of over 100 acts, we've now announced 1300+ Showcasing Artists for the SXSW Music Festival. New artists include former keyboardist of Cherry Glazerr turned indie solo act SASAMI, experimental goth-pop artist Zola Jesus, indie emo pop-punks The Get Up Kids, drummer/DJ/producer Questlove, UK-based arena-rockers The Amazons, country singer and Nashville star Charles Esten, and Japanese salaryman turned Jimmy Page impersonator Mr. Jimmy, the subject of the documentary Mr. Jimmy that is world-premiering at SXSW in the music-focused 24 Beats Per Second screening section.
Also newly announced are Downtown Records singer-songwriter Lola Kirke, Dallas rap collective The Outfit, TX, Philly-based shoegaze group Nothing, hardcore rap-punks Ho99o9, Australian Aboriginal/Filipino soul/pop singer singer Mojo Juju, and Brooklyn-based r&b singer/producer Cautious Clay.
The SXSW Conference also shared big news this week. Among the great list of inclusions across the board, we announced a Keynote Conversation with Adam Horovitz and Michael Diamond of Beastie Boys with Amazon Music's Nathan Brackett, as well as a Keynote Session with T Bone Burnett, acclaimed songwriter and composer of the soundtracks for True Detective, O Brother, Where Art Thou?, The Big Lebowski, Cold Mountain, and more.
This week we announced great showcase lineups as well, including the 12th annual British Music Embassy, AFS and Holodeck Present Ra: Path of the Sun God Rescored, Damnably Records, and The Spacebomb Revue, which will feature a lineup of Spacebomb artists all backed by the Spacebomb House Band including label co-founder Matthew E. White.
Discover Showcasing Artists
Register to Attend
SXSW will be here before you know it! Register to attend SXSW 2019 by the February 15 deadline to save $100 on the walk-up rate. Book your accommodations through SXSW Housing & Travel and you'll save between 35%-50% using SXSW Housing's contracted hotel rates compared to direct bookings and online travel agencies.
Music badgeholders receive primary access to all showcases, Music and Convergence Tracks at the SXSW Conference, and Comedy Festival Showcases and Events, as well as secondary access to Film programming and Interactive Tracks, Keynotes, and Featured Speakers.
Sign up for SXSW Event Updates and follow us on social media to stay in the loop – Twitter, Facebook, and Instagram.
2019 SXSW Showcasing Artists
Everything subject to change.
4GAuto (Jersey City NJ)
6Blocc (Los Angeles CA)
Ace Tee (Hamburg GERMANY)
AdELA (Atlanta GA)
Ali Awan (Philadelphia PA)
The Amazons (Reading UK-ENGLAND)
Antonio Roberts (Birmingham UK-ENGLAND)
Ashley McMillen (Nashville TN)
Azia Toussaint (Brooklyn NY)
Bad Decisions (Sydney AUSTRALIA)
Barry Dean (Nashville TN)
BeauDamian (Utrecht NETHERLANDS)
Bill Small (Wimberley TX)
Boketto the Wolf (Boston MA)
Boogarins (Goiânia BRAZIL)
Borzoi (Melbourne AUSTRALIA)
Byrke Lou (Berlin GERMANY)
Cautious Clay (Brooklyn NY)
Charles Esten (Nashville TN)
Cha Wa (New Orleans LA)
Chester Watson (St. Petersburg FL)
Dean Lewis (Sydney AUSTRALIA)
Dear Boy (Los Angeles CA)
DEATHCHANT (Los Angeles CA)
Die Group (Los Angeles CA)
DJ Blass (San Juan PUERTO RICO)
DJ Bongz (Durban SOUTH AFRICA)
DJ TopDonn (Chicago IL)
DJ TradeMark (Austin TX)
DJ Wonder (New York NY)
Dos Santos (Chicago IL)
DRAKULAS (Austin TX)
Duhrdy (Austin TX)
El Indio – World Hood (Sacramento CA)
FLAVIA (Los Angeles CA)
Found Sound China Artists (Brooklyn NY)
FR333 (Oakland CA)
The Get Up Kids (Kansas City MO)
Ginger Root (Los Angeles CA)
Ho99o9 (Newark NJ)
Holly (Lisbon PORTUGAL)
House of Wolves (Los Angeles CA)
Hunni (New Britain CT)
The Iguanas (New Orleans LA)
Jammer (London UK-ENGLAND)
Jessie Frye (Dallas TX)
Jim-E-O (Austin TX)
Juliana Hale (Nashville TN)
Kathy Murray and the Kilowatts (Austin TX)
Katrina Fairlee (Austin TX)
Kent Loon (St. Petersburg FL)
Kerosene Shores (Houston TX)
King Nun (London UK-ENGLAND)
Laura Jean Anderson (Los Angeles CA)
LIEN (Amsterdam NETHERLANDS)
Liza (Toronto CANADA)
Loki (Austin TX)
Lola Kirke (Los Angeles CA)
Luke Laird (Nashville TN)
Majeure (Pittsburgh PA)
Matt Maltese (London UK-ENGLAND)
mluna (Austin TX)
Mojo Juju (Melbourne AUSTRALIA)
Mr. Jimmy (Tokyo JAPAN)
Nick Leng (Los Angeles CA)
Nothing (Philadelphia PA)
Oh Pep! (Melbourne AUSTRALIA)
Oliver Rajamani (Austin TX)
Olmeca (Los Angeles CA)
The Outfit, TX (Dallas TX)
pecas (Brooklyn NY)
The Philharmonik (Sacramento CA)
PLS&TY (Miami FL)
The Prescriptions (Nashville TN)
Questlove (Philadelphia PA)
Romen Jewels (Union City CA)
Ronnie Coleman Jr. & Merlot Music (Houston TX)
Royal Thunder (Atlanta GA)
Ruby Jane (Austin TX)
SASAMI (Los Angeles CA)
Scorpion Mouse (Brooklyn NY)
Shorty (London UK-ENGLAND)
Shy Beast (Austin TX)
Sixteen Deluxe (Austin TX)
SLEEPWALKERS (Richmond VA)
Sophie Meiers (Durango CO)
Spacebomb House Band (Richmond VA)
SPIRITUAL & The Oufah Band (Kingston JAMAICA)
Stallion's Stud (Amsterdam NETHERLANDS)
Steven Lee Olsen (Nashville TN)
Stove (Brooklyn NY)
Stylo G (London UK-ENGLAND)
Think No Think (Austin TX)
Toke (Cape Fear NC)
Trampoline Team (New Orleans LA)
Vince Ash (Hammond IN)
VIXEVERSA (Detroit MI)
Volition Immanent (Amsterdam NETHERLANDS)
Wahh World Fusion Band (Tampa FL)
Waylon Payne (Nashville TN)
Yvette Landry with Marcia Ball and Friends (Breaux Bridge LA)
Zola Jesus (Merrill WI)

Everything subject to change.
Photo credits, clockwise from top left:
Zola Jesus – Photo by Tim Saccenti
Stylo G – Photo courtesy of the artist
SASAMI – Photo by Alice Baxley
Nothing – Photo courtesy of the artist
Ace Tee – Photo by Janick Zebroski
Cautious Clay – Photo by Dean Luis

(Teaser photo) Nothing – Photo courtesy of the artist
The post SXSW Music Weekly Roundup: Adam Horovitz and Michael Diamond of Beastie Boys, T Bone Burnett, Zola Jesus, The Amazons, Cautious Clay, and More appeared first on SXSW.