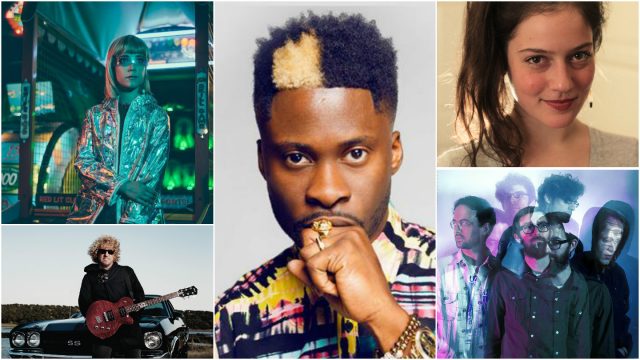 We have less than 30 days until SXSW 2017 begins…
This week we announced many great music-focused Conference programming additions. We are welcoming rocker Sammy Hagar, the evergreen Mick Fleetwood, groundbreaking Nirvana bassist Krist Novoselic, veteran dance-party starter and B-52's member Cindy Wilson, and more. Today we announced Artist Management is a Service Industry, with speakers including management of A Tribe Called Quest (Sophia Chang), Metro Boomin (Rico Brooks), Anderson Paak (Adrian Miller) and producer Sonny Digital.
Let's move onto the 2017 Showcasing Artist news. We published the 2017 showcase schedule online, and will continue to release more details as we get closer to the event. We recommend you take a long lunch at work and start making a schedule so you don't miss any of your favorites. We also added 140 artists to the event this week. Some highlights include the versatile soul musician Bilal, funky indie hip-hopper Duckwrth, local Austin garage-rockers Us Weekly, and many more below. Pussy Riot Theatre will also hold the world premiere of their new spoken word project "Revolution," led by Maria Alyokhina.
We know you love digging through long lists of hyperlinks, and we've worked on the perfect soundtrack for the experience. Our radio channel SXSWfm has a show featuring all newly announced artists, as well as plenty of other quality programming, and our weekly weekly Spotify playlist will shine a light on some emerging talents you may not be aware of yet.
If you're liking what you're hearing, now is the time to register today for your Music badge before the clock strikes midnight. While we won't stop selling them just yet, but the price will increase one final time before SXSW if you don't register today (Friday, February 10). The SXSW Music badge not only gives you access to Music Festival showcases and Conference sessions, but also several Interactive and Film events, Networking Meet Ups, parties, and more.
New 2017 Conference Additions (Music)
Artist Management is a Service Industry
Conversation with Cindy Wilson
Conversation with Sammy Hagar
Conversation with Mick Fleetwood
Conversation with Krist Novoselic
I Wrote That Song: Hit Songwriters Discuss & Perform
I'm Lovin' It: Music and McDonald's
Music Business Toolbox Workshop
Making Concert Broadcast & Distro Work for the Artist
New 2017 Showcasing Artist Additions
808INK (London UK-ENGLAND)
The Aces (Provo UT)
Federico Albanese (DJ Set) (Berlin GERMANY)
Alikiba (Dar es Salaam TANZANIA)
Aztec Death (Dallas TX)
Richard Barone (New York NY)
Maleek Berry (London UK-ENGLAND)
Big Search (Los Angeles CA)
Bilal (Philadelphia PA)
Bin ChiValry (Atlanta GA)
Blue, The Misfit. (Dallas TX)
Dutty Bookman (Kingston JAMAICA)
Laure Briard (Toulouse FRANCE)
Bufi (Mexico City MEXICO)
Buggsy (Bristol UK-ENGLAND)
BURNS (Stafford UK-ENGLAND)
Christopher Martin (St Catherine JAMAICA)
Cipha Sounds (New York NY)
Close Talker (Saskatoon CANADA)
C-Micah (St Louis MO)
Wendy Colonna (Austin TX)
Colony House (Franklin TN)
Computer Magic (New York NY)
Continental Drift (Austin TX)
Crywolf (Los Angeles CA)
Death Hymn Number 9 (Los Angeles CA)
Death of a Dream (Austin TX)
Deep Cuts (Houston TX)
DJ Aktive (Philadelphia PA)
DJ ECOOL (Atlanta GA)
DJ EFN (Miami FL)
DJ WaxFiend (Amsterdam NETHERLANDS)
DROELOE (Hilversum NETHERLANDS)
James Droll (Nashville TN)
Duckwrth (South Central CA)
Dyme-A-Duzin (BROOKLYN NY)
Hayden Edward (Austin TX)
ELEL (Nashville TN)
Eric Biddines (Delray Beach FL)
Erick Dayz (Orlando FL)
Evil Triplet (Austin TX)
Five 2 oh (Corpus Christi TX)
Fragile Rock (Austin TX)
Frisco (Boy Better Know) (London UK-ENGLAND)
Future Punx (brooklyn NY)
Koro Fyah (Kingston JAMAICA)
Ghetts (London UK-ENGLAND)
Golden Dawn Arkestra (Austin TX)
Good Girl (Philadelphia PA)
G Perico (Los Angeles CA)
GPU Panic (Lisboa PORTUGAL)
The Grahams (Nashville TN)
Odetta Hartman (New York NY)
Billy Harvey (Brooklyn NY)
Holidae (Minneapolis MN)
Honey and Salt (Austin TX)
Horse Thief (Oklahoma City OK)
IDLES (Bristol UK-ENGLAND)
Invoke (Austin TX)
Jabee (Oklahoma City OK)
Jason James (Houston TX)
B.J. Jansen (New York NY)
J-Nice the Kingdom Builder (Austin TX)
Joe Galaxy (Miami FL)
Durand Jones & The Indications (Bloomington IN)
Jonny P (New York NY)
Kano (London UK-ENGLAND)
Kris Kasanova (Brooklyn NY)
Kay Odyssey (Austin TX)
King Buffalo (Rochester NY)
Kingsbury (Nashville TN)
Shelley King (Austin TX)
Konshens (Kingston JAMAICA)
KOYOKE (Nashville TN)
Lake of Fire (Austin TX)
Laucan (London UK-ENGLAND)
LAYNE (Los Angeles CA)
Ravyn Lenae (Chicago IL)
Les Deuxluxes (Montreal CANADA)
Moby Grape's Peter Lewis and his daughter, Arwen Lewis (Lompoc CA)
Jeff Lofton (Austin TX)
Los Amigos Invisibles (Miami FL)
Lukr (Nashville TN)
Lillie Mae (Nashville TN)
Masha (Nashville TN)
Master Blaster Sound System (Austin TX)
Medasin (Dallas TX)
Moelogo (London UK-ENGLAND)
Muddy Magnolias (Nashville TN)
The Mullens (Dallas TX)
MY RED + BLUE (Nashville TN)
Mairo Nawaz (Amsterdam NETHERLANDS)
NAWAS (Nashville TN)
Necklace (Portland OR)
Netsky (Antwerp BELGIUM)
Nyth Inning (Bronx NY)
Daisy O'Connor (Austin TX)
Otep (Los Angeles CA)
Pell (New Orleans LA)
PHANGS (Nashville TN)
Pleasers (Austin TX)
POWERS (Los Angeles CA)
Pussy Riot Theatre (Moscow RUSSIAN FEDERATION)
QUIX (Auckland N)
Ricky Rebel (Los Angeles CA)
Graham Reynolds (Austin TX)
The Ripe (Austin TX)
RMBLR (Atlanta GA)
Roya (New York NY)
Runtown (Lagos NIGERIA)
Giò Sada & BariSmoothSquad (Bari ITALY)
Safone (Birmingham UK-ENGLAND)
Sailor Poon (Austin TX)
Saro (Los Angeles CA)
Shame (London UK-ENGLAND)
Son Little (Philadelphia PA)
The South Austin Moonlighters (Austin TX)
Casii Stephan and the Midnight Sun (Tulsa OK)
Surf Curse (Reno NV)
Teen Daze (Vancouver CANADA)
Terror Cósmico (Mexico City MEXICO)
Tetractys (Austin TX)
THE FAME RIOT (Tacoma WA)
The Iguanas (New Orleans LA)
Thomson & Ismael (Amsterdam NETHERLANDS)
Paul Thorn (Tupelo MS)
Thousand Foot Whale Claw (Austin TX)
TJay 848 (New Haven CT)
Tokyo Ska Paradise Orchestra (Tokyo JAPAN)
TrakkSounds (Houston TX)
Trouble Boys (Austin TX)
Sofi Tukker (Brooklyn NY)
Cale Tyson (Fort Worth TX)
US Weekly (Austin TX)
Virtual Haze (Mexico City MEXICO)
Vision (Santa Fe Springs CA)
The Whiffs (Kansas City MO)
White Fang (Los Angeles CA)
Whitehorse (Toronto CANADA)
Young Bro (Dallas TX)

Everything subject to change
Photo credits, clockwise from top left:
Computer Magic photo courtesy of the artist
DJ ECOOL photo courtesy of the artist
Odetta Hartman photo courtesy of the artist
Thousand Foot Whale Claw by Essentials Studio
Sammy Hagar by Bryan Adams
The post SXSW Music Weekly Round-Up: Pussy Riot Theatre, Duckwrth, Sammy Hagar, Mick Fleetwood & More appeared first on SXSW.