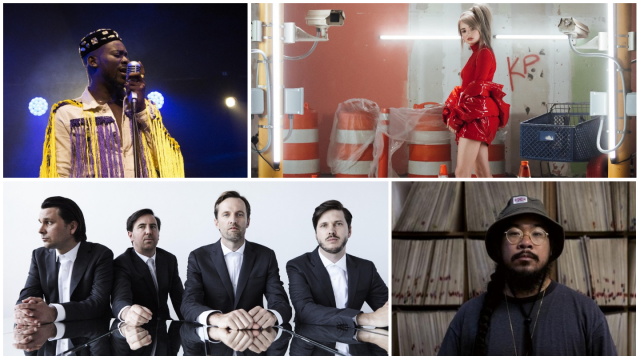 SXSW is approaching fast, and we're burning the midnight oil to make sure everything is ready for March. This announcement brings us up to 1500+ Showcasing Artists confirmed for the SXSW Music Festival, and we still have more to share with you in the coming weeks. Let's jump into this week's programming additions.
New Music Tracks programming highlights include Celebrating Gregg Allman – Audio and Video Rarities, a conversation between Gregg Allman's longtime manager Michael Lehman and GRAMMY Museum Executive Director Scott Goldman, Still Thuggin: Tupac Relevance Over 20 Years Later features SiriusXM host Skyy Hook in a conversation examining the continued relevance of Tupac Shakur's musical legacy, and more.
Highlights from the 100+ Showcasing Artists added this week include San Diego native rapper Rob Stone, Australian electro-pop veterans Cut Copy, pop singer Kim Petras, soulful blues-rockers Nathaniel Rateliff & The Night Sweats, Nigerian modern high-life artist Adekunle Gold, hit songwriter and producer Linda Perry, a farewell performance from local Austin-based roots rock band Uncle Lucius, and more.
22 days away! Do yourself a favor and register for your Music Badge and book your hotel ASAP to leave yourself ample time to figure out which showcases and Music Tracks sessions you'd like to attend. The Music Badge provides you with primary access to hundreds of showcases and sessions, secondary access to Interactive and Film Conference Tracks, and much more.
With over 1500 Showcasing Artists live on the SXSW Schedule, it can be hard staying in-the-know on each artist we've announced. To spice things up a bit, we curate these tools for musical discovery: check out our new SXSW Spotify genre-based playlists, listen to the SXSWfm Specialty Show, and dig through our YouTube playlist featuring artists from all SXSW 2018 announcements. Make sure to add any new favorites to your SXSW Schedule so you can easily keep track of when and where they are performing in March.
New 2018 Conference Additions (Music)
Turning Tragedy into Action
Music In Movies: American Folk Case Study
Family, Humanity & Loss on the Road to Success
Celebrating Gregg Allman – Audio and Video Rarities
Still Thuggin: Tupac Relevance Over 20 Years Later

New 2018 Showcasing Artist Additions
Abhi The Nomad (Austin TX)
Adam + Kizzie (Oklahoma City OK)
Adekunle Gold (Lagos NIGERIA)
AkinSanya (Buff Bay JAMAICA)
Alex Rose (Los Angeles CA)
Anastasia (Austin TX)
…And You Will Know Us by the Trail of Dead (Austin TX)
Ashton Marton (Chicago IL)
Austin Lanier (Newport News VA)
Avelino (London UK-ENGLAND)
BONES (UK) (Los Angeles CA)
Brent Cowles (Denver CO)
Brian Merrill (New York NY)
The Bright Light Social Hour (Austin TX)
Bryann Trejo (Abilene TX)
Bun B (Port Author TX)
Caleb Caudle (Winston-Salem NC)
Casey JaNissa (Austin TX)
Cassandra Robertson (Dallas TX)
Champagne Superchillin' (New York NY)
Chronophage (Austin TX)
CMULA (San Diego CA)
Country Cousins (Austin TX)
Cut Copy (Melbourne AUSTRALIA)
Cuyo (Austin TX)
Cygnus (Dallas TX)
Danielle Grubb (Dallas TX)
Dashboard Confessional (Nashville TN)
David Garza (Austin TX)
DAZION (The Hague NETHERLANDS)
Kyle Dion (Coral Springs FL)
DJ Chose (Houston TX)
​DJ OVERCOMER​ (San Angelo TX)
DJ Ricky Silk (Fort Worth TX)
DJ Soulseek (Amsterdam NETHERLANDS)
DJ unknown x CB5 (Rochester NY)
Donae'O (London UK-ENGLAND)
Dorothy (Los Angeles CA)
Drab Majesty (Los Angeles CA)
Dubfire (Washington DC)
Eric Iglehart, II (Austin TX)
Erick Lottary (Fayetteville NC)
Evalyn (Venice CA)
Facade HQ (Jersey City NJ)
Field Division (Des Moines IA)
The Gary (Austin TX)
George Maple (Sydney AUSTRALIA)
Ghostland Observatory (Austin TX)
GØLDN (Los Angeles CA)
Harmini (Elmira NY)
Holly (Lisbon PORTUGAL)
Hopsteady (Santa Fe NM)
Hundredth (Charleston SC)
ImSoMaleek (New York NY)
J-Nice the Kingdom Builder (Austin TX)
J Creek (Tampa FL)
Jesse Mitchell (Houston TX)
Joey Jewish (Los Angeles CA)
Jonathan Toubin (New York NY)
Jopo Da Son (San Antonio TX)
Jordan Rakei (Brisbane AUSTRALIA)
Josiah Caleb (Dallas TX)
JYNX (Los Angeles CA)
Kaki King (Brooklyn NY)
KannKasso (Austin TX)
Kat Graham (Atlanta GA)
Keedren Boston (San Antonio TX)
Kelroy (Chicago IL)
Khali Haat (Austin TX)
Kim Petras (Cologne GERMANY)
Konata Small (Miami FL)
Kweku Collins (Evanston IL)
L/O/O/N (Bergen NORWAY)
Leoncarlo (Denton TX)
Lilly Hiatt (Nashville TN)
Linda Perry (Los Angeles CA)
Lion (London UK-ENGLAND)
Liz Brasher (Memphis TN)
Lizzie and The Makers (New York TN)
Los Profetas (New York NY)
M.A.D.E. 4 Christ​ (Made And Definitely Equipped 4 Christ) (Atlanta GA)
Magic Bronson (Los Angeles CA)
Marc Scibilia (Nashville TN)
Matt Costa (Laguna Beach CA)
The Medium (Nashville TN)
MEUTE (Hamburg GERMANY)
Mimicking Birds (Portland OR)
Mndsgn (Los Angeles CA)
Morgan Saint (New York NY)
Mu Dills (Newark NJ)
MXMS (Los Angeles CA)
Nathaniel Rateliff & The Night Sweats (Denver CO)
Nitti Gritti x Tascione B2B (Miami FL)
nobigdyl. (Nashville TN)
Omenihu (Austin TX)
OnBeatMusic (San Antonio TX)
Oran Juice Jones ii (Houston TX)
Party Pupils (New York NY)
Patoranking (Lagos NIGERIA)
Patterns (Costa Rica COSTA RICA)
Paul Benjaman Band (Tulsa OK)
Peanut Butter Wolf (Los Angeles CA)
Pujol (Nashville TN)
Quantum Split (New York NY)
Rackajam (Budapest HUNGARY)
Ray Wylie Hubbard (Wimberley TX)
Red Shahan (Bluff Dale TX)
Rehab (Warner Robins GA)
The Risin' Sun (Mexico City MEXICO)
Rob Stone (San Diego CA)
Rockstar Jt (Montgomery AL)
Roi Perez (Berlin GERMANY)
Sad Baxter (Nashville TN)
SANTIAGO (New Orleans LA)
Say Anything (Tyler TX)
Sean C. Johnson (Oklahoma City OK)
Shunetra Kicheon (Austin TX)
Sneaks (Washington DC)
Son Fjord B2B Daetron Vargas (Austin TX)
Suburban Living (Philadelphia PA)
Supraman (Austin TX)
Surf Gvng (Miami FL)
Surve (Hammond LA)
Tascione (Philadelphia PA)
Terra Lightfoot (Hamilton CANADA)
Th3 Saga (Queens NY)
Tje Austin (Austin TX)
Torae (Brooklyn NY)
Travis Linville (Norman OK)
Triple Thr33 (Las Vegas NV)
Trove (Nashville TN)
Two Feet (Brooklyn NY)
Uncle Lucius (Austin TX)
Ustad Ghulam Farid Nizami (Cedar Park TX)
Vockah Redu (Houston TX)
Von Won (Houston TX)
Walter Salas-Humara (Flagstaff AZ)
Whiteside (Austin TX)
Willa Amai (Los Angeles CA)
WSTRN (London UK-ENGLAND)
Wunmi (Brooklyn NY)
Yoke Lore (Brooklyn NY)
Zombies in Miami (Aguascalientes MEXICO)

Everything subject to change
Photo credits, clockwise from top left:
Adekunle Gold – Photo courtesy of artist
Kim Petras – Photo courtesy of the Artist
Mndsgn – Photo courtesy of the Artist
Cut Copy – Photo courtesy of the Artist
The post SXSW Music Weekly Round-Up: Music Tracks Sessions, Cut Copy, Rob Stone, Nathaniel Rateliff & The Night Sweats, and More appeared first on SXSW.