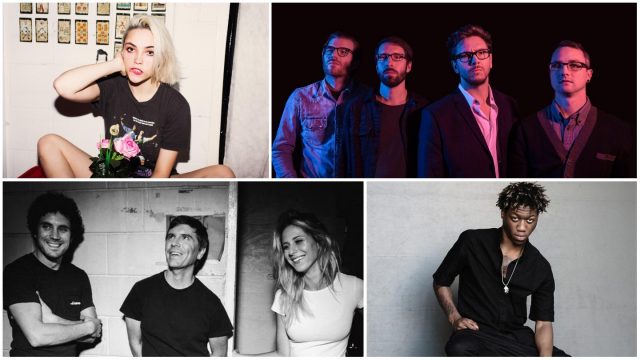 We're five weeks away from SXSW 2018, and the days are starting to feel shorter and shorter. Before you know it we'll all be together in Austin for SXSW 2018. In the meantime we still have plenty of great programming additions to share with you.
This week's batch of music-focused Conference programming consists of our Mentor Sessions. These sessions offer an opportunity for registrants to schedule one-on-one meetings to ask questions, seek career guidance, and absorb knowledge from a variety of music industry professionals. 2018 Mentors include Tiana Lewis (Pandora), Tom Mullen (Atlantic Records), Samantha Steele (Triple 8 Management) and many more. Music mentor sessions will take place from Wednesday, March 14 – Saturday, March 17 in Room 8AB of the Austin Convention Center.
Highlights from the 100+ Showcasing Artists added this week include Sub-Pop indie-rockers Bully, XXL Freshman Class alumni OG Maco, Polyvinyl garage-rock band White Reaper, Dutch indie-folk act Rosemary & Garlic, The Strokes' Albert Hammond Jr., funky soul singer Davie, and more.
Yesterday the SXSW Film Festival released their Features Lineup, which includes the screening section 24 Beats Per Second. Dive into this diverse selection of films highlighting artists and music culture with an emphasis on documentary.
If the FOMO is setting in, we've got the cure – register for your Music Badge now and book your hotel while there are still great options available. The Music Badge provides you with primary access to hundreds of showcases and sessions, secondary access to Interactive and Film Conference Tracks, and much more.
We understand if you're too busy to listen to every artist we've announced. To make finding the artists you'll love as easy as possible we offer these tools of discovery: listen to the SXSWfm Specialty Show and Spotify Weekly Round-up playlist to discover artists from this announcement, and check out our YouTube playlist featuring artists from all SXSW 2018 announcements. Be sure to add your discoveries to your favorites on the SXSW Schedule to make planning your time in Austin a breeze.
New 2018 Conference Additions (Music)
Mentor Sessions
Wednesday, March 14
Thursday, March 15
Friday, March 16
Saturday, March 17

New 2018 Showcasing Artist Additions
16 the Olympus (San Antonio TX)
Aaron Lee Tasjan (Nashville TN)
The Accidentals (Traverse City MI)
Adam Ness (Chicago IL)
Adrian Daniel (Brooklyn NY)
Albert Hammond Jr (New York NY)
American Sharks (Austin TX)
Andrea Cruz (Cayey PR)
Ari Roar (Dallas TX)
Bamsworth (San Antonio TX)
Beat Root Revival (Austin TX)
Black Prophet (Accra GHANA)
Blindur (Naples ITALY)
Bodywash (Montreal CANADA)
Bonnie Whitmore & Her Band (Denton TX)
Boombox Cartel (Monterrey MEXICO)
BOYO (Los Angeles CA)
BRAINWAVVE (Austin TX)
Buck Meek (Austin TX)
Bully (Nashville TN)
The Bvtcher (Austin TX)
Calliope Musicals (Austin TX)
Chadney Christle (Dallas TX)
Chencha Berrinches (South Gate CA)
Churchwood (Austin TX)
Count Vaseline (Atlanta GA)
Crocodile Tears (Austin TX)
DAVIE (Los Angeles CA)
Death of a Dream (Austin TX)
Devras Plexi (Austin TX)
Doobie Powell (Hartford CT)
Dr. Bobby Banner, MPC (El Paso TX)
Dryspell (Austin TX)
Emi Secrest (Memphis TN)
Ensign Broderick (Toronto ON)
Faye Webster (Atlanta GA)
FAZI (Beijing CHINA)
Field Report (Milwaukee WI)
Fishbach (Paris FRANCE)
Fort Never (Austin TX)
Giant Kitty (Houston TX)
GIRL SKIN (Brooklyn NY)
Golden Dawn Arkestra (Austin TX)
half·alive (Long Beach CA)
Harrison Lipton (Brooklyn NY)
Hilang Child (London UK-ENGLAND)
HoK (San Antonio TX)
I AM SNOW ANGEL (New York NY)
IDER (London UK-ENGLAND)
Inflatable Robot (Austin TX)
Jesse Dayton (Austin TX)
Kadesh Flow (Kansas City MO)
Knife in the Water (Austin TX)
Kydd Jones (Austin TX)
Lauren Ruth Ward (Los Angeles CA)
Lethal Injektion (Tuscon AZ)
Lingua Franca (Athens GA)
Lisa Morales (San Antonio TX)
Low Cut Connie (Philadelphia PA)
Luz Pinos (Brooklyn NY)
Max Meser (Amsterdam NETHERLANDS)
Medicine Man Revival (Dallas TX)
Mega Ran (Phoenix AZ)
Mélat (Austin TX)
Micki Miller (South Bend TX)
Nick Wayne (Nashville TN)
Noah Slee (Auckland NEW ZEALAND)
OG Maco (Atlanta GA)
Only Girl (London UK-ENGLAND)
Patrick Sweany (Nashville TN)
PHANGS (Nashville TN)
Poranguí (Sedona AZ)
Protohype (Nashville TN)
Rawayana (Caracas VENEZUELA)
Rock Boy Fresh (Los Angeles CA)
Rod Melancon (Wright LA)
Rosemary & Garlic (Utrecht NETHERLANDS)
Royal Forest (Austin TX)
RYAN Playground (Montreal CANADA)
Sampson (Halifax CANADA)
Sass (Austin TX)
Savak (Brooklyn NY)
Schaffer the Darklord (New York NY)
Sego (Los Angeles CA)
Shubzilla x Bill Beats (Seattle WA)
Small Houses (Austin TX)
Soia (Vienna AUSTRIA)
Spaceboifresh (Dallas TX)
Subs (Beijing CHINA)
Suzi Wu (London UK-ENGLAND)
T.Y.E (Dallas TX)
Talos (Cork IRELAND)
Temple of Angels (Austin TX)
The Tissues (Los Angeles CA)
Venzella Joy (Buffalo NY)
Victoria Canal (New York NY)
Weathers (Los Angeles CA)
WebsterX (Milwaukee WI)
The Wet Secrets (Edmonton Canada)
White Fang (Los Angeles CA)
White Reaper (Louisville KY)
Wye Oak (Baltimore MD)

Everything subject to change
Photo credits, clockwise from top left:
Suzi Wu – Photo courtesy of the artist
Field Report – Photo courtesy of the artist
OG Maco – Photo courtesy of the artist
Bully – Photo courtesy of the artist
The post SXSW Music Weekly Round-Up: Music Films, Mentors, Bully, Albert Hammond Jr., & More appeared first on SXSW.