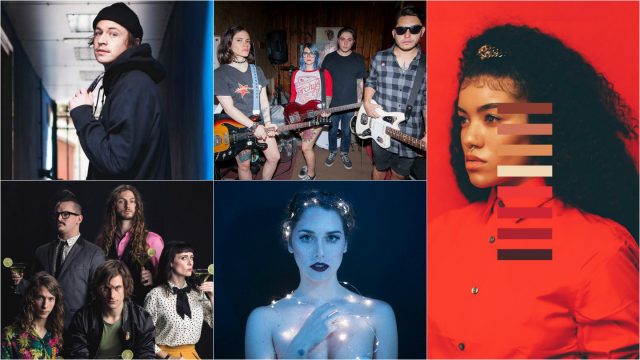 We're another week closer to SXSW! To celebrate, we're announcing the addition of the following Conference Sessions (Music) and Showcasing Artists you'll see when March 13 finally comes around. Let's dive in so that you can begin familiarizing yourself with the upcoming events.
Vinyl has recently made quite the comeback, with record sales rising the past few years. To discuss this increased demand and how manufacturers are adjusting to it, we've assembled a panel on The Modernization of Vinyl Record Pressing. Among our other Conference Sessions, we also have a chopped and screwed workshop featuring speakers, such as DJ Hollygrove and DJ Ryan Wolf, who will teach their slow down music methods.
On top of that, we have the latest list of talented Showcasing Artists who will be joining us here in March. Leading the group announcement is one of the original no wave artists James Chance and the Contortions, UK indie rock group Blaenavon, Let's Eat Grandma, T-Rextasy, and more. Some even greater news is that we're hosting artists such as La Mente and Menores at our first-ever Sounds from Peru showcase. We even have the 5th Anniversary of the K-Pop Night Out showcase in store!
While you're here, tune into the sounds that come with the artists through our weekly Spotify playlist and radio channel SXSWfm.
If you like what you hear, why not see them in March by registering today for a Music badge! You'll have the ultimate SXSW experience, from access to the Music Festival showcases, to engaging in some of the most valuable networking opportunities of this industry, to several Interactive and Film events.
New 2017 Conference Additions (Music)
2017 New Music Meeting
The Theory of Slow Down Music
The Modernization of Vinyl Record Pressing
Hat's Off To Nat Hentoff
New 2017 Showcasing Artist Additions
Max Abysmal (Amsterdam NETHERLANDS)
The Accidentals (Traverse City MI)
Naomi Achu (Washington DC)
Carl Anderson (Charlottesville VA)
Brad Armstrong (Rhinebeck NY)
Astro 8000 (Philadelphia PA)
A.Ward (Kansas City MO)
Babewatch (Oakland CA)
Cedryl Ballou & the Zydeco Trendsetters (Lake Charles LA)
Reuben Bidez (Nashville TN)
Big Big Love (Mexico City MEXICO)
Big Jesus (Atlanta GA)
Blaenavon (Liphook UK-ENGLAND)
Owen Bones (Chicago IL)
Annie Booth Trio (Denver CO)
Boyfrndz (Austin TX)
Pony Bradshaw (Chatsworth GA)
Tony Bray (Austin TX)
Gala Brie (Lima PERU)
Mari Burelle (New York NY)
Cakes Da Killa (Brooklyn NY)
Caravanchela (Bogotá COLOMBIA)
Casual Strangers (Austin TX)
Paul Cauthen (Tyler TX)
James Chance & The Contortions (New York NY)
Chrissy (Chicago IL)
Chrissy & Hawley (Chicago IL)
Cilantro Boombox (Austin TX)
Jesse Clegg (Johannesburg SOUTH AFRICA)
C.Macleod (Isle Of Lewis UK-SCOTLAND)
Coldcell (New Orleans LA)
Leo James Conroy (Los Angeles CA)
Jennings Couch (London UK-ENGLAND)
Creepside (San Antonio TX)
Ami Dang (Baltimore MD)
Adrian Daniel (Brooklyn NY)
Darkness Divided (San Antonio TX)
Sarah Darling (Nashville TN)
Dave (London UK-ENGLAND)
Dead Neighbors (Athens GA)
Deep Sea Diver (Seattle WA)
Deraj (Orlando FL)
The Detail (New Orleans LA)
Digging Roots (Barrie CANADA)
DJ Jon Rambo (Houston TX)
Doe (London UK-ENGLAND)
Tomás Doncker & The True Groove All-Stars (Brooklyn NY)
A. Doulos
 (Oakland
 CA)
Dream Machine (Austin TX)
Dream Phases (Los Angeles CA)
Drive Like Maria (Nijmegen NETHERLANDS)
Toby Driver (New York NY)
Drunken Tiger x Yoonmirae (Uijeongbu SOUTH KOREA)
Jacob Dupre Quintet (Austin TX)
Marrio Esco (Worcester MA)
FBC KLIK (Shreveport LA)
Findlay (Manchester UK-ENGLAND)
Schuyler Fisk (Crozet VA)
FlygerWoods (Houston TX)
Johnny Flynn (London UK-ENGLAND)
Foxy Mojo (El Paso TX)
Francisco y Madero (Guadalajara MEXICO)
Kayla Freeman (Houston TX)
Doug Funnie (Fort Worth TX)
Quin Galavis (Austin TX)
Gustavo Galindo (Mexico City MEXICO)
Ginla (Brooklyn NY)
Samantha Glass (Madison WI)
Gost (Below TX)
Marika Hackman (London UK-ENGLAND)
Har Mar Superstar (Minneapolis MN)
Corey Harper (Los Angeles CA)
Lilly Hiatt (Nashville TN)
Hikes (Austin TX)
Hogwasche (Brooklyn NY)
Hurray for the Riff Raff (Bronx NY)
Intl.DJunknown (Rochester NY)
Eli Jas (New York NY)
J-me (Yangon MYANMAR)
Kydd Jones (Austin TX)
River Jones & Lorelei Linklater (Austin TX)
King James III (Denver CO)
Lady Leshurr (London UK-ENGLAND)
La Mente (LIMA PERU)
Sam Lao (Dallas TX)
Mozart La Para (Dominican Republic DOMINICAN REPUBLIC)
Las Rosas (Brooklyn NY)
La Travesia del Alma (Medellín COLOMBIA)
Let's Eat Grandma (Norwich UK-ENGLAND)
Lexie (Changsha CHINA)
LIFE (Hull UK-ENGLAND)
Lil Sicc (Austin TX)
Living Hour (Winnipeg CANADA)
Rebecca Loebe (Austin TX)
Lord of War (San Diego CA)
Royce Lovett (Tallahassee FL)
Justin McLean (Rosenberg TX)
Menores (Lima PERU)
Nik Mercer (Let's Play House) (Brooklyn NY)
Miss Ko (New York NY)
Money Chicha (Austin TX)
Monk Tamony (New York NY)
Ian Moore (Austin TX)
Mothica (New York NY)
Mr. Lewis and The Funeral 5 (Austin TX)
Mr. Paradise (New York NY)
Name UL (Wellington NEW ZEALAND)
Navy Gangs (New York NY)
Noah North (Austin TX)
Novella Inc. (Santiago CHILE)
Nutopia (San Juan PUERTO RICO)
Odezenne (Bordeaux FRANCE)
The Outer Vibe (Nashville TN)
The Outfit, TX (Dallas TX)
Pentateuch Movement (Kingston JAMAICA)
Peterson Brothers Band (Bastrop TX)
Allison Pierce (Los Angeles CA)
Christopher Plowman (Austin TX)
Poison Rites (Denver CO)
Pomo (Vancouver CANADA)
Potty Mouth (Northampton MA)
The Present (New York NY)
PxP Allstars Band (Berlin GERMANY)
Ramesh (Austin TX)
Red Velvet (Seoul SOUTH KOREA)
Reeps One (London UK-ENGLAND)
RIRI (Tokyo JAPAN)
Rivers of Nihil (Reading PA)
Karen Rodriguez (New York NY)
Roddie Romero & the Hub City All-Stars (Lafayette LA)
Toni Romiti (Chicago IL)
Royal Tusk (Edmonton CANADA)
ROZES (Philadelphia PA)
Kore Rozzik (New York NY)
Ruby (Dumfies UK-SCOTLAND)
Ruzzi (Mexico City Mexico)
Serge (Miramar FL)
JJ Shiplett (Calgary CANADA)
Sarah Shook & the Disarmers (Chapel Hill NC)
The Sleeping Ghost (Los Angeles CA)
SlowKiss (Santiago CHILE)
Small Houses (Austin TX)
Stalking Gia (New York NY)
Jesse Jo Stark (Los Angeles CA)
Peggy Stern Octet (Austin TX)
Sunjacket (Chicago IL)
Patrick Sweany (Nashville TN)
T-Rextasy (New York NY)
Rudy Tee Y Los Pelicanos Del Rey (San Antonio TX)
The Teeta (Austin TX)
Tinnarose (Austin TX)
Torae (Brooklyn NY)
Tredici Bacci (Brooklyn NY)
Tres Bourbonnais (Austin TX)
Twinsmith (Omaha NE)
The Two Lips (San Marcos TX)
Uncle Lucius (Austin TX)
Ünloco (Austin TX)
Varsity Week (Los Angeles CA)
Matthew Logan Vasquez (Austin TX)
Patricia Vonne (Austin TX)
Vox Sambou (Montreal CANADA)
We The Lion (Lima PERU)
The Wheelwrights (Austin TX)
Whethan (Chicago IL)
Bonnie Whitmore (Austin TX)
Winter (Los Angeles CA)
With Our Arms to the Sun (Phoenix AZ)
Worldwide (San Antonio TX)
The Wrecks (Los Angeles CA)
WRVTH (Manteca CA)
Jaime Wyatt (Los Angeles CA)
ChihiroYamazaki+ROUTE14band (Kawasaki JAPAN)
Yip Deceiver (Athens GA)
Zona Tango (Buenos Aires ARGENTINA)

Photo credits, clockwise from top left:
Max Abysmal by Catharina Gerritsen
SlowKiss by Rocío Aguirre
Sam Lao by Jeremy Biggers
Gala Brie by Lucero del Castillo & Daniela Zamalloa
The Outer Vibe by Andrew Terzes
The post SXSW Music Weekly Round-Up: Let's Eat Grandma, K-Pop, Chopped & Screwed Workshop appeared first on SXSW.