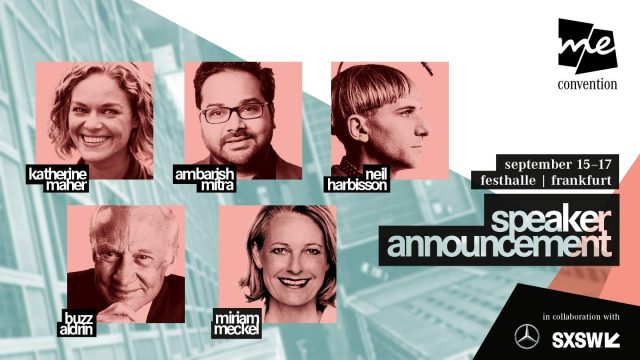 SXSW in collaboration with Mercedes-Benz has announced the initial programming for a future-focused event in Frankfurt, Germany during the IAA (International Motor Show) September 15-17, 2017. The inaugural me Convention, unites the technology, design and creative industries for a critical dialogue about the future.
Programming announced today explores the future through the lens of technology and design, including astronaut and rocket scientist Buzz Aldrin; Head of Industrial Design at X – The Moonshot Factory, Nick Foster; avant-garde artist and cyborg Neil Harbisson; Project Director at Snøhetta Jette Hopp; Author and travel entrepreneur Colin Wright; media artist and choreographer Christian "Mio" Loclair; journalist Amber Mac; Director of Wikimedia Foundation Katherine Maher; Editor of business magazine WirtschaftsWoche Miriam Meckel; NASA Jet Propulsion Lab multimedia specialist Sasha Samochina; workplace pioneer and Second Home co-founder Rohan Silva; professional explorer and adventurer Mike Horn; Tibetan Buddhist Monk and mindfulness specialist Gelong Thubten; and more. For a full list of speakers visit me-convention.com/program.
"We are honored to work with Mercedes-Benz to produce the me Convention at the Frankfurt Auto Show in September 2017," said Hugh Forrest, SXSW Chief Programming Officer. "The content will cover a variety of topics that stretch far beyond what one might expect at an automotive industry event. We're very excited that this programming will unite business leaders and attendees to explore and advance many of tomorrow's top technology trends."
SXSW joins Mercedes-Benz to host the me Convention as an evolution of its mission to help creative people achieve their goals. This new, inspiring and open platform creates an intimate space for international exchange and business in one of Europe's most vibrant cities. me Convention features three days of workshops, expert talks, inspiring keynotes, co-working space and interactive labs all within a festival-like setting, offering evening events throughout the historic city center.
2017 Topics include:
New Creation – Manufacturing and distribution are no longer barriers to creation, but time and attention have become scarce resources. People are increasingly asked to make snap judgements and process huge amounts of information – what are the effects, opportunities, responsibilities, and consequences of the "always on" generation? How can businesses at all scales benefit from collaborating with consumers during the R&D and creation process?
New Leadership – Traditional leadership and business models are rapidly evolving. What are the most effective strategies, technologies, and possibilities within this new relationship to work and leadership?
New Realities – Analogue and digital technologies now blend seamlessly to create new realities. How will artificial intelligence, bioscience, genetic engineering, and mixed reality shape our lives? What will we gain by blurring the borders between real and artificial, human and machine, natural and man-made, and how can we adapt to these new realities?
New Urbanism – The evolution of our living environments from housing as a service to smart, connected homes and the expansion of urban centers around the world is now underway. How do we intentionally shape our cities and surrounding areas to create engaging, equitable, and healthy communities?
New Velocity – Changes that once required long and complex processes are now immediate – societies transform quickly, technological innovations spring up daily, cities change their faces overnight. How does this rapid acceleration affect our well-being and environment, and how can humans not only cope, but thrive, living with exponential change?
Share your vision for tomorrow by registering today! A limited number of badges are now on sale for the early-bird rate of €300 EUR ($337 USD). Follow @meconvention on Instagram and Twitter, and sign up for the me Convention newsletter.
Image Courtesy of Liganova
The post SXSW and Mercedes-Benz Announce Initial Programming for Collaborative Future-Focused Event in Europe appeared first on SXSW.