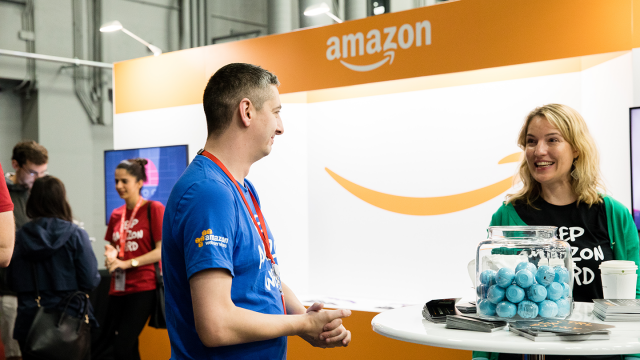 As an employer, finding candidates to hire is often a lengthy and tedious process. Reviewing applications and conducting interviews are tasks that — let's face it — no one truly enjoys. But why not make the road towards hiring new talent a bit easier? That's why we created SXSW Job Market.
Now that Job Market has moved to be a part of the Trade Show, there are many new opportunities for employers to acquire talent. That's because the Trade Show is the largest exhibition and the epicenter of business at SXSW. There were over 75,000 people in attendance at the Trade Show in 2018, and Job Market saw highly skilled candidates from 95 countries.
Since the Job Market is open to all SXSW registrants, your business has a wide net to catch top-tier, tech-savvy individuals looking for employment. And if you're a professional seeking to join an elite organization, in recent years we've hosted companies like Amazon, Anheuser-Busch, Apple, Charles Schwab & Co, Dell, Delta Airlines, Express Scripts, IMDb, Lowe's, and Victoria's Secret, among others.
You can register to attend the Job Market here.
Still on the fence? Check out some of our stats on the candidates from last year's event:
46% held a Bachelor's Degree
40% held a Graduate or Higher
77% of candidates had 3+ years of experience
26% of candidates had 13+ years of experience
Don't skip out on a great way to encounter opportunities that can strengthen your company, propel your career, or make meaningful connections. Prepare yourself to find your perfect match as either an employer or candidate, and join us at the 2019 Job Market!
Photo by Nicky Lockman
The post Find Talent at SXSW: Job Market is Moving to the Trade Show appeared first on SXSW.