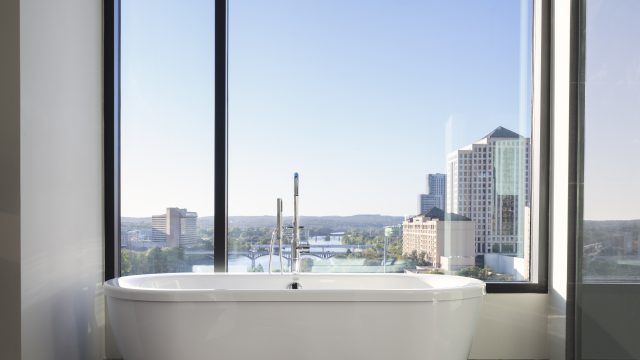 South by Southwest Housing & Travel's number one job is helping you find and book the right hotel to make your SXSW experience memorable. We work year-round to contract blocks of rooms at more than 60 hotels to provide exclusive rates for SXSW registrants. This variety means you have options! Whether you desire a full-service downtown hotel experience complete with all the amenities, or a budget friendly hotel just a short ride away to accommodate your band or budding startup, SXSW Housing & Travel has all the options to fit your needs.
SXSW blocks thousands of rooms for attendees. While we offer a wide range of hotel inventory and new hotels have opened downtown, veteran attendees know that many downtown hotels sell out on August 1. If you can't find what you need right away, don't worry! Our SXSW Housing & Travel team are here to help you accommodate your housing needs.
To help you prepare, here are 5 tips to book the right hotel room for SXSW 2016.
Know the SXSW Housing timeline.
Check out the SXSW Hotel Availability page online to see current, available SXSW hotels, room types & rates. On August 1 you can begin registering and booking hotels. It's important to make your request early because there's no way to know which hotels will still be available when you're ready to book. Having a list of your top 5 hotel preferences before August 1 gives you options if your top choice isn't available.
Get to know your online resources.
These pages provide all the information you need to submit your online hotel request on (or after) August 1.
You must be a SXSW registrant to request a hotel so be sure you're ready to register on August 1. After registering online your shopping cart will prompt you to book your hotel. Stay tuned to our Twitter feed and make sure you're on our mailing list for the first notifications we've gone live. A great selection of rooms are available for other important SXSW participants including Speakers, Artists, Press, Filmmakers, and Trade Show exhibitors, among others. Many of these groups will not be part of the August 1 launch. Once you confirm your participation with SXSW you will receive all the information you need to book your hotel.
If you're new to SXSW it is important to understand the lay of the land. Familiarize yourself with the Austin landscape before you make your request so that, even if you're not able to be right downtown, you know which area of Austin works best for your needs.
Don't Stress!
SXSW staff is working around the clock to make this year's event a success, and the SXSW Housing Department is here to help. If you follow these tips, you can make your SXSW a success too!
Still have questions? Email housing@sxsw.com or call (512)467-7979 and ask for the housing department.
Austin City Skyline Photo courtesy of Hotel Van Zandt.
---
Helpful Resources
Reservation Policies
How to Book
Hotel Availability
Register
SXSW Shopping Cart
SXsocial
The post SXSW Housing & Travel: 5 Tips to Help You Prepare for Launch appeared first on SXSW.