It's a great time to add screening SXSW Film & TV Festival official selections to your self-care routine. Feed your film-loving soul with the latest SXSW alumni releases each month.
No need to sign up for a new gym membership, our first alumni releases of the year will get your adrenaline pumping and your mind racing. Kicking off January releases, follow a woman terrorized by a stalker who forces her to confront her biggest fear in Jethica and embark on a married couple's journey to extremes after seeing their neighbor commit a crime in A Lot of Nothing. Plus, explore more ways to watch SXSW alumni films and episodics while you await 2023 announcements.
To all of our cinephiles, influencers, film reviewers, appreciators, and beyond – take a first look at the 2023 SXSW Film & TV Festival lineup and subscribe to the Film & TV Community Newsletter to stay in the SX know.
Linoleum
World Premiere, Narrative Feature, 2022
When the host of a failing children's science show tries to fulfill his childhood dream of becoming an astronaut by building a rocket ship in his garage, a series of bizarre events occur that cause him to question his own reality.
Releases in theaters February 24.
Jethica
World Premiere, Narrative Feature, 2022
Jessica lives in fear of a man named Kevin who follows her everywhere she goes. While on a road trip, she reconnects with Elena, an old friend she hasn't seen since high school. Elena has been hiding out at her deceased grandmother's ranch in New Mexico. When Kevin mysteriously appears at the ranch, Jessica and Elena seek help from beyond the grave to get rid of him for good. But Kevin is different from other stalkers and won't move on so easily.
Releases in select theaters January 13 and available on Fandor February 14.
A Lot of Nothing
World Premiere, Narrative Feature, 2022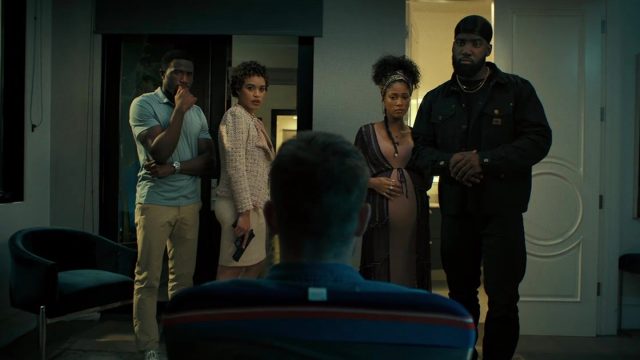 A Lot of Nothing is a wildly entertaining and humorous exploration of what people today do in moments of extreme despair and conflict. Our two main characters, James and Vanessa, seem to be happily married, successful, and comfortable in every way. They are rocked to their core while watching the news one night when they see cell phone footage of their neighbor committing a crime. In a state of shock, and with opposing points of view about how to address the issue, they go on a highly combustible journey to 'do something.'
In theaters and on demand February 3.
The Blind Man Who Did Not Want to See Titanic
World Premiere, 2023
Follows Jaakko (Petri Poikolainen), a charming Finn who loves movies despite his blindness, and his long-distance phone relationship with Sirpa (Marjaana Maijala). When he hears about her declining health, Jaakko sets out to meet Sirpa in a different city with only the help of strangers to rely upon.
In theaters February 2 and on Fandow March 14.
More to Watch
The Film & TV Festival continues to attract industry leaders from across the globe and small town artists from around the corner to come together and share their creative goals. From Iconic Moments to chance encounters that lead to dream jobs, SXSW remains one of the most anticipated events of the year. If that's not enough to get you pumped to attend the 2023 event, check out additional SXSW Alumni Films and 2022 Red Carpet Q&As for a taste of what's to come.
See You At SXSW 2023
Register to attend SXSW 2023 and book your hotel early for great savings.
The SXSW Film & TV Badge is your pass to nine days of screenings, including world and U.S. premieres, featuring a high caliber and diverse lineup of film, TV and XR, plus primary access to Film & TV tracks, mentors, and workshops at the SXSW Conference. Learn more about SXSW Badge types, access, and rates on the Attend page and stay tuned for announcements throughout the 2023 SXSW season.
Film & TV Community Newsletter Sign Up

Follow us on Twitter, Instagram, LinkedIn, Facebook, and TikTok for the latest SX news.
Teaser Images: SXSW 2022 Film Jethica
The post SXSW Film & TV Alumni Releases – January & February 2023 appeared first on SXSW.