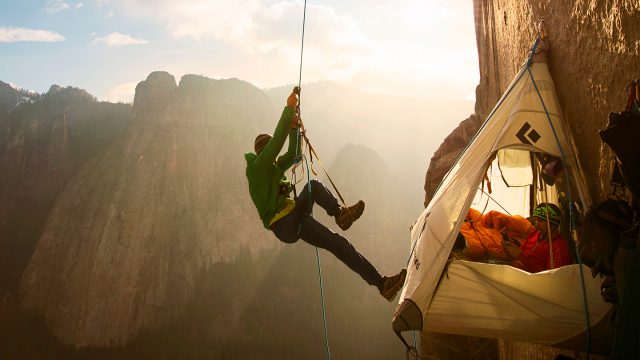 Two thousand feet above the ground, Tommy Caldwell (@TommyCaldwell1) and Kevin Jorgeson were in the midst of their 19-day push to free climb the Dawn Wall of El Capitan in Yosemite National Park. Beards shrouded their gaunt, sunburnt faces. Their hands were bloodied and beaten raw. As their tiny portal-edge camp, normally a lonesome refuge from society, became the focus of nearly every mainstream media spotlight, the story of these two climbers struggling to climb the Dawn Wall became an international sensation unlike the adventure world had ever before seen.
Tommy Caldwell is a rock-climbing icon, with a captivating story. At the age of 22, the young climbing prodigy was taken hostage by rebels in Kyrgyzstan. Shortly afterwards, he lost his index finger thanks to a table-saw accident, but resolved to come back stronger. When his marriage fell apart and he escaped the pain by fixating on the extraordinary goal of free climbing The Dawn Wall — the steepest, tallest section of El Capitan, a 3,000-foot granite monolith in Yosemite National Park — he didn't realize he'd be undertaking the project of his lifetime.
The project was so difficult, he had trouble finding a climbing partner who could keep up, until Kevin Jorgeson — an unlikely boulderer who had never even climbed El Cap before — rose to the occasion.
Over 19 days, these two climbers pushed themselves harder than they'd ever thought possible, as the world, including President Obama, tuned in to see whether they would ever succeed.
SXSW is pleased to host the North American premiere of The Dawn Wall, a film by Red Bull Media House in association with Sender Films.
March 11 @ 12PM – Paramount Theatre
official after party March 11 @ 6PM – Parlor & Yard
March 13 @ 10PM – Alamo Lamar A
March 14 @ 12:30PM – Alamo Lamar D
March 15 @ 6PM – Satellite Venue: AFS Cinema

Directed by: Josh Lowell & Peter Mortimer
Cast: Tommy Caldwell, Kevin Jorgeson
Director of Photography: Brett Lowell
Editor: Josh Lowell
Producers: Josh Lowell, Philipp Manderla, Peter Mortimer
Photo: Corey Rich

Content provided by Red Bull
The post SXSW Film Festival: See the Climb that Rocked the World (and Even Got Obama Tweeting) #DawnWallFilm appeared first on SXSW.